Duckinfield Methodist Church Social and Entertainment Group have once again produced a stellar performance in their annual play. Following on from last years' successful The Late Mrs Early, this year they present the comedy Busybody by Jack Popplewell.
Busybody is set in the early 1960's in the plush offices of Richard Marshall's company located in Chatham House, London. Despite the obvious prosperity of the company, all is not as it seems, especially when Lily Piper, the busybody cleaner, finds her employer's 'body'. Lily is not the only busybody though as the hapless Detective Superintendent Baxter is soon to find out. Which one of Marshall's employees killed him, and is all what it seems?
As with last years' production a superb cast has been assembled led by Busybody herself otherwise known as Mrs Piper, Sandra Birchall. Birchall plays this gift of a role with a hint of Hilda Ogden and a touch of Mrs Overall from Acorn Antiques constantly getting her words mixed up. This was a wonderfully written role and played to perfection much to the delight of the audience.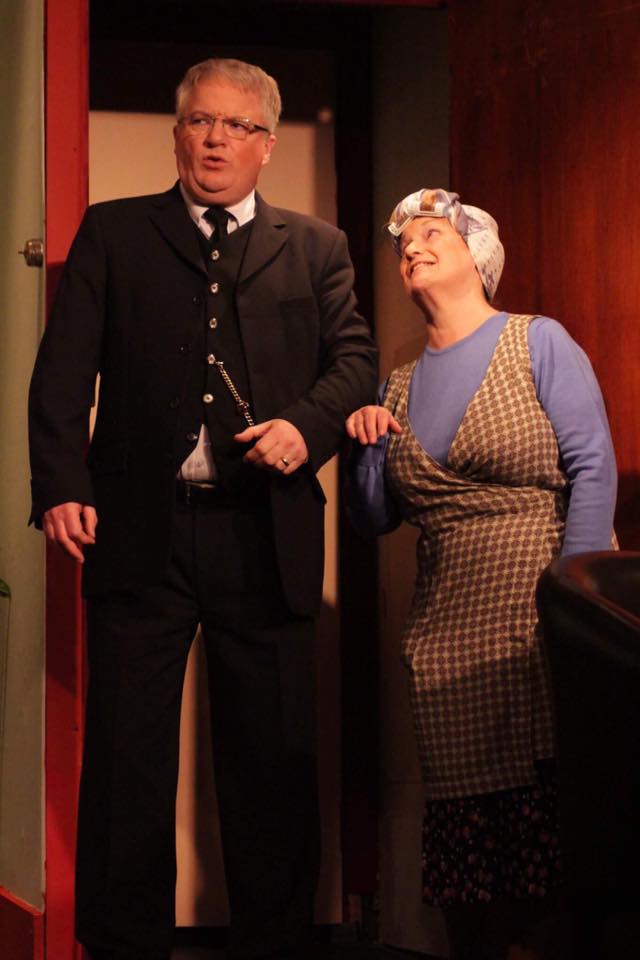 Tasked with revealing the murderer are DC Goddard (David Bevins) and DS Baxter (Paul Whitworth). Bevins as Goddard is a young, wet behind the ears policeman and obeys Baxter's every order without delay. Whitworth plays the role of DS well trying to do his job with a constant flea in his ear throughout in the form of Busybody who used to live on the same street. A heavy cold did not help matters either! These two provided some of the funniest moments during the evening and bounced off each other well.
Susan Nuttall plays widow Claire Marshall with a stiff upper lip as she questions the events surrounding her husband's murder, she also has a few skeletons in her closet which immediately makes her a suspect. Richard Marshall is played by Ken Jones who begins the show slumped over his desk with a knife in his back.
There are three other suspects identified during the investigation by DS Baxter, Marian Selby, Marshall's devoted PA played confidently by Ann Hill. Also in the frame was Robert Westerby, the firm's accountant who did not attempt to hide the fact he hated his boss. Westerby was played by the suave Dave Morris. Finally, young secretary who always has her eyes on the men, Vickie Reynolds was played by Becky Woolstencroft.
Whodunnit plays such as this can often vary in pace during their performance however, this evening the pace was constant throughout which benefitted this show. A simple, yet detailed set as has become a tradition with this group by Peter Duncuft and Ken Jones ticks all the boxes.
Busybody is a fun comedy and really does keep you guessing until the end the identity of the killer. For plot spoiler reasons I have purposely omitted a large part of the evening's happenings so you'll have to get yourself down to Duckinfield Methodist Church on Friday or Saturday night to find out for yourself. For tickets contact Margaret on 01613 303243.
Reviewer: Paul Downham
Reviewed: 17th November 2016