It has been a mere 34 years since Dukinfield Amateur Operatic and Dramatic Society (DAODS) produced a play, and an even more unbelievable 46 years since they have performed in Dukinfield itself. Tonight, these sizable figures were eliminated as Sailor Beware started what I hope is the resurrection of an annual event.
Last performed by DAODS in the late 1950's Sailor Beware is a comic play by Philip King and Falkland Cary. After a repertory company production in 1954 the show transferred to London's West End a year later and played an impressive 1,231 performances.
The entire play takes place in the living room of the Hornett household and according to the programme last night, is set in the present day. The family however are very much stuck in the past with Emma Hornett (Christine Hamer) making it very clear from the beginning she is head of the household. Hilton, who is on stage for most of the evening was a joy to watch, as was her tempestuous relationship with husband Henry played by Paul Whitworth. The scene where Henry returns from the pub was worth the entrance fee alone with Whitworth displaying some superb comic timing.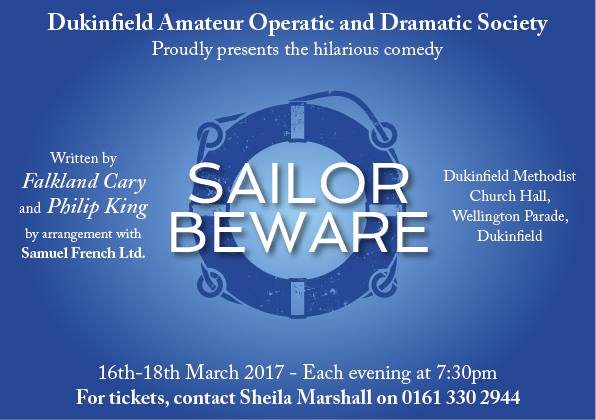 Emma and Henry are parents to Shirley (Becky Woolstencroft) who is to be married to her Navy sweetheart Albert Tuffnell (Seb Lassandro) the very next day. They are, to all intense and purposes a normal couple but Shirley's mother isn't happy about the impending nuptials. Woolstencroft plays Shirley well with a degree of naivety, however I was a little disappointed in Lassandro as I thought he could have played Albert with a little more confidence.
Also along for the ride are best man Carnoustie Bligh (Andrew Cochrane), a fellow seaman and bridesmaid Daphne Pink (Paula-Jayne Power). These two provided the best laughs of the evening as Daphne took a shine to Carnoustie from the moment they met, however the feelings were not exactly mutual!
Every household has a nosey neighbour, and the Hornett's are no exception. Ann Hill played the every inquisitive and serial tea drinker Mrs Lack beautifully, she even had a catch phrase every time she popped round! Judith Hilton as Auntie Edie also shone in a tearful performance.
Finally, completing the cast is Dave Brobbin who played a convincing Rev Oliver Purefoy, who after Albert jilts Shirley at the altar acts as peace keeper and agony Uncle whilst a chain of events unravel that will change the family forever.
Sailor Beware is a solid play with some wonderfully comedic moments played extremely well under the direction of Nicky Mead. Cochrane as Carnoustie and Hamer as Emma are the standout performances of the evening for me.
The play continues this evening and tomorrow at Dukinfield Methodist Church and ticket information can be found in the picture above. As I mentioned earlier, I hope this is the first of many plays from this talented ensemble. However next up for DAODS is Dirty Rotten Scoundrels which plays at the George Lawton Hall in Mossley from the 17th – 21st October.
Reviewer: Paul Downham
Reviewed: 16th March 2017