Little Shop Of Horrors is something of a cult Musical, and a complete and shameless Mickey-take of the trend in the late 1950s for Hollywood to produce low budget horror films, affectionately categorised as B-Movies. In the case of this particular story, we see Mushnik, owner of a flower shop in a run-down, poor and forgotten NY neighbourhood, and his two hapless employees. The rather ditzy tart-with-a-heart, Audrey, and the clumsy, myopic and downtrodden Seymour. Their fortunes are certain... they are going nowhere and the shop is closing up for good... that is until Seymour shows his employer a 'strange and unusual' plant that he has been cultivating. This plant, now nicknamed Audrey 2, is the shop's and Seymour's saviour. It brings them fame and fortune in untold measure. But all this comes at a price, a very heavy price indeed. The plant thrives off fresh human blood. At first this doesn't cause any concern as Seymour quite happily adds anaemic to his list of complaints, but then, the fates turn against them and he finds himself feeding the plant with Audrey's dead dentist boyfriend, and then with Mushnik, and before long even Audrey falls foul of the plant's blood lust. If all of this sounds a little dark and macabre, don't panic, it's all very tongue-in-cheek and sent up in the best possible taste! And with some fantastic Musical numbers, it can't fail to be a hit!
The set for this production was a single composite affair showing Mushnik's flower shop interior upstage centre, and door stage left centre, with the street and main acting area in front of this. Either side were scaffolds with steps and a dustbin.
There wasn't much room - The Met's stage isn't really large enough to accommodate this or indeed any Musical - but that didn't seem to worry any of the cast who coped excellently with the cramped conditions. The scaffolding looked like it had a platform at the top and the ladders lead to them, however they were never used. The flats seemed to have a life of their own though! Surprisingly and much to the actors' credit; none of them were phased by the lack of solidity to Mushnik's shop, even when the whole shop moved several inches before being stopped by stage management!
The sound quality overall was good, but sadly the lighting was simply all over the place! Particularly in the second act several cues were missed and left the cast acting and singing in darkness. We even missed the plant's devouring of Mushnik.
However, putting the health and safety and LX issues aside, this was a very good show, and extremely enjoyable. Excellently cast, and with some lovely directorial ideas thrown into the mix, then there is every reason for you all to feel proud.
I loved the idea of having a female Audrey 2. It's only the second time I have come across that in all the productions I have seen over the years, and I also loved the fact that the plant was given a real 'character' by its handler. Audrey 2 was more animate and much more 'in focus' right from the start with some very comedic and human 'body language' - and this pleased me greatly. Most productions, at least ones I have seen more recently, have not really given much emphasis and thought to this. It was such a huge pity that once the plant had reached full size for the second act it couldn't still keep this up. The gutsy all singing and speaking plant was voiced very energetically (even if she was a little off key at times) by Dalia Kay. The plant was adeptly manipulated by unnamed person or persons from the stage crew.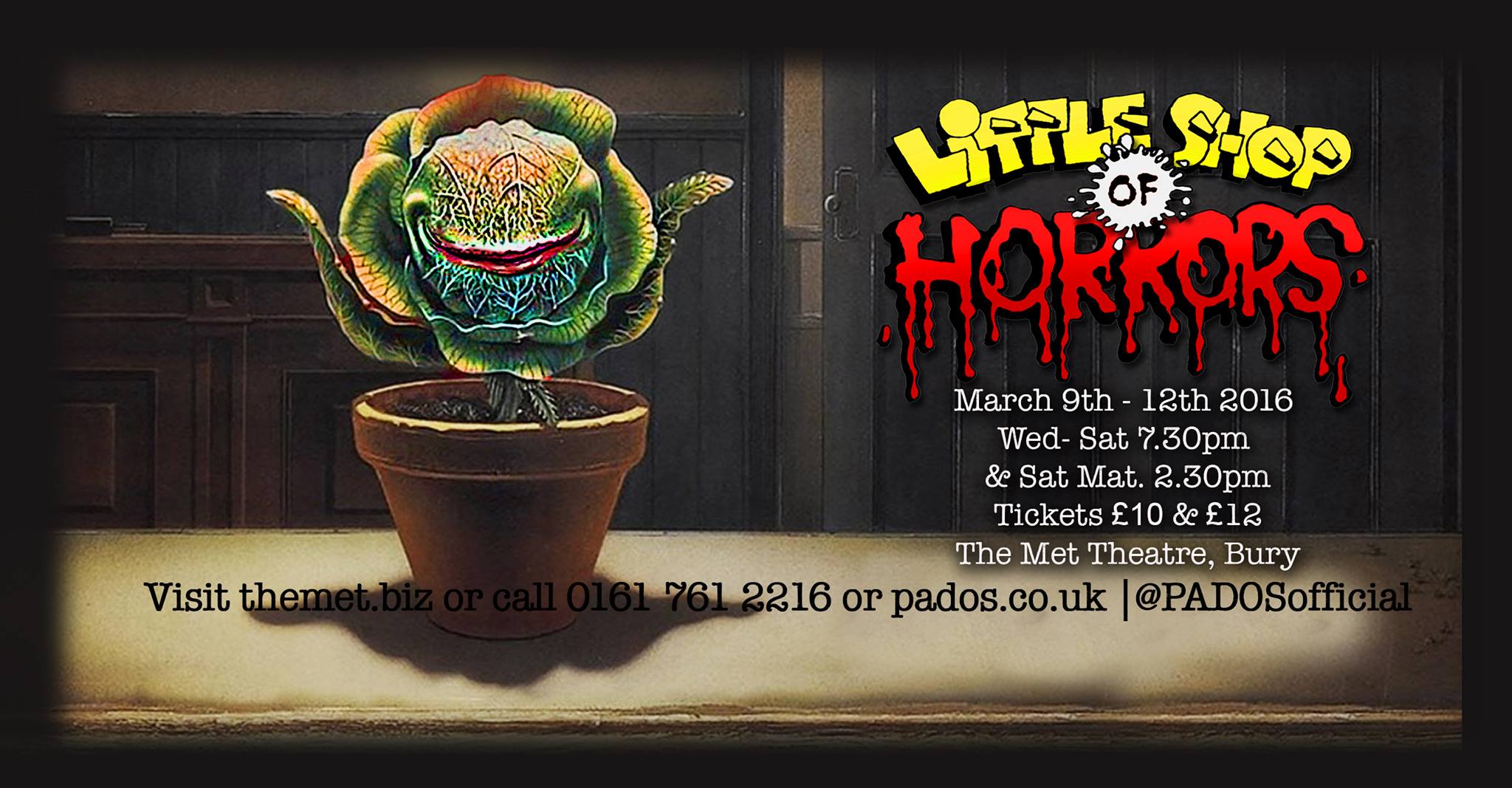 The principal roles of Audrey (Haley Cheetam) and Seymour (Josh Leech) were extremely well cast. Both proving that they not only fully understood their roles, but were also able to add their own nuances to them as well, making them fresh and alive. They worked remarkably well together but even better separately. Seymour's asides in 'Grow For Me' were lovely as was his playful childishness in 'Mushnik And Son', whilst Audrey's plaintive rendition of 'Somewhere That's Green' was truly beautiful.
I felt that both Mushnik (Matthew Foxcroft) and Orin (George Platt) tried really hard to place their roles and never really quite hit their marks; but nevertheless gave powerful and energetic performances. I don't know why Mushnik was wearing a cushion to try and make himself fat - that just looked silly and didn't work at all. There is no necessity for him to be fat. Let the actor act the role, not the costume! He did try though, very hard, to bring some Jewishness into the role, which was creditable. The role really doesn't work without it. And unfortunately once you have seen Steve Martin's definitive performance of Orin on screen, it is really difficult to 'follow that' as the expression goes. Platt gave his best and was nicely sadistic, but he had a very irritating stance of bending his knees all the time which I found bizarre and off-putting. He also needed to laugh more once inside the mask.
The show simply wouldn't work without the ever-present, all-knowing commentators and narrators of the story. Three girls who, in the style of The Three Degrees and other female pop trios of the time, sing and act their way through the whole show, developing the plot. I really didn't like their first costume - the baseball jackets - but once they started to wear more appropriate Ronettes gear, they too seemed to get better and more comfortable with their roles. They had some lovely choreography - simple but very effective - and all three sung well with a few nice harmonies thrown in. They were Rebecca Gill, Abi Bradley and Isobel Cunliffe.
Then there is one special mention to make also. One of the young chorus girls - so I do not know her name - really impressed me with her vocal quality. She started the Skid Row song. What a lovely voice!
The direction (Timothy Platt) was solid and thorough with some lovely little touches to make it unique, and with the help of choreographer (Helen Wilkinson) gave one or two of the songs a lovely interpretation. I adored 'Suddenly Seymour' (one of the best interpretations of this song I have seen), and the sequence immediately before the main melody of 'Meek Shall Inherit' with Seymour on the ladder was also excellent. I also liked the idea of the four principals wearing 'the plant' to come on for the final song, with the plant's voice, dressed in green, coming from within the plant itself for her bow. A nice touch!
There were some little, minor issues which irritated - Seymour didn't wear a baseball cap; the Ronettes suddenly appear in the second with black wigs; and the energy and focus of all the cast diminished considerably in the second act, but overall I thought the show well thought through and sensibly directed.
Musically, I was just a little confused. The musical director is credited - Steven Saniford - and yet the Musical opened with what must surely have been a backing track, since The Ronettes appeared to be singing over their own voices and the wino - a wee young girl - mimed to the bass voice of the soundtrack! Yet, the further into the show I went, the less and less convinced I was that it was pre-recorded, and indeed only really knew right at the end when the band was actually revealed did I know for certain. The band are not credited in the programme and there was no playback or monitor visible for the cast. Credit then to Saniford if he was able to direct the cast without them, and credit too to the cast for being able to work so well without.
This was a youth theatre production - and most of the cast were still teenagers or younger - and they all put a huge amount of energy and creativity into this show, which was, despite my nitpicking, really extremely good and very enjoyable, and that is a credit to all of you - your enthusiasm, your talent, your dedication. You are our future, we need you, so whatever you do, don't feed the plant!
Reviewer: Mark Dee
Reviewed: 10th March 2016