This is the fourth night of Isy Suttie's tour and according to Isy it was the best one so far. I've seen Isy on TV as both stand up, actress and panel show pundit but tonight I saw the full range of her talent.
Isy welcomed us, in a light and self-deprecating way, before introducing her support act, Harriet Kemsley. Harriet is a wide-eyed performer who has won several awards since she began doing stand up in 2011. I found her to be a bit awful and, in her own words, a bit weird. She did manage to raise a few laughs but her performance felt a bit stilted and I felt she didn't engage the audience as well as I thought she might.
Then came the main event, Isy Suttie entered, guitar slung over here shoulder and the evening went it a higher gear. It was delightful evening of songs, anecdotes and readings from her book "The Actual One", all delivered with a child-like sense of fun and with a twinkle in her eye.
She talked about her early relationships in pursuit of love, trying to find "The One". We heard stories about her misguided demonstrations of love - the fur coat and no knickers incident and the papier mâché penguin! She waxed lyrical about her determination not to grow-up and do the marriage, babies and mortgage thing that many of her friends were trying to do.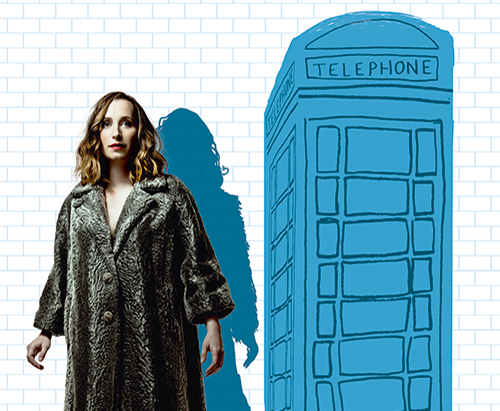 We met characters from her past. These were expertly portrayed as Isy's face, voice, accent and mannerisms metamorphosed and we were introduced to the busker from the bus station in her home town of Matlock, her top three worst housemates and her mother who doesn't…..…finish her sentences of course!
This was a revelation, I've seen and heard Isy perform comedic songs before but the characterisation that she demonstrated was outstanding!
As I was thoroughly enjoying Isy's brilliant perform I was struck by a certain similarity to another comedic performer from the North West, Victoria Wood. But Isy has a sparkle that is all her own, a genuine warmth that encompasses an audience and an honesty that disarms them.
She is a great storyteller, song writer, musician, comedian, character actor, singer and now author. She is a unique and 'actual' talent that I definitely want to see more of. I urge you to check out the remaining dates of the tour at www.isysuttie.com you will not be disappointed.
Reviewer: Alan Harbottle
Reviewed: 29th January 2016