Armed with only two loop stations and her voice, spoken word artist Koko Brown's new show White is a brutally honest reflection on what is it is like to be a mixed race black woman and outsider in modern Britain.
She is taking this new show based on her own experiences growing up in North West London and as a performer to the Edinburgh Fringe Festival from Wednesday 15th August.
"White is a solo show about growing up mixed race, discovering your identity and the duality of being a mixed race black woman in contemporary Britain," says Koko. "It's basically just about me, and my personal experiences of being mixed race, and trying to tell that story that currently in UK theatre is a bit unrepresented.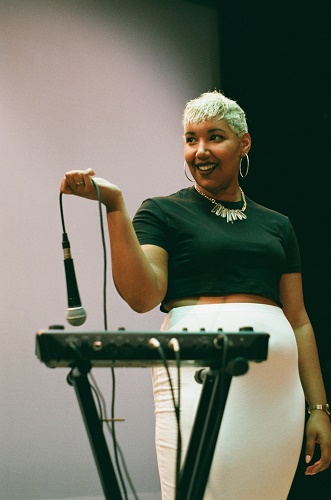 "I'd be silly to say that I'm telling everyone's story, so I just say it is a story about me, and if you happen to relate to it then that's great. It's also just to have fun with spoken word and loop stations exploring making work with those two mediums."
Anyone who has been to the theatre in recent years will have noticed a lot more black performers in casts, and more all black casts, which is a long overdue development. It's a trend that is also benefiting mixed race performers like Koko.
"Blackness at the moment is really cool so a lot of the industries want that because blackness makes money, and I think generally on the whole that is true of all industries not just theatre. Specifically in theatre you will get a lot of shows with all black casts as obviously black people and BAME people are underrepresented, but you will have people in that cast who are mixed race.
"The thing about being mixed race when you are half black is most of the time you are a black actor and not a mixed race actor. You will never be a white actor or rarely will you ever be the other half of whatever the little brown bit inside of you is.
"That's about the climate we live in and as a theatrical society we have to start opening those doors and going 'yes, this is a black story but is it a story one that also incorporates the mixed race experience?'"
Koko will be one of the few women of colour performing on a fringe awash with white male stand ups, which is ironic given that 1.25 million people in the UK identify as mixed making them the fastest group ethnic group in our diverse nation.
"The way I see it is that being mixed race as a thing is still quite new," muses Koko." A lot of the time before where if you were half black, or half Asian, you would be seen as black or Asian and that was that. A lot of the older generation who are mixed race referred to themselves as black or Asian and referred to themselves other than mixed.
"Now there are a lot of young artists and people making work about being mixed race and they are saying that this dual heritage thing is really important to me."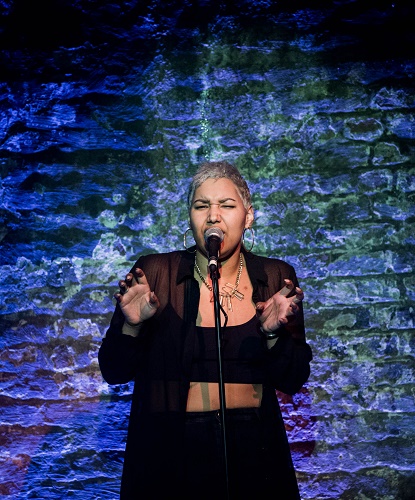 White was commissioned by South London theatre Outhouse who support new work that responds to today's social and political issues. This deeply personal show has just been longlisted for Amnesty International Scotland's Freedom of Expression award with the judges saying they 'were intrigued by White's blending of live vocal loops and spoken word as well as the wider themes of identity and race in contemporary Britain'.
"Everything in the show is true, so I have not dramatically enhanced anything because for me that's not right. It's about my experiences and with that comes positive and negative moments. I talk a bit about internalised anti-blackness, which is something that I have personally had to overcome, and I'm still fighting that.
"As I was growing up society had told me being lighter is better and I've had to teach myself not to think that way. There are things like preference, which is a conversation that is happening online at the moment, so is your preference a chosen thing or is it something that has been put in your head?"
Koko may be tacking some big political issues, but her vocal loops and spoken word passages are full of insights based on her own life a young mixed race Londoner with plenty of humour thrown into the mix.
"There is also stuff that is a lot more personal and not specifically race based. My mum and my dad and what I got from that separately as humans. Yes, one of them happens to be white and one happens to be black. Following on from that is growing up in a predominately white environment and what that did to me.
"Also White is poking fun at things like when I had really big curly hair people would look at me and say things 'wow, you're so lucky to be mixed race as your hair is so nice' or 'I can't wait to have mixed race babies so they look just like you.' It pokes fun at those things and in the show I tried to find an honest balance between stuff's a bit shit and stuff is ok as well."
Koko's show at the Pleasance Beside is not a huge multi-media experience, but its simplicity will serve to make sure her vocal loops and songs talking about the mixed race experience in Britain are heard loud and clear.
Koko Brown's White is at The Pleasance Beside from Wednesday 15th to Monday 27th August at 11.30am. Book online at www.pleasance.co.uk or call Box Office on 0131 556 1513