The biennial Compass Festival returns to Leeds this November with ten days of top quality live art events…and they are all free
The programme is specifically designed to provoke and encourage personal responses and chains of interaction from communities across the city. Locations range from water taxis to courtrooms, galleries and bus stations to a street where you live, or one just like it…
Since 2011 Compass Festival has have been animating Leeds with interactive live art projects inviting the public to join the playful enquiry, silent contemplation, astonishing feats, hospitality and communality within and beyond the theatre or the gallery in the places where we live, work and play.
Compass take time to work with artists and communities making sure the projects we commission are considered and fully engaged with their surroundings. The 2018 programme promises an extensive City Centre takeover following the festival's success in 2016, which attracted nearly 10,000 audience members, participants and artists.
Artistic Directors Annie Lloyd and Peter Reed said: "We're delighted to share the full programme of Compass 2018 which we have been cooking up over the last 18 months in collaboration with some of the most exciting live artists in the UK. Compass began as a short pilot weekender in 2011 featuring a handful of small scale, pre-existing projects and so it feels significant to us this year to be announcing a full ten-day festival with newly commissioned work at its heart"
Highlights include: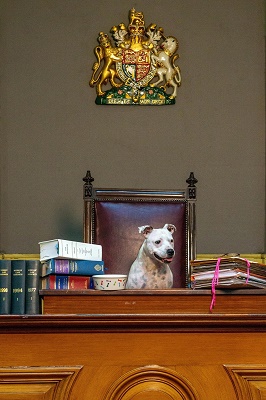 The transformation of Leeds Town Hall courtroom into the 'animal court of justice'
Thanks to lawyer-turned-artist Jack Tan, Leeds Town Hall users will encounter what appears to be a working Animal Court evidenced by signage, information posters, artefacts, heritage displays, a website etc. Four Legs Good culminates in live hearings in which cases are brought against and by live animals belonging to and nominated by local animal charities, farms and breeders. Members of the public can book a seat on a jury in advance or come and go in the public gallery. Jack Tan – Four Legs Good Leeds Town Hall Courtroom, Leeds Town Hall, The Headrow, LS1 3AD.
Scottee tackles loneliness encouraging a whole street to talk via friendship-seeking placards
In Would Like To Meet, neighbours on a residential road in Leeds will be asked about people they would like to meet. Scottee will then place estate agent style placards outside each house, encouraging conversations around shared values and hobbies. In this project award winning artist Scottee responds to the isolation he felt upon moving into a terraced house having lived on a council estate for 30 years Scottee - Would Like to Meet - 17th – 24th November, on a Leeds street self-nominated by its residents.
Concrete evidence of human bonding: Sarah Caputo & Brenda Unwin present 1000 Handshakes.
For 3 days Compass will be collecting casts of handshakes encouraging interaction and creating concrete evidence of communication between pairs of strangers. Isolation as opposed to virtual friendships and unease regarding physical contact are increasingly prevalent. The handshake is a universal symbol of greeting, parting, agreement and acknowledgement. The clay handshake casts will hold the essence of people connecting through their sense of touch, as well as their other senses. - Thursday 22nd November - Saturday 24th November - Leeds City Bus Station, Dyer St, Leeds LS2 7LA
Alisa Oleva & Debbie Kent present The Demolition Project via mapping, exploring urban life.
The Demolition Project invites people to reshape Leeds with paper, a scalpel and imagination. Usually decisions about changing cities are made by politicians, corporations or even the weather. What would it be like if ordinary people had the chance? Maybe to make way for something more useful or to knock down an unpopular building. In this piece, the public can demolish simply by map-cutting. In return, reasons for each demolition must be given be they personal or political, angry or artistic, serious or daft. - Debbie Kent & Alisa Oleva - The Demolition Project - Friday 23rd November & Saturday 24th November - Leeds Kirkgate Market, Street Food Hall, 34 Ludgate Hill, Leeds LS2 7HY
Through the beer glass lens of the Public House: Etheridge & Persighetti explore visions of future social landscapes.
Focusing on the enduring role of pubs as important places of social gathering, intergenerational exchange, entertainment, (hi)storytelling, and activism, a special edition of 500 beer glasses bearing diagrams, maps, conversational fragments, and invitations to explore the rich landscape of Leeds pubs, will be distributed to a selection of pubs and bars in Kirkgate.
In a participatory launch performance the artists will initiate a series of live conversations inspired by the inscriptions on the glasses, bringing to the table special guests with a range of interests in the relationships between people, place and beer in Leeds. -Etheridge & Persighetti - Public House - Friday 16th November Crowd of Favours, Harper St, Leeds LS2 7EA
Illuminated score-boards that measure and project the mood of the city via crowd-sourcing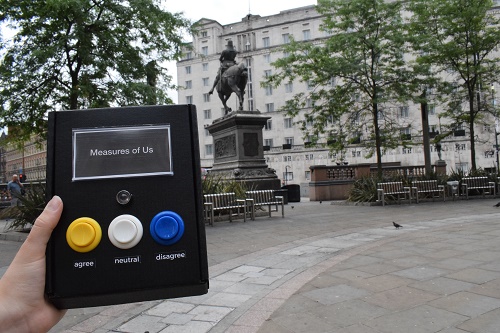 Collaborative artists Redhawk Logistica have devised Measures of Us. Leeds residents will be asked questions via electronic voting booths, reflecting on personal and existential themes. Daily results will be displayed locally on illuminated scoreboards, the full results will be revealed at a closing event in the city centre where the public will be invited to share their interpretations. Redhawk Logistica - Measures of Us – 19th – 23rd November in and around Woodhouse, Harehills, Seacroft, Bramley, Holbeck & Beeston then Leeds City Square, Leeds LS1 2HT, November 24th – 25th.
French & Mottershead take audiences on water taxis as they examine the body's afterlife
This work asks the listener to imagine and relocate their own body underwater, as it dissolves and dislocates on a journey from a canal, into a river, and out into the sea. Experienced on and by the River Aire, the listener hears a spoken narrative, written from forensic case studies of human bodies immersed in and transported by water, combined with research on the ecosystems of rivers and tidal waters. Supported by The Wellcome Trust and Arts Council England, French & Mottershead collaborated with forensic anthropologists, ecologists and conservators in developing each piece, researching the minute details of decay to create a series of works that puncture our fear of the unknown. French and Mottershead - Waterborne – 24th + 25th November 2018, Hourly sailings at Leeds Dock (mooring just beyond lock keepers building).
Bethany Wells' mobile wood-fired sauna and bucket shower installation WARMTH returns to keep festival audiences warm.
By popular demand, having toured the UK extensively since its premiere as part of the 2016 festival, Bethany Wells' mobile wood-fired sauna installation WARMTH returns to keep festival audiences toasty on cold November nights. Alongside the main sauna space and bucket shower, Wells will curate a tent-based exhibition on the rituals of smoke sauna and its place in Finnish culture. Bethany Wells - WARMTH - 2pm-9pm – 24th – 25th November 2018 at Leeds Dock (outside Primal Gym)
For more information go to www.compassliveart.org.uk/festival