Accompanied by a national programme of events to see what effects our health for better or for worse, Clod Ensemble is much more than a pretty dance show.
From gender neutral costumes: skirts for the men too, to an atmospheric trip hop background music this is a whole new genre defining moment in the world of dance.
A great intimate space for performance here at The Media Factory in Preston, Lancashire it lent itself perfectly for the seven strong dance troupe Clod Ensemble. Slightly intrepid I cautiously positioned myself away from the front row, as I'd heard there may be audience participation, it wasn't going to be your usual night at the theatre.
The dancers are striking as they enter the stage in fashionable straight-jacket inspired off the shoulder tops, teamed with turquoise pleated miniskirts – fabulous. The costumes themselves are designed by the uber cool, Art School (a unisex, gendered fashion label).
A voice over informs you, you are about to embark on an experiment. A real live experiment it seems. How does it make you feel? Well slightly nervous to be real. The voice challenges us to think about addictions, addiction to fear, to competition, to sadness.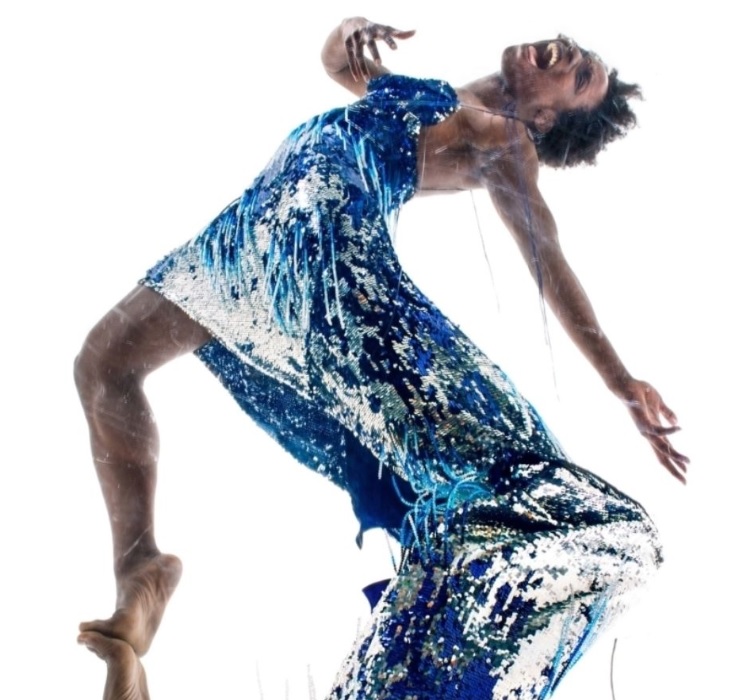 Dancers aren't named but given a letter, A or D, making the experiment all the more realistic. Dancer A will present flowers to another dancer, say dancer D in three different ways and we are voyeurs to this social test, drawing laughter from the audience. Although you could display any mood you liked.
Clod Ensemble's Suzy Willson and Paul Clark (Director and Music), have seemingly designed Placebo along those lines that the audience are given 'space,' too. Lights frequently glaringly turned on us watching but it didn't feel unpleasant.
Another moment is when we are all told to put a hand on our heart and simply breathe, and watch the dancers, this was so soothing. Watching the ripple movements of the performance artists in glittery skirts, like waves on a beach was a most wonderful experience.
Strange moments are 'the dancer is a mouse' referring to the placebo effect of a sugary pill, western music randomly plays in the background, sometimes it's best to laugh nervously if unsure how to react. A famous film actress wanders on and provokes with her strange obsession.
Placebo was provocative but in a good way. It provokes thought? Questions around healing: where in the outside world people are looking for other cures alongside modern medicine.
The dancing itself was incredible to watch, there was so much theatricality from the small expressions on their faces. If the movement was the medicine, it was definitely working on me.
The urge to categorise it came over, but there was ballet, some Michael Clarke and hip hop, really genre free. Very invigorating was the performance, much more than dance. A movement, a health break through? You are free to decide. As a newbie to Clod Ensemble I can't wait to see their next work.
Reviewer: Rachel Foster
Reviewed: 19th October 2018
North West End Rating: ★★★★