The venue for Jasper's visit to Wigan was The Edge, a brand new Centre which hosts a range of functions, including conference rooms, The Postcode Coffee House and a church. The facilities are of a really high and modern standard, front of house staff were helpful, an accessible building with plenty of parking space and within walking distance from the train station and on a bus route.
The auditorium seated 1000 people and it was packed out with a mostly 'mature' audience, although there were a few younger audience members.
National treasure Jasper received a warm Wigan welcome by opening the show having clearly done his research, making references to another local area Skelmersdale added a personal touch and engaged the audience from the start; His easy guy-next-door humour rolled effortlessly through a series of unrelated topics which he managed to seamlessly interlink.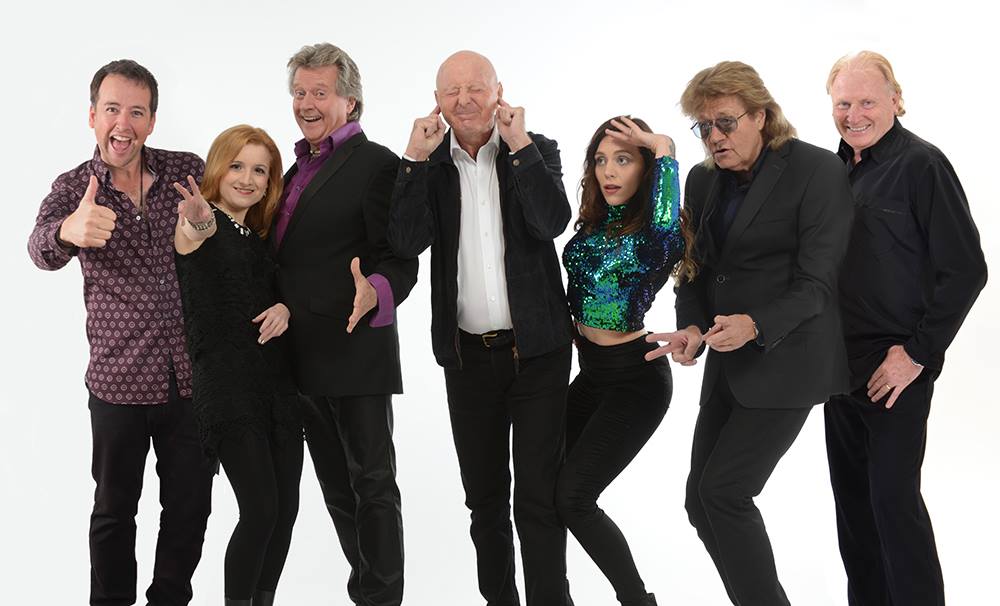 A main theme throughout the show was getting older and the younger generation, which the audience knowingly chuckled along to, as he meandered through modern technology, baldness, yoga, holidays, fast food, beauty shows in Wolverhampton, caravan towing aliens (!) alongside a riotous plethora of adult themed scenarios with our host undoubtedly remaining the master of the facial expression.
Jasper held the audience in his palm throughout his first set, following which he introduced the Bev Bevan Band. Bev and Jasper having been lifelong and childhood friends and the former being a founding member of the 70s band ELO. The band rocked into their first set of the evening with the Queen hit 'We will Rock you', followed by a nostalgic trip down memory lane including songs by Black Sabbath, The Move, The Righteous Brothers, The Turtles, Elvis and Little Richard.
In addition to Bev on drums, the band featured Geoff Turton on lead vocals and guitar (who deserved a stand up slot of his own as he was hilarious!); Phil Tree (Ex-Wizzard) on base and vocals; Suzi Dian the glitzy, young up-and-coming female vocalist who did herself proud singing Simply the Best (Tina Turner), 'Heard it through the grapevine', 'You make me feel like a natural woman' (Carole King/Aretha Franklin) amongst others. The band also included the equally glitzy, Musical Director Abby Brant on keys and backing vocals, along with a wonderfully talented lead guitarist.
As you would expect from their respective pedigrees the musicians were outstanding, the lighting was simple but atmospheric and particularly effective was the use of archived photos of the original artists on the large screen as the songs were played and paying homage to their fellow artists.
Act two saw another comedic journey through TV shows, grandchildren and dogs, it also showed Jasper at his best with his comical motor insurance claim forms and rib-tickling songs including the risqué 'Lady Camilla' and 'Pauline-who put the Ming in Birmingham', there were cackles rippling throughout the auditorium. Followed by another set of nostalgic musical hits by Bev Bevan and his band, which Jasper joined for the finale. The whole auditorium was up on their feet and dancing in the isles as they jammed to vintage Status Quo and ELO…oh and 'Funky Moped' (of course!), with the performers looking like they enjoyed it every bit as much as the audience!
In all we were treated to two and a half hours of entertainment with something for everyone. Jasper's winning formula alongside a musical extravaganza - Who knew that comedy and rock were the perfect partnership?
Whilst this may have been Jasper's inaugural visit to Wigan, we hope that it won't be too long before he and his friends pay another visit.
Reviewed by Elaine Hardie
Reviewed: 27th April 2019
North West End Rating: ★★★★★