Dr Seuss well known children's books have broken the line of somewhat dull children's texts around at the time of writing. These vibrant books were created to inspire children's creativity and enthuse their inspiration. The Cat in the Hat is one of these much-loved books and to see it come to life on the stage was lovely. Theatre company Curve & Rose Theatre, Kingston have brought to life the playful verse from the books transporting the audience into the world of the cheeky Cat in the Hat.
The set has been wonderfully designed to copy the pages from the original text with black and white outlines alongside hints of colours. These pops of colour stand out and catch the eye, captivating the audience into this unusual world. The set design is extremely clever with moving parts and many hidden elements within it. The performers work extremely well with the set and it is an important part of the performance allowing the magic to take place.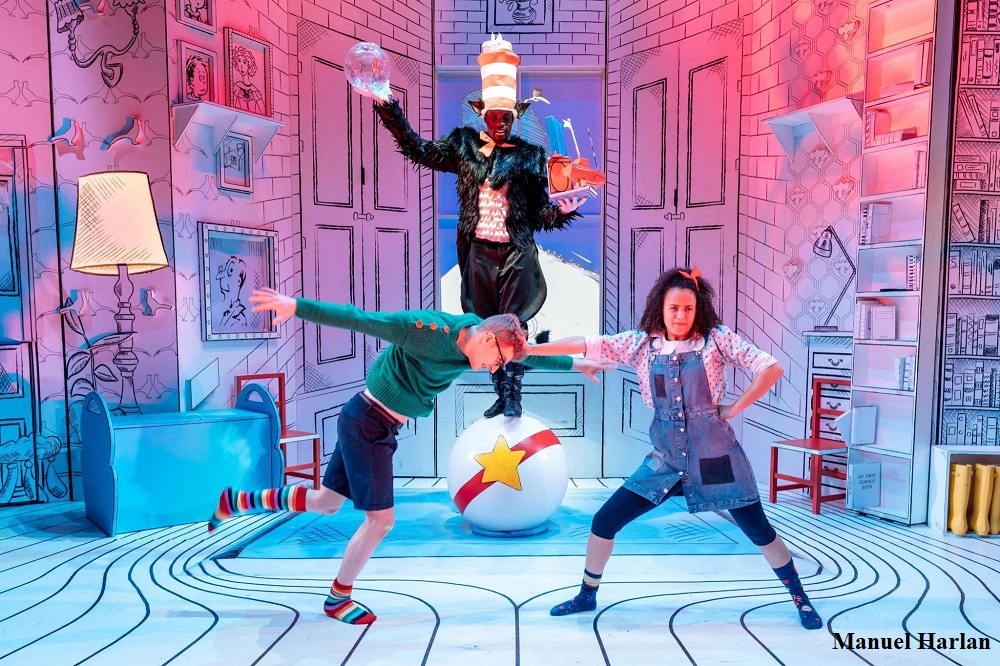 Sally, our main character (Melissa Lowe) and her brother (Sam Angell) are bored of the ongoing rain and fed up of not being able to play outside. Not long into this boredom though the mischievous Cat in the Hat appears and brings excitement but also chaos to their day.
The Cat in the Hat's sidekicks, Thing 1 (Celia Francis) and Thing 2 (Robert Penny), bring bundles of extra energy to the performance, particularly when they showcase their acrobatics and their penchant for physical theatre - often causing the audience to audibly gasp in excitement and awe. Their playful and spritely antics also involve leaping between different parts of the set and some moves highlight the enormous levels of trust within their double act.
The role of the fish (Charley Magalit) blends drama and comedy with light dusting of the operatic. Magalit's performance gives the piece a sense of panic and worry – especially when reminding us that once Sally's mother gets home she will not be happy with the incredible mess that has been caused. Parents, be sure to keep an eye on Magalit – you may spot a few moments where you can truly empathise with her plight – especially when she quietly pours herself some liquid coping mechanism.
Nana Amoo-Gottfried plays the Cat in the Hat effortlessly, giving him a mischievous nature that the audience loved. Amoo-Gottfried's performance was not limited to fantastic acting, but also singing, dancing and (key to the role of the Cat in the Hat) balancing. The children in the audience were in fits of giggles every time he was on stage and he managed to pull all of the audience in through his charm.
Overall, the rhymes of the book are beautifully captured in this live energetic and eccentric version. The team have created a performance so full of energy it will leave you feeling inspired yourself and is a hit for all ages.
Reviewed by: Beth Easton
Reviewed: 12th February 2019
North West End Rating: ★★★★