Usually a play that isn't performed very often is generally considered not to be very good. However, 'Ashes' by David Rudkin is a forgotten gem. Rather surprisingly it discusses the topic of infertility in very graphic detail, it was a shock to learn it is set in the late 60s/early 70s.
In the latest production at the Octagon Theatre in Bolton, the audience are initially drawn in by the humour of the situation. However, the humour soon becomes sadness as we learn of a couple longing for a child, and yet are struggling to conceive.
For an actor, I would imagine that Ashes is a challenge to perform as there is so much subtext in the piece. There's the intimacy, the embarrassment of having to go to a doctor to discuss your sex life, and the fact that you're having because you desperately want a baby and not to make love to your partner.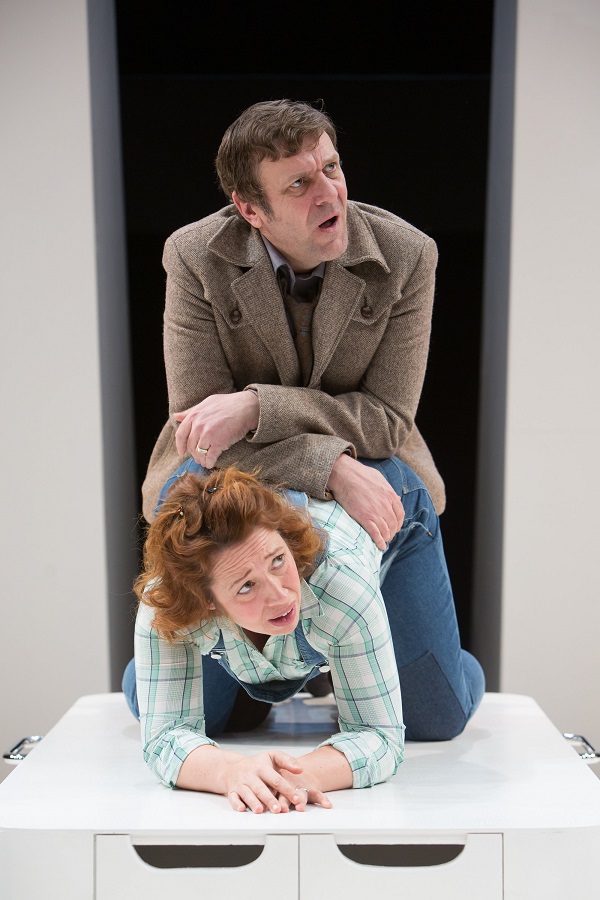 Colin Connor was a great casting for the role of Colin. I really believed his pride in being an Ulsterman in the end of the play. Initially it appeared as if Katy Cavanagh (Julie) was suffering from nerves as she stuttered her lines more than once. However, I did get the impression as the play moved on that she may have been under the weather. If that it is the case I don't think it would be fair to critique her performance, and instead should applaud her for making it through the performance.
There were a couple of minor issues with the production. Firstly, during some of the intimate scenes I struggled to hear some of the dialogue due to lack of projection. Also, there were a few questionable moments with props. For example, when Anne was in bed bleeding, I could see she wasn't taking the tissues from the area she was supposed to be bleeding.
As the play reaches its climax the couple are dealt a cruel twist of fate. Even their last ditch attempts to become a family end in sadness. Rudkin somehow manages to tie this in with the Troubles in Northern Ireland, which of course would have been at its worst in the early 1970s. Are the couple's fertility problems a metaphor for the political landscape in Ireland - an attempt to create a new country that has never come to fruition?
This play is full of some lovely monologues. My particular favourite was Colin's piece about how he still loves his country even though he doesn't live there anymore. Some were a tad on the long side, but the passion in them shone through.
Ashes is a good play. The simplicity of the staging was very effective. The use of the colour white created a purposely tense atmosphere. However, I do feel like this performance wasn't the show at its best.
Reviewer: Francis McKevitt
Reviewed: 27th February 2017
North West End Rating: ★★★
Photo: Jonathan Keenan