Tonight, saw a touch of Yorkshire head to Lancashire as Theatre Royal Wakefield and John Godber Company presented The Scary Bikers. A tale of Biking and Brexit with a good helping of humour.
John Godber OBE is the writer and co-director of the show, with co-director Neil Sissons. A fantastic set put together by Foxton who also designed the costuming.
The show starts with Carol beautifully played by Jane Thornton (who's TV appearances include Coronation Street and Hollyoaks) in her café and Don with his broad Yorkshire accent (played brilliantly by John Godber), in his workshop.
It's not long before the audience is chuckling and laughing out loud. As straight-talking Don and Carol talk about their lives.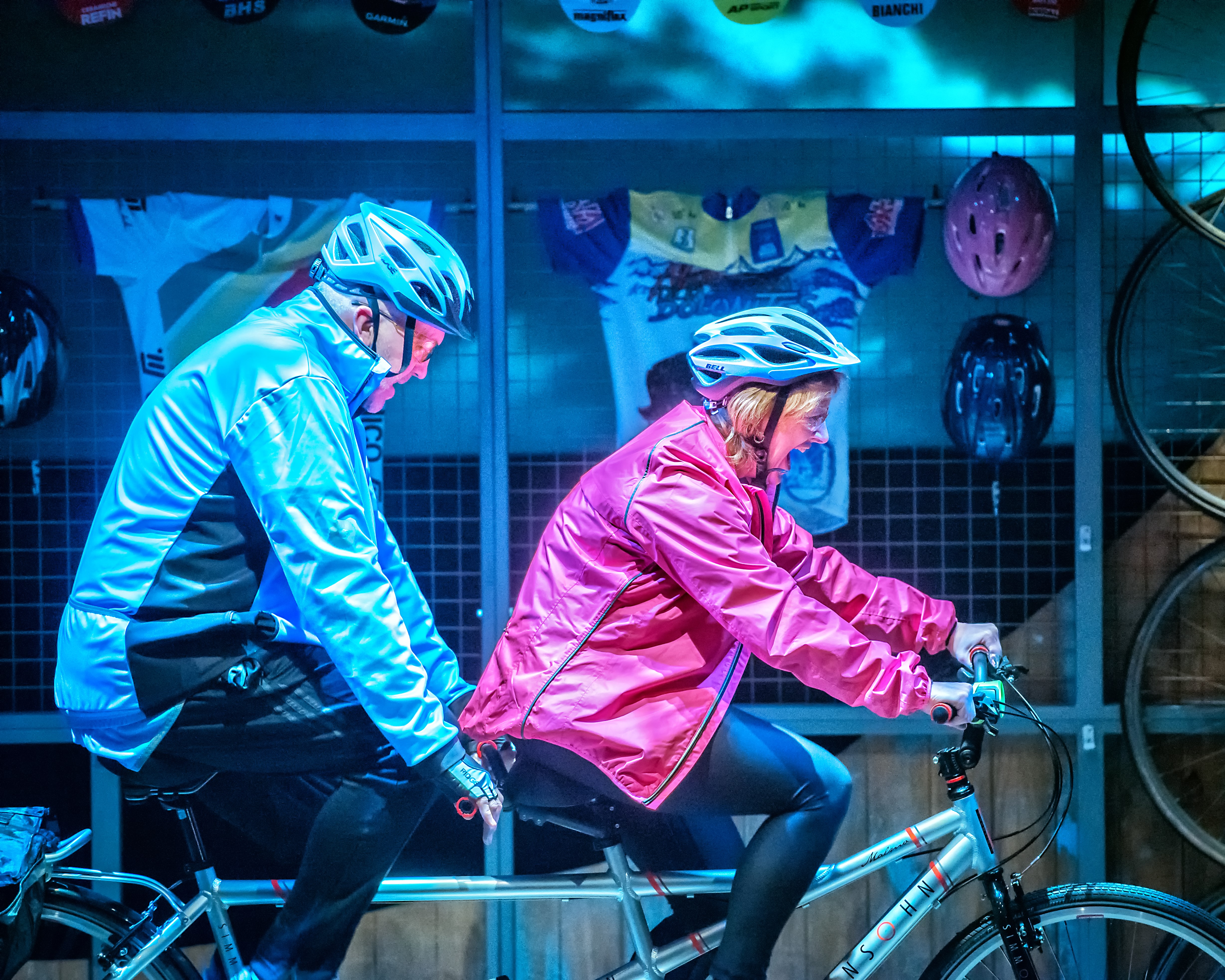 Carol lost her husband Rob to a brain tumour and Don his wife Jean to illness. A little sadness is brought to the proceedings as both Carol and Don talk about their respective losses. They then recount one of Don's tales followed by their joint trip to Italy. We hear about Carol's children Adam and Carrie and a little of Don's boys Wayne and Jeff. During the recounting John plays Rob Carol's late husband and Jane plays Jean, Don's late wife.
As the first part of the show draws to an end the pair discuss the trip to Italy and the cost which Don feels is excessive. A cost saving plan sees Carol buy them a tandem. And on 23rd June 2016 they set off on their epic journey stopping off along the way at Café Velo, in Beverley.
After a short interval we see the pair astride their tandem heading through Europe with hilarious consequences when they reach the day's destination.
As their journey progresses they get lost and Don jogs back to a petrol station to try and get some blankets. He returns with a pop-up tent which leads to more frivolity both as they get in and then try to put it away after.
This is when the political side of the show comes in with Don a Brexiteer and Carol a remainer talking about their reasons for how they voted. Don is forthright in his views and the stress gets to Carol.
All in all, this is a hilarious but serious take on Brexit and how the country was split and remains split and the reasons why they voted the way they did.
The language at times is such that I would say it is a show with a PG rating but definitely one to see, with a star rating of 4.
Reviewer: Tony Bellamy-Hibbert
Reviewed: 11th April 2018
North West End Rating: ★★★★