In a small town in Yorkshire, a beautiful widow is being wooed by two suitors. Handsome Arthur, having little (or no) money, is a young, compulsive, good for nothing gambler who is deceitful through and through and he plays Rose for as much money as she can take from Fuller, a much older, trusting, thoughtful, kind man, but is everything all that it really seems..
.
Here we wander into Blake Morrison's world of love triangles involving rivalry and an extreme greed for wealth and material gain.
I've always said that we are extremely lucky in Bolton, to have such a plethora of the arts around us. From amateur to professional, you can always count on our theatres... This is not my first visit to Bolton Little Theatre, and I suspect not my last. I do like this theatre. Tonight's production was in the main theatre on the big stage and the set was quite brilliant... Using the depth of the stage, they were able to create a grand hallway leading into the spacious (but very empty) living room of Rose. To be able to see the characters come and go, and continuing in character, even when it was not their scene, was quite a clever idea from director Simon Mott.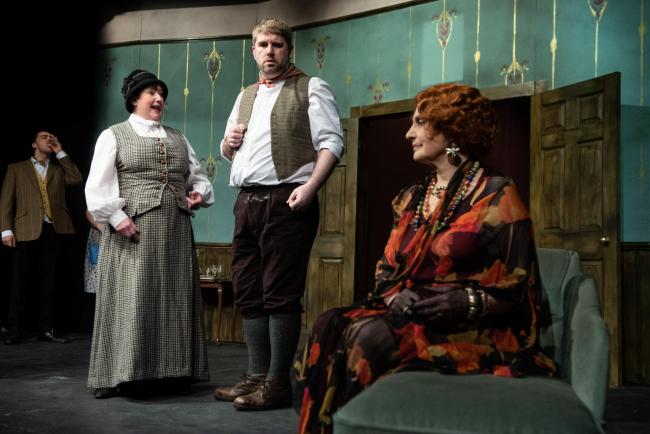 Set was simple but definitely gave the impression that the beautiful widow, Rose had fallen into desperate times as where artwork once hung, there was dust marks and only a couple of pieces or furniture remained.
We were introduced to a larger than life character instantly with the straight talking Marlene, the housekeeper, played brilliantly by Carol Butler. Butler's comedic timing was spot on and her 'under breath' comments were timed to perfection without being overplayed. She didn't stay too long as the role of Marlene but glad to say had doubled as character Gwen, in later scenes which again, was played very well. Super work on both characters.
She was joined by Sue Mallett who played the beautiful 'damsel' Rose. Mallett was suitably refined without being too snobby and played well.
One by one, we were introduced to Jack - the odd job man portrayed well by Craig Harris, Fuller – one of the men in the triangle and a bank manager to boot, played by Vincent Bradley, Arthur – the doctor's no good son and other member of the triangle, played by Sebastian Fitzharris, and Martin – the farmer whose heart is broken by a "posh bird down the pub" played very well by Kev Walsh... If I may give a little constructive criticism here – the men seemed to be quite nervous, some rushing lines and some playing lines to the floor... With an accent as difficult as a Yorkshire one, if not on point, it needs to be slowed to understand it especially with comical lines. We seemed to lose a little bit of the humour as found it hard to hear.
A little while later, we met Lisa who was friendly with Jack and who he brought in to 'maid' for Rose whilst fleecing her at the same time... It was all very innocent... Lisa was played by Jade Laithwaite who took this role in her stride and produced some cracking one liners...
Add into the mix, a little humour from Stuart O'Hara as Fuller's bank clerk and a questionable 'French' accent (although I'm hoping it was written like that – ha ha) from Frances Clemmitt as Teresa and you complete the ensemble.
I have to say that I did find some of the costumes a little out of place for the 1920's (the aprons worn by the maids and the blouse worn by Lisa to name two) and some shoes were definitely not correct for the period. You need to be aware of the noise shoes make also – some of the dialogue was lost due to shoe noise as someone was walking around the stage. And unfortunately, the wig provided for Mallett was an awful fit and seemed to move a lot. It was turned out in places at the back and a 'bob' in the 1920's would have been much slicker. It looked like there was too much hair to be contained underneath it but as I noted the actress in the foyer afterwards, I saw this was not the case.
I do feel that the choreography at the end was not needed and that the play on/off music would have been enough.
All in all, it was an enjoyable evening and I thank the theatre for their professionalism as always...
The play runs until Saturday 2nd February at Bolton Little Theatre. http://www.boltonlittletheatre.co.uk/for-love-or-money-28-january-2-february-2019/
Reviewer: Hazel Bumby
Reviewed: 28th January 2019
North West End Rating: ★★★