Company Chameleon have brought 'The Shadow' to HOME for its world premiere. This dance company has brought its unique form of dance back home to Manchester after the two founders Anthony Missen and Kevin Edward Turner decided to establish the company in 2007. Their roots are truly in Manchester after training at the Trafford Youth Dance Theatre in the mid 1990's, then moving on to the Northern School of Contemporary Dance. After spreading their dance gospel around the world and introducing and inspiring young people to dance, they can count Dame Darcey Bussell as their first ever Patron this year.
'The Shadow', encourages us to take a look at the side of our personality which we have least control. Psychoanalyst Carl Jung's theories have been used as inspiration for this glance into our unconscious psyche. This is the side of our nature which we cannot control as it acts independently from our own active thoughts, so a person may sometimes feel out of control when their unconscious takes over.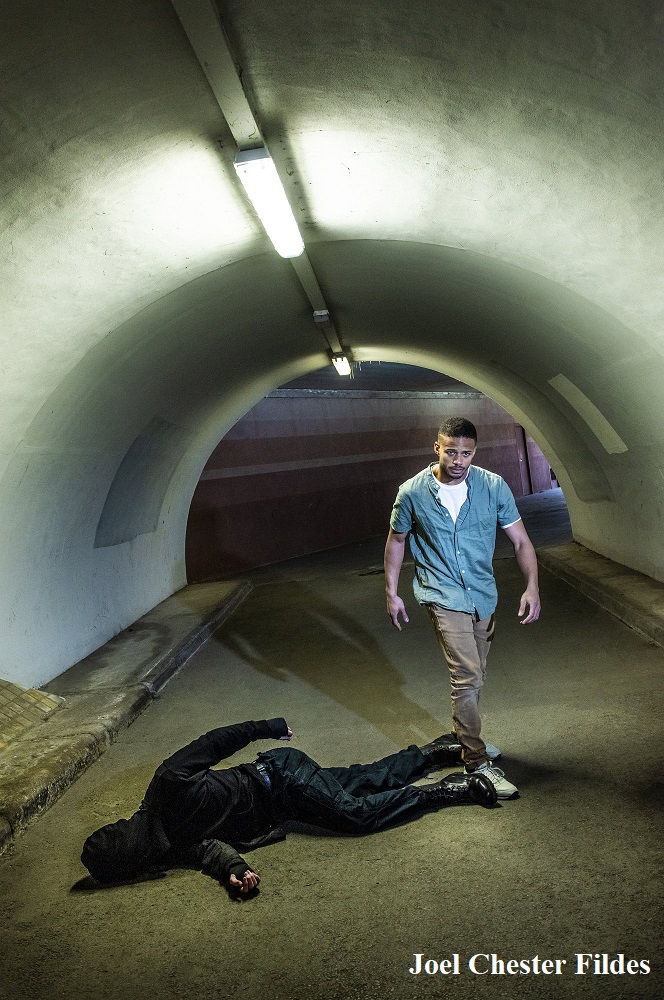 Through dance, Company Chameleon explore this notion that we have a side to our personality that nobody sees, but it is present within us. A dark side that is uncontrolled.
As with most physical theatre, the excitement comes from your own mind's interpretation of what you see, which is particularly relevant when you have a piece that is analysing your unconscious thoughts. My interpretations may be different to someone else's so I will leave you to make your own conclusions rather than force my own theories onto you.
There are times when there is a real sexual tension between the characters, the desires which are primitive can bring out the violent and predatory side of our nature which can destroy. The dancers were able to communicate a sense of anguish with their skilful movements. The dark characters (the shadows) were clothed in what appeared to be a fencing mask and black or grey clothing to create a feeling of foreboding. It became intuitive that they would appear when the characters' minds moved towards their cloaked psyche.
I could only marvel at the sheer physical strength on display. Their dance style seems to lend itself to this deeply psychological dissection of human nature.
Lighting designer Ben Ormerod is to be congratulated on his ability to make the stage seem to be eerie at just the right moments; sometimes subtle and then the use of spotlights punctuating a particularly important moment.
The music composed by Ben Chatwin, fitted in well with the athletic dance moves and the overall feel of the piece.
Overall, I felt that the choreography transmitted the feelings and emotions being expressed by the individuals extremely well. This dance company is engaging and can be both subtle and explosive in the communication of its work. This show is at the beginning of its journey, and I know it will be a success.
To see this show go to https://homemcr.org/production/the-shadow/ before it finishes on Saturday 23rd November.
Reviewer: Caroline Worswick
Reviewed: 22nd November 2019
North West End UK Rating: ★★★★