Bandwagonesque…Thirteen…Grand Prix…Songs From Northern Britain…Howdy.
There are very, very few British bands who have produced a run of albums as consistently great as that one by Teenage Fanclub and after a year's hiatus they've playing this intimate West Yorkshire venue as a festival warm up.
You'd never guess this was their first gig for 12 months as they are as tight as ever knocking out classic tracks at will much to the delight of a sell-out audience that includes a couple who flew in from the USA. It might seem extreme to cross the Atlantic to see a band, but the Fannies are worth it because they are just so, so good at what they. No-one does intelligent melodic pop better than this Glasgow five piece.
The secret to their success is that they have three outstanding songwriters in Norman Blake, Gerard Love and Raymond McGinley. Smartly they operate as a democracy where three all get an equal numbers of songs on an album which they then sing themselves. And just for good measure they harmonise in a way that is reminiscent of The Band at their best.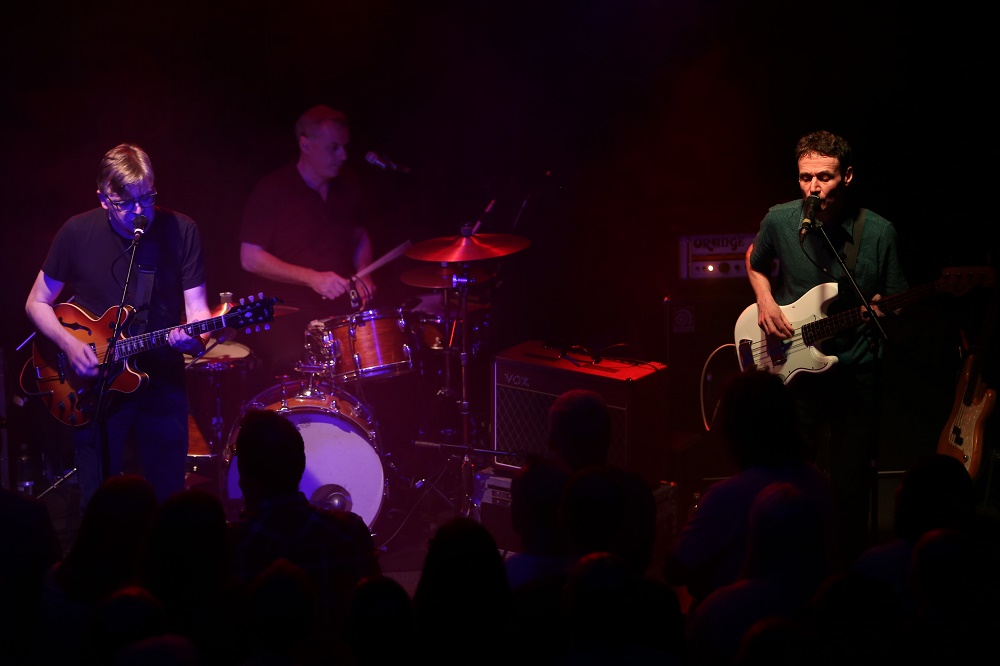 They set their stall out with Love's Sometimes I Don't Need to Believe in Anything and Don't Look Back from Grand Prix. Blake gets a look in with a mighty Start Again from Songs From Northern Britain which remains their most commercially successful album.
Finally McGinley gets a chance at the mic on the wistful Verisimilitude and from then on it is wall to wall indie rock classics. Love nails the evergreen Star Sign as he and Blake harmonise beautifully before a magical I Need Direction.
As well as being a fantastic bassist Love has a deceptively gorgeous voice like David Crosby, which he deploys on Ain't That Enough, before Blake absolutely smashed their first single Everything Flows much to the delight of all aging indie kids in the room.
A set full of the highest quality songwriting and playing fittingly wound up with The Concept from their breakthrough Bandwagonesque album. This remains one of the all-time great indie singles, which the band play with huge power as the audience lustily belted out the words.
A measure of just how good this set was are the songs they left out like Neil Jung, God Knows It's True, What You Do To Me, Radio or Free Again. All tunes that most bands would build a career on but they don't make the final set list.
This is a band who turn up after a year off and play a set that is proof that they remain one of our greatest live and recording artists. All five of those classic Creation albums are being reissued on 180 gram vinyl and you should get them all as it will be the best £100 you'll spend all year.
https://www.youtube.com/watch?v=wEalwDxRVAY
Reviewer: Paul Clarke
Reviewed: 19th August 2018
North West End Rating: ★★★★★