The creation of Acrobuffos husband and wife team Seth Bloom and Christina Gelsone, Air Play merges their circus and street theatre performance art with the sculptured artistry of Daniel Wurtzel. The talented couple met at the circus in Afghanistan and married at a clown festival in China where Christina's bridal dress was made out of tiny white balloons.
Air Play is a circus style adventure as two siblings journeying through a surreal land of air, transforming the ordinary into objects of aerial beauty learning the power of friendship and sharing.
The concept is a simple one: to play with balloons, fabric and even glitter in the air. The curtains opened at the Lowry Theatre to Seth stood dressed in red with a woollen hat (that we later found out was concealing his vibrant blue hair) holding onto a huge piece of red sheer organza light fabric dancing in the air moved by a circle of 15 circular fans, he is quickly joined by Christina dressed in yellow with striking purple hair holding onto a yellow piece of sheer organza fabric where the two colourful light weight fabric intertwine and dance together high in the air. Sounds simple? Yes it is but absolutely entrancing to watch!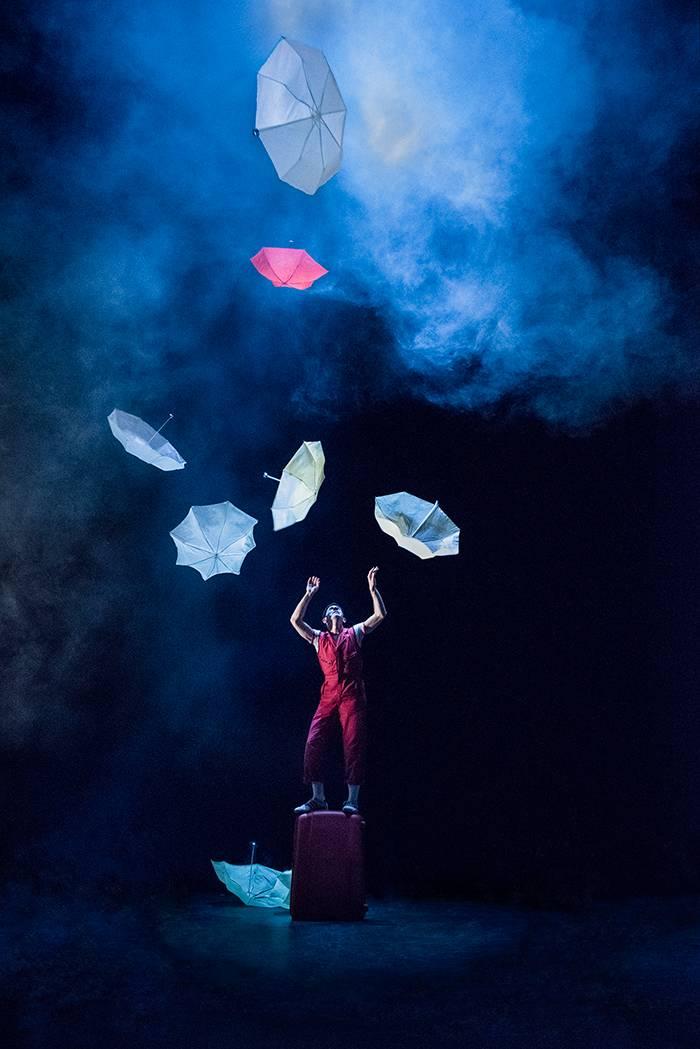 The whole performance is played without words but it's far from silent with its soundtracks leaping through genres, accelerating the performance from not only being visually enchanting but an auditory delight also.
Seth and Christina engage the audience throughout, themselves interweaving and clambering over chairs to retrieve their floating balloons which are always either red or yellow, at one point two audience members are called onto the stage to play a game of collecting balloons. At another point Seth and Christina are seen to climb into their respective coloured large balloons with Pavarotti's Nessun Dorma booming through the auditorium speakers, and perform a hilarious choreography scene ending in one of the balloons bursting thrilling my 5 year old companion.
The performance was not only playful and funny but was skilfully created, glittered with visual delights of ordinary objects such as balloons, umbrellas and fabric creatively dancing sculptures in the air aided by fans and ventilation.
Such simplistic beauty captivated the old and the young during the 50 minute show, a joy from start to finish Air Play mesmerised the audience. If someone had said to me that I would be absolutely absorbed for 50 minutes watching balloons float id have thought them mad. Well madness it was then, as I was absolutely engrossed as the whole show was unquestionably stunning, exciting and bizarrely relaxing.
The spectacular finale boomed out IZ's 'somewhere over the rainbow' as we saw a huge balloon filled with confetti burst creating a spectacular snow globe scene where the couple played like children in the snow.
Every element of this show was finely crafted and displayed the exquisite talent of this duo. I can guarantee you'll be pleasantly surprised at the beauty, never have I been so absorbed by balloons and bellowing fabric. A fantastic evening of unique family entertainment which was captivating for the entire 50 minutes, well done to all involved in this beautiful creation.
Reviewer: Victoria Wilmot
Reviewed: 19th January 2018
North West End Rating: ★★★★