Following the successful mini festival of rehearsed readings, "A Bit of French" in November 2016, A13 and North West End LIVE are returning to The Briton's Protection in Manchester City centre presenting a new series of rehearsed readings entitled "Forgotten Gems".
There are hundreds of published scripts out there, written by established writers either still living or long dead, and yet, for whatever reason, these particular but excellent plays have been neglected or overlooked. Our aim therefore is to bring back to life some of these "Forgotten Gems" in the form of either a rehearsed reading or script-in-hand performance using local working professional actors and directors.
Beginning our bi-monthly permanent residency at The Briton's Protection is "The Rape of Lucrece" by William Shakespeare. Set against the backdrop of the formation of Rome's Empire, this epic poem of lust, revenge, love and tragedy is Shakespeare's longest non-theatre work, and yet is highly dramatic in its telling of 'the sorry and lamentable plight of the fair Lucrece'. In this performance, we hope to dramatise and bring to life a true forgotten gem from England's greatest dramatist.
Performed for one night only on the 3rd April 2017 tickets are on sale now at just £5.00 (plus booking fee) each and can be booked HERE. Following on from the success of "A Bit of French" early booking is recommended. Tickets also available on the door for £5.00 (no booking fee). Full cating and details of the production team will be announced shortly.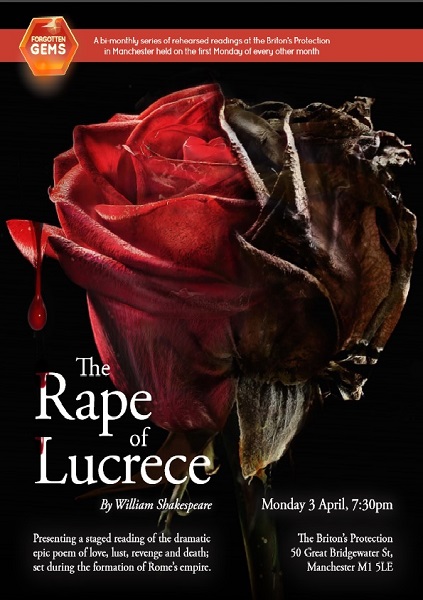 North West End LIVE! Is a new production company set up to produce the best of independent theatre in the North West. Working with some of the most talented actors and directors in the region our aim is to bring both new and established work to the audiences of the thriving theatre scene in the area.
A13 (formally known as The A13 Acting Company) was formed in 1989 as a Youth Theatre Company holding drama classes in both Middleton (North Manchester) and Bolton. The company has undergone a couple of changes since then, and now exists primarily as an English Language Teaching Theatre working mainly in central Europe. The company provides workshops, classroom support, and whole theatre projects including directing school plays and Musical productions, all in English as a stimulating and alternative way for students to engage in a foreign language. The company also work with and train young adults either still in training or recently graduated whose first language is not English.
The Briton's Protection is a unique dining and leisure experience, unlike any other in the City region.
The team at Circo pride themselves on constantly reviewing and monitoring performance, to ensure that every experience for their customers is the very best it can be. Our specialist venue provides the ultimate circus experience, aiming to provide the very best in bar, restaurant and café culture. Their vibrant Café bar offers a relaxed atmosphere for afternoon tea or a drink after a busy day sightseeing.