A13 / NWE Live! is looking to cast a staged script-in-hand version of Shakespeare's epic poem, The Rape Of Lucrece to be the first play produced under the banner Forgotten Gems, a new bi-monthly residency at The Briton's Protection public house in Manchester.
Directed by Paola Arzuffi, this is a powerful tale of lust, love, revenge and more, and we require the following...
SEXTUS TARQUINIUS - (male) - playing age mid 40s - mid 50s. Strong, born leader.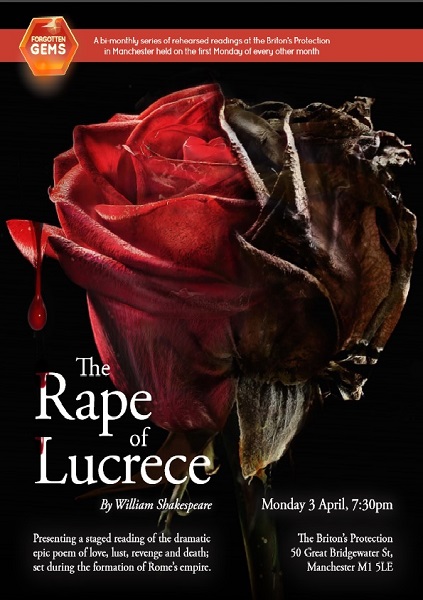 COLLATINUS - (male) - playing age mid 30s. A true Roman but has a conscience.
LUCRECE - (female) - playing age early 20s - 30. Fair and beautiful, a dutiful wife but strong willed and passionate.
For all three roles we are looking ONLY for NON NATIVE speakers. Actors and actresses whose first language is NOT English only will be considered.
The performance is a Fringe rehearsed reading and as such no payment is offered. It is anticipated that each cast member will have only 2 rehearsals prior to the performance.
To apply / register interest, then please send CV and photo to This email address is being protected from spambots. You need JavaScript enabled to view it.
Auditions will take place at The Briton's Protection, Manchester on Sunday 26th February.