To call this show a satire doesn't really do it justice at all; in fact it quite literally takes the piss (sorry) out of not just the Capitalist System and the Justice System, but also out of the Musical Theatre genre itself. It is a parody, but an excellent one; since it is not JUST funny and tongue-in-cheek, as say something like, 'A Funny Thing Happened On The Way To The Forum' is; there's also a very dark side to this show and an obvious message.
It delves much deeper, and yet, still manages to keep the atmosphere light and 'showbiz'! Mark Hollman, the creator of this piece of theatre is something of a genius. It is a Musical that knows it's a Musical and offers no apology for the fact, and yet, the characters are totally rounded and believable (for a Musical!), and the storyline of Epic Tragedy proportions. Not only does Urinetown parody itself, but it also parodies OTHER Musical composers, shows and styles too! I guess the most obvious of these would be the Kurt Weill sounding overture, or the shameless take on 'Do You Hear The People Sing' from Les Mis, or perhaps the main theme of the workers rising up against the tyranny of the oppressors being very reminiscent of Mark Blitzstein's 'The Cradle Will Rock'. But trust me there are many more hidden in there too.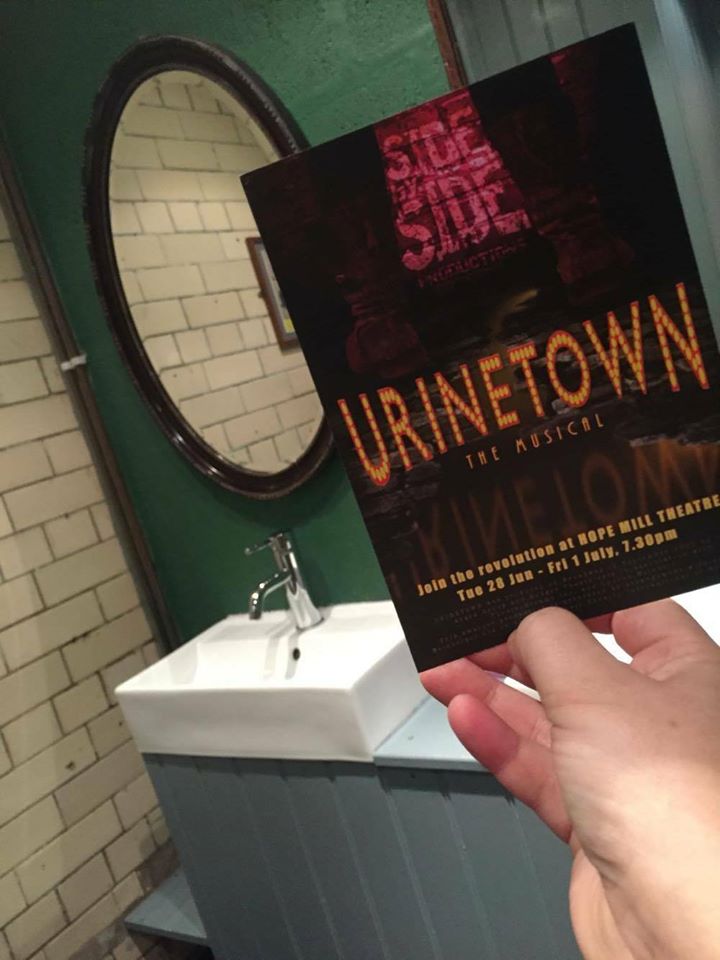 I have to admit to not knowing the first thing about this Musical until this evening, and also to not being too sure as to what to expect or whether I would like it; but from the moment I was given a piece of toilet paper as my ticket, and a dime for me to 'spend a penny' at the interval, I had already made my mind up that this was going to be good. But no, I was wrong it wasn't good, it was extremely good!
Side By Side Productions had got things just right. Walking into a dimly lit and slightly smoky auditorium, the dark and dank-looking misery of the composite set in dark greys and black (an office, the sewers, the streets, and Public Amenity Number 9, among other things) loomed and stared back at us. It was almost as if the set itself had a life of its own and was daring us to mock it. Eerie. Add to this the omnipresent smell of urine and a dripping tap, and you certainly knew without any doubt that you're-in town! (see what I did there?!)
All the cast were superb - not one weak link or passenger amongst them - and their characterisations were solid, truthful and humorous all at the same time. Not an easy combination to pull off. The singing, especially choral, was phenomenal, and the choreography,(Hannah Davis), despite the lack of space, inventive and of a high standard. Musically, the band, under the leadership of Tom Guest, played behind the set, (almost) out of sight, and created a full and varied soundscape matching perfectly the characters' moods and styles.
Gabe Walker gave an impassioned and almost-but-not-quite Comic Book performance as the would-be hero Bobby Strong. Esme Mather was the damsel-in-distress-and-love, Hope Cladwell to perfection. Gemma Sales brought the house down with one of the funniest one-liners in the show, and gave an immensely enjoyable interpretation of Little Sally. Other notable performances from a cast full of notable performances were Hannah Davis' Miss Pennywise, Steve Harrison's Cladwell, and John Mullholland's Mr. McQueen. However, my favourite character was the one to start the show. Both narrator and police officer, he treads a very difficult tightrope between complicity with the audience, knowledge of the plot, and also being a totally believable character. I write of course about Mark Wood's wonderfully glint-in-the-eye characterisation of Officer Lostock.
The whole thing was superbly directed by Donna Metcalfe. It was the attention to detail, the little things, which impressed both me and my companion this evening, and in his words, "She nailed it!". I simply cannot put it better.
There was however, most unfortunately, a fly in this otherwise unsullied ointment. The lighting. I am at a loss to understand why, when everything else had been given the most careful attention, this was left to be so poor. The office scenes were only partially lit, no spots or even washes were given at times when they were most definitely needed, and solo singers were at times singing in darkness. Also the two omnipresent beams blasting coloured light from the back of the theatre towards the audience added little and were angled to high.
Side By Side Productions have, despite being an amateur company, set themselves up as a force to be reckoned with within the Greater Manchester Fringe Theatre scene, and as such they should be thought of as professional. Lighting aside, if tonight's offering is anything to go by, then they have set the bar really quite high, and I look forward to seeing whatever this group of talented semi-professionals have in store.
Reviewer: Mark Dee
Reviewed: 29th June 2016
North West End Rating: ★★★★