With a school of over 300 students ranging from 2 years to adult, and now in its 22nd year, it hardly feels right to name it the Debut Academy; it is well established, well patronised and indeed well thought of, and quite justly too. Trying to coordinate a dance presentation which involves so many young people - no matter how committed you are - is a dauntless task I certainly do not envy.
However, Debut aspire to greatness. Yes, of course, most of the youngsters who go to the school go there as a hobby, but many of the older ones are there because they now know that they wish to continue their education and training in the field of Performing Arts and to make a career from it. To this end, Debut also offer their students more intensive training and can take BTEC and HND examinations with this academy. This school is serious and really wants its dancers to succeed and do the best they possibly can.
This attitude was obvious right from the start of the presentation. As I entered the auditorium six young girls were on the Apron Front in costume playing beach ball and paddling in a dinghy, nicely setting the atmosphere for what was to come and providing some diversion for the audience who would just normally sit staring at a dull-coloured curtain with background music. A nice touch.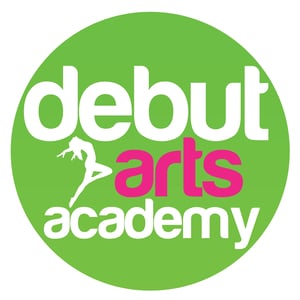 Over the past few weeks I have been asked to go to many similar end-of-year private dancing school shows, and I still have quite a few yet to go to, and so I am now getting a much better feel for both what styles of dance I am to expect and also what standard they should be at, at certain ages. In every instance this evening, the dancers were either on par with or exceeded the levels I have already seen. I have long since stopped being a dancer myself, and so I am in no way qualified to criticise the technical ability of what I saw. I wouldn't want to either. What I can look for though is a total complete performance, fully rounded and fully committed and staying in character at all times no matter what happens around you. And apart from one instance when one girl from one of the older younger groups (if that makes sense!) decided her costume was itching and pulled it and scratched it ignoring the dance, everyone coped extremely well with some rather unfortunate and disappointing technical problems.
Yes, sad to report, but technical things really did not go as planned this evening at all. I am absolutely aware that none of this was Debut's fault, since all had been plotted and fixed at the Dress Rehearsal, but from what I can gather, the RNCM used different technicians for the Dress and for the show and so the LX plot was not properly cued in to the board and sadly this left dancers in semi- or total darkness for some dances with blackouts happening at the wrong times and seemingly random lights being used for other dances. Also mic levels were not checked and tested prior to going on stage. Some numbers were sung, and on one occasion one girl had her mic turned on so high it almost blew the box whilst the next girl to sing didn't even have hers turned on. This was all most disappointing and unfortunate, but the students coped with all of this most adroitly and professionally.
I have to say though that I have been visiting the RNCM for a long time and have watched what must be in the hundreds of presentations in their building so far and this is the first time I have had to comment negatively on RNCM technical staff. They have always been absolutely brilliant before, so I find this very difficult to understand why it should have been so shambolic this evening.
However, back to Debut; and with 24 individual routines in each of two acts, there is no way I am going to comment on all of them - I'd be here all day! I shall therefore write just a little about those which impressed me the most, or I feel needy of comment. I am a Musical Theatre trained actor and so that is my first love, although I do appreciate other dance styles too, especially contemporary ballet / dance.
The whole evening started extremely well, the 6 youngsters left the stage as the curtains opened and we were entertained by 9 young girls who both sang and danced a number called 'Bathing Beauty'. It was nice choreography and the dancing was perfectly together. The singing was good and diction clear. A great start. In fact the whole Beach sequence was excellently presented and highly enjoyable.
The cowboy tap dance to the tune of 'These Boots Are Made For Walking' was a nice little number for the younger dancers to do, and was very proficient and nicely choreographed for them.
Following this was The Cup Dance. The first real stand-out number of the presentation so far. Energetic, different, and excellently danced.
After this was a compilation of songs from the Musical Chicago which started with 3 of them miming to a backing track. Ooops. So sorry, but this is unforgivable. Either don't mime it at all and just dance, or use a backing track without the vocals and sing the vocals yourselves. One or the other, but with a 99% preference towards the latter! This happened a couple of times further into the concert too; once with the Step In Time sequence and I forget where else.
Another first half highlight came in the form of Flashlight. Highly visually stimulating choreography which was busy and exciting, and all the dancers were excellent here. Loved it.
A little further down the long list of 24 dances came another act 1 highlight. The title was Freak Show, but the dance was anything but freakish, it was beautifully dramatic and superbly danced. Again, I really loved this one too.
Another really nice touch was for the youngest group/s to take their bow at the end of Act 1 and not to appear in the second half. Some of these children are 2 years old, and to expect them to keep awake and quiet backstage for another 24 numbers was quite rightly judged as too much. A lovely idea.
Sorry tutors and choreographers, but not really knowing who is who and responsible for which dances it is not possible for me to credit you by name for the routines I have picked out. However, the two things which impress me (a non-dancer these days!) the most are interesting groups (with a strong picture start and finish) and best use of the space. I also look for whether or not the choreography was within the dancer's capability - this may surprise you since today it all was; but oftentimes the choreographer gets carried away and forgets that those he/she is asking to do the dance are not technically at that ability level yet!
And so to Act 2, and another strong and great start to this part. Live And Let Die was everything I mentioned above. Excellently choreographed within their capabilities with good use of space and nice picture groupings!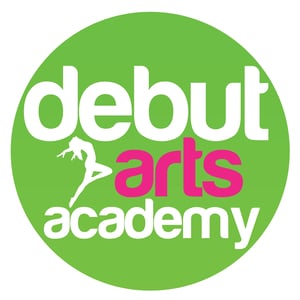 This was followed by another favourite from the evening, Queen Of The Night. Again some lovely ideas choreographically and the two soloists were good here too.
Another nice number which worked so very well for the young girls performing it - singing, dancing and acting, was Oh My Gosh. But Oh my gosh, what happened to the music at the end??!! Well done girls for not letting it bother you!
Mama I'm A Big Girl Now was, for me at least, the least 'proficient' choreography. What I mean by this is that it simply did not seem to fit either the style or mood of the song. I appreciated the split second costume change at the end but the main costumes were too cumbersome for the dance they were being asked to do and the length of the skirts inhibitive. It looked just a little messy if I am honest. I really appreciated the three girls singing the lyrics though. That was wonderful, and exactly as it should be. The term 'triple threat' being brought to mind here; where nowadays it is expected of Musical theatre performers to excel in all three disciplines (and maybe even play an instrument too!). Sadly the mics were once again playing up and the third girl to sing was inaudible for the first part of her solo, but again, massive kudos for continuing and ignoring.
The next stand-out number for me was a beautiful contemporary ballet piece with the young dancers all in green. I believe the title of this was 'Faded'. Again I really loved this item. This was followed by a rather acrobatic and funky number called 'Grown' which also impressed, and this was then followed by a portion of classical ballet from Swan Lake, in which it was lovely to see the older dancers, whom I had already seen in more modern styles, dance something much more traditional and classical. The young male dancer excelled here.
The opening of the next extended sequence (The Lion King) was chaotic and too busy with some of the dancers simply not in time at all and uncoordinated. The choreographic ideas were good, but I found it too busy and distracting and the young dancers seemed in this piece to be the least rehearsed.
The next routine which impressed me was the street dance / hip hop 'Sax'. This is really not my cup of tea normally, but I need to mention a couple of these youngsters who absolutely smashed it! I don't know their names (sorry - but we can credit you later if you let us know) but two of you were red hot! Both of you were rather small with long brown hair and stayed mostly towards the front centre. And what a creative and fabulous ending!
Following this was yet another favourite of the evening. Mad World. This was simply quite wonderful and excellent. (I seem to be using that word quite a lot, don't I.... maybe I need to find a simile).
Finally, another excellent (sorry - superb / amazing / incredible) dance was the penultimate of the evening. Dressed in Greek-style togas the contemporary dance 'Life On Mars' impressed me too.
I didn't quite understand the need for the curtains closing and opening at the end, and the bows / finale was very long-winded and I was not at all clear when the dancers were bowing or dancing as they started to bow as another line entered in front dancing etc. For such a hugely professionally organised two hours of dance, the bows certainly needed more attention.
However, that being said, I take my hat off to every single person involved in this evening's show. The roar and cheer of the ensembles once the iron had been brought in was deafening. They'd smashed it and they knew it. Well done to everyone!
Nevertheless, I do wish here to single just a few of you out. I am crediting you not because you were the best dancers, but because you were consistently the ones who my eyes strayed to. I was sitting on the forth row - absolutely excellent - I can see the whites of your eyes. And it is the eyes I look at; they tell me everything I need to know. Are you totally involved in what you are doing, committed and acting. Are you making me - and the rest of the audience - watch you above everyone else, without stealing their thunder? If the answer to all of those is yes, then your name is here. Keira Moynihan, Ellie Igali, Sophia Fanigliulo and Chloe Hodgson. I will also mention Tyler Barker for his dancing too (but he should have been singing not miming, sorry).
As far as the presentation is concerned then I should also like to make just a couple of suggestions. The set was either minimal or non-existent in all the numbers this evening, which actually didn't bother me unduly, but perhaps more use of what you did have would have been preferable. The two dinghies and beach balls at the beginning for example could easily have featured in the choreography. Likewise the bails of hay for the farm sequence.
Also, I think that perhaps using smoke for some of the items - even if it is only to highlight the LX beams would have made for more visually interesting backdrops and added more atmosphere. Dry ice for the contemporary dance / ballet numbers would have made them rather eerie when they were doing floor work.
Another thing which I think might have worked better for the very young ones performing this evening, would have been for either a tutor or older dancer to be on stage with them, but at the side, doing the moves too so that they could follow. It was a huge ask to get the really young ones to remember so much without help.
And finally, many of the groups this evening had the tiniest dancer placed next to one of the tallest, or standing directly behind someone taller. This looked wrong on every level (excuse the pun!), and if possible should be avoided. Also, making the younger ones especially, aware of the size of the stage so that when they line up they don't leave a huge gap on SL and everyone is bunched up on SR. But of course this is live theatre, and we cannot always be in control of everything.
Overall though, I thoroughly enjoyed the evening, and am extremely happy that I was able to make it. Debut Arts Academy are based in Stockport and have once again proved to me beyond any doubt at all that Greater Manchester is bursting with young talent.; and after speaking briefly to a few of them afterwards, what a lovely and wonderful bunch they are too!! Toi Toi Toi for your show Saturday, and I hope I will be able to catch up with you all soon!
Reviewer: Mark Dee
Reviewed: 15th July 2016