Royal T Drama Academy is a youth theatre group which focuses on teaching and developing the skills of budding young actors. Every August, the academy perform their annual production at St Helen's Theatre Royal and past productions have included Bugsy Malone, Guys and Dolls and Oliver. This year Grease was the word as the cast took us back to Rydell High School and 1959.
Directed by Si Foster, Ben Engelen and Harry Moore, I wasn't too sure what to expect from a youth performance of Grease as I have only ever seen it performed professionally. There was a bit of a shaky start from Mark Porter and Lucy Moran who played Danny and Sandy in the opening rendition of 'Sandy' however, I think this was due to first night nerves. Moving swiftly on to the all cast number of 'Grease Is The Word', I could sense that this was going to be no ordinary youth show. A brilliant opening which set up the audience, ready to watch Danny (Porter) and Sandy (Moran) fall in love all over again.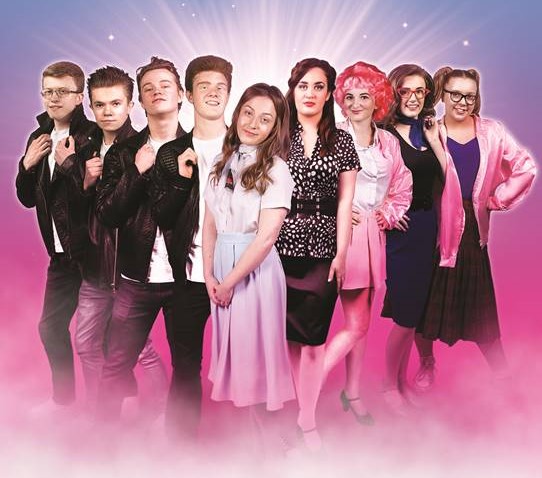 The Pink Ladies, headed by Rizzo (Charley Webster) were as sassy as expected and each of the girls Frenchy (Alicia Stroud), Jan (Izzy Watkins), and Marty (Charlotte Welsby-Riley) were easily recognizable as the characters we know and love. Their counterparts, The T-Birds led by the ever cool Danny Zucko (Porter) were also just as any Grease fan would expect. Funny Sonny (Elliot Bailey), Goofy Doody (John Lewis), the slightly awkward Roger (Tom Hardie) and of course smooth talking Kenickie (Kieran Maleedy). All very talented actors who had an individual chance to shine throughout their solo numbers or duets.
I did enjoy the solo performances but the stage really came to life during the all Company numbers. Full credit must be given to Laura Gregory for her magnificent choreography. As well as being an actor, Laura is currently studying Performing Arts Teaching and I was shocked to learn that Grease is her first choreographing job. What an amazing first job she has done and if this is just the start, I see a very bright future for her. Well done.
The costumes were really authentic in their style and portrayed 1950's fashion perfectly. I was a little disappointed with the transition from dull Sandra Dee to full on sexy Sandy. Lucy Moran came across as uncomfortable with her new character initially and I was distracted during the finale when she was adjusting her costume.
Special mention has to go to Charley Webster. Her voice is astounding and she played Rizzo perfectly. I could not take my eyes off of her when she was on stage, even when she was not necessarily the lead character. It does not surprise me in the slightest that she recently won a NODA award for her role as Nancy in Oliver. I believe that her dream of performing in the West End will come true.
Most of tonight's sell out audience consisted of very proud parents, grandparents and siblings. And they should be proud. A thoroughly enjoyable evening by an extremely talented bunch. Congratulations to all involved.
Reviewer: Ann Ellen Fazackerley
Reviewed: 25th August 2016