John Godber was born in Upton, West Yorkshire, and was the son of a miner. He trained as a teacher of Drama at Bretton Hall College. Whilst he was Head of Drama at Minsthorpe High School, the same school he had been a pupil at himself as a student, he won every major award at the National Student Drama Festival between 1981 and 1983. John's plays are performed across the world. He has the distinction of being one of the most performed writers in the English language. He has won numerous awards for his plays, including a Laurence Olivier Award and seven Los Angeles Drama Critics Circle Awards. His plays include; Bouncers, Up 'n' Under, Gym and Tonic, It Started With a Kiss and Big Trouble in the Little Bedroom.
'Happy Jack" is a witty, "warts and all" play highlighting a great sense of Yorkshire pride through Godber's words, which was written just two years before the cataclysmic miner's strike of 1984 when he was just twenty-two. The play is based on John's own parents in a biographical format with "nowt tecken out" as we say in Yorkshire! The stage directions are spoken and the two characters explain about the staging and location of the story – in a Yorkshire pit village where "coal is King and words aren't wasted".
With just two cast members as Jack and Liz (John's parents) with them both doing other characters when needed, the story takes you through the highs and lows of the couples marriage, honeymoon, children's births and their first date. We first meet Jack and Liz ("never 'Elizabeth'"') as an old couple reminiscing about Mario Lanza whilst cosying up round the fireplace in their miner's cottage. TJ Brett is wonderfully charming and funny as Jack, a typical grumpy old man whom is anything but "Happy". Elizabeth Young as wife Liz is equally loveable if somewhat wooden in places.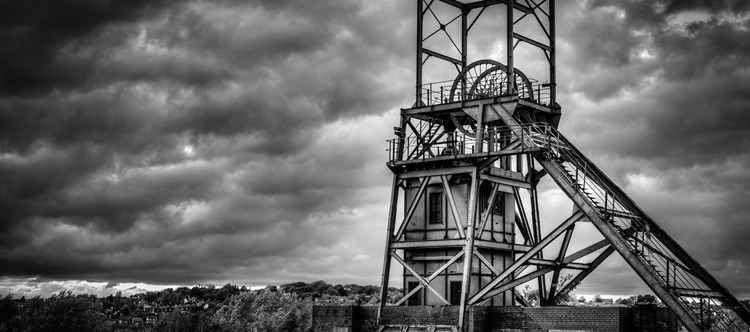 At times she appeared (several times) to be either struggling to remember her lines or indeed form the correct words, however I put this down to first night nerves made worse by the terrible thunderstorm and hailstones going on outside the theatre, which at one point sounded as if the theatre roof was going to cave in. Despite this the pair continued on as if nothing was happening and gave convincing performances as the not-so-happy couple.
One couldn't help but feel sorry for Liz; devoted housewife whom spent her time devoted to cleaning the cottage from top to bottom and doing Jack's dirty laundry yet he never really seemed to show his appreciation. Most women these days would have shown him the door long before even reaching old age together!
The story is full of snippets of Jack and Liz's years together filled with love, sadness, anger, joy and conflict. The play balances humour with tougher realities and highlights the lives of working miners working "two mile underground", and the terrible legacies that many of them were left with long after leaving the pits.
I was definitely the youngest member of the audience this evening with the majority being over the age of sixty-five but this to me added to the magic and charm of this rather short play (starting at 7:30pm and ending at 9pm with an interval in-between, Act Two lasted roughly thirty minutes), as I loved watching the audience reaction and seeing them reminisce about their own experience of the mining industry, especially in the parts where old television commercials were shown.
Mining is a huge part of Yorkshire's heritage and I hope that in thirty or so years time, Yorkshire is still remembered for its mining history.
Although this was not my favourite instalment from The Lamproom Theatre Company, I would still recommend it, especially to those old enough to remember the times when the mining industry in Yorkshire was thriving.
"Happy Jack" plays at The Barnsley Lamproom until Saturday 17th September and tickets can be purchased via the Box Office on 01226 200075.
Reviewer: Lottie Davis-Browne
Reviewed: 13th September 2016