Eric Chappell's play, The Banana Box, was first performed in 1970 and following a successful West End run, it was adapted to become to the more well-known BAFTA-award winning television series, Rising Damp, starring Leonard Rossiter, Don Warrington, Frances de la Tour, and Richard Beckinsale. This version of Rising Damp was revised by the author in 2013.
Set in the interior of an attic flat in the late 1960's in a northern University town, we meet student Alan (PJ Murray), who is studying medicine and has just moved into said flat although he doesn't expect to be sharing it with someone else: the mysterious Philip (Archie Roberts), studying town and country planning, who is apparently the son of an African chief and has ten wives waiting for him back home. This is the least of Alan's worries however as he must also contend with a hole in the floor, water running down the walls, and a sinister landlord, Rigsby (Mike Sanders), who has designs on the administrator, Miss Jones (Vicky Lodge), living downstairs, who in turn has developed a passion for Philip.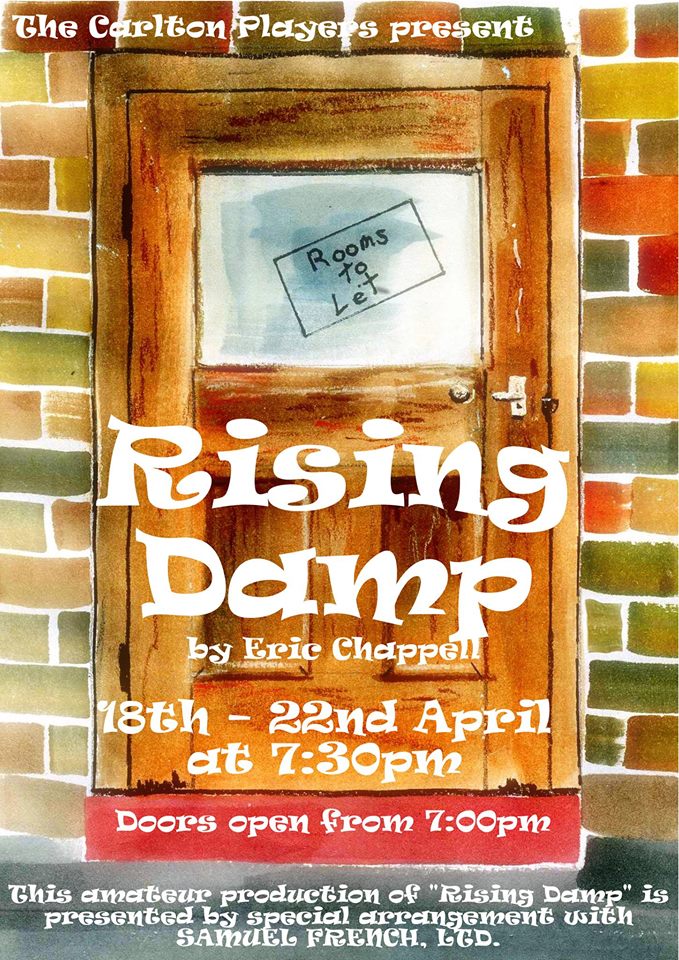 A noted challenge of this play is that its subject matter is dated although it is historically accurate in capturing language, manners, details, wartime reminiscences, and depiction of social issues. In my opinion it was the clever playing out of bigoted prejudices which made the television series such a success then and which in turn make this play such a success now as it resonates strongly with some aspects of the recent Brexit debate and the current Prime Minister calling a general election today couldn't have been timed any better.
It would be easy to perform this as a tribute to the renowned television cast but director Eliane Davie has wisely resisted that pitfall allowing Chappell's inimitable dialogue to come to the fore as the cast display the funny side of their characters despite their earnestness and with Philip invariably having the last laugh. Lines alone don't deliver wonderful scenes though and amid the delightful squalor of Pam Buckle's set, we were treated to some acting masterclasses with a couple particularly memorable: the boxing scene at the close of Act One and the seduction scene at the opening of Act Two, providing great all-round entertainment which kept the audience in fits of laughter.
Sanders made Rigsby his own and gave him a depth that almost made me feel sympathy for him whilst Lodge captured the charm and poise, but ultimately the desperation, of Miss Jones beautifully. Roberts was charm personified as Philip and I look forward to seeing his future work. I was particularly pleased to see Murray successfully stepping-up to a leading role as he captured the naivete and ineptness of Alan superbly.
The Little Theatre in Birkenhead is a delightful venue complete with bar and seating almost 300 including full disabled access. There is free parking to the rear of the theatre from 6.30pm.
The Carlton Players are the resident company and produce 7 plays a year including a pantomime, comedies, and serious plays. They are always looking for new members so why not get involved?
Rising Damp runs through to Saturday 22nd April 2017, doors open at 7.00pm with performances commencing at 7.30pm. Tickets £8 (£6 concessions) and available at https://www.ticketswirral.com/en-GB/shows/rising%20damp/events/2
The next scheduled production is Charley's Aunt, a comedy by Brandon Thomas, which runs 30th May – 3rd June. On 16th June, the theatre will be hosting a 'Memories Night' showcasing old films of Birkenhead along with guest speakers. Further details can be found at http://www.carltonlittletheatre.co.uk/
Reviewer: Mark Davoren
Reviewed: 18th April 2017