Blood Brothers written by Willy Russell tells the tale of Mrs Johnston, a mum of several children struggling to make ends meet, working as a cleaner for the wealthy Mrs Lyons. After her husband left her as she "no longer looks like Marilyn Monroe" she discovers she is expecting twins and in desperation agrees to hand over one of babies to her childless employer who fakes a pregnancy and passes the child off as her own, insisting that no-one must ever find out.
Mrs Johnston continues to work for Mrs Lyons who becomes increasingly worried that her cleaner is becoming too attached to the child she gave away so tries to pay her to leave. She give a superstitious omen that if either twin finds out about the other then they will both die! The story continues from birth to death of the twins and how their lives cross on many occasions to the horror of their mothers. Unaware of their true relationship and despite their very different upbringing they get on well with each other and become 'Blood Brothers' when they are just youngsters, nicking their hands with a penknife and clasping hands.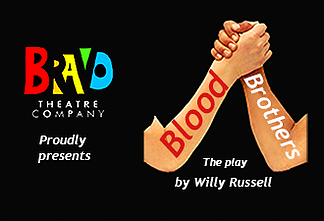 From the start it is obvious that this is a very low budget production from The Bravo Theatre Company. Bravo are an environmentally conscious company and 90% of props and costumes are from recycled and repurposed materials. The stage is a narrow, slightly raised platform with a simplistic background and there is very little used in the way of props but include a pram, a table and a couple of chairs representing Mrs Lyons home and Mrs Johnstone's mop and bucket.
Deb Judic as Mrs Johnstone is a credible performer and sang unaccompanied, 'Marilyn Monroe', with voices heard from backstage for the chorus. This led me into thinking maybe this was going to be a musical version and not the play but it was the only singing part. As she danced around the stage you could warm to Judic's character almost immediately.
Between acts records played such as 'Let It Be', and 'Feel Like Dancing' and occasionally they went on too long with the audience becoming distracted and chatting. Personally I did not like their use. The only microphone was used by the narrator and at times some of the dialogue was lost with the softly spoken Mrs Lyons (Khanom Deborah) although I had no difficulty hearing the other actors.
Leo Burke, playing rich twin Edward/Eddie had us laughing, especially with his naivety and with his advice on how to woo a girl to Mickey. Overall performer of the night was Josh Gwynne as twin Mickey. He absolutely owned the stage with a brilliant portrayal of Mickey. His comic antics as a 'seven but nearly eight' year old kid were hilarious and as he went from seven to fourteen to angry young man his acting skills were challenged and he didn't falter.
Narrator, Carla Gwynne gave a good performance but I feel that a more imposing and foreboding figure is needed for this particular role. Possibly raising her position on stage and with more powerful lighting when she speaks would help. I had a tendency to forget about her, whilst in the original play the narrator is a key character.
Blood Brothers is a powerful and iconic show to perform and the saviour of this particular production is Josh Gwyne.
I wish the theatre company well with future productions.
Reviewer: Lorna Weekes
Reviewed: 23rd June 2017