'Saving Grace' described as a 'Social Media Comedy' by the Thingwall Players prepared the audience perfectly for a night of contemporary fun, laughter and entertainment and they did not disappoint.
Two friends Katie (Rhiannon Murphy) and Cheryl (Charlotte Holguin) plan a surprise hen party for bride to be Danni (Kimberley Lasi) on a limited budget but when their friend Grace does not show up to the party, speculation about her whereabouts arises and persists throughout the show with the girls' farfetched and hilarious theories making for comic viewing. With social media as their first protocol, they utilise the modern world to make some discoveries with neighbour Tom (Luke Morgan) and Cheryl's boyfriend Jay (Daniel Anderson) getting caught up hysterically in the mess!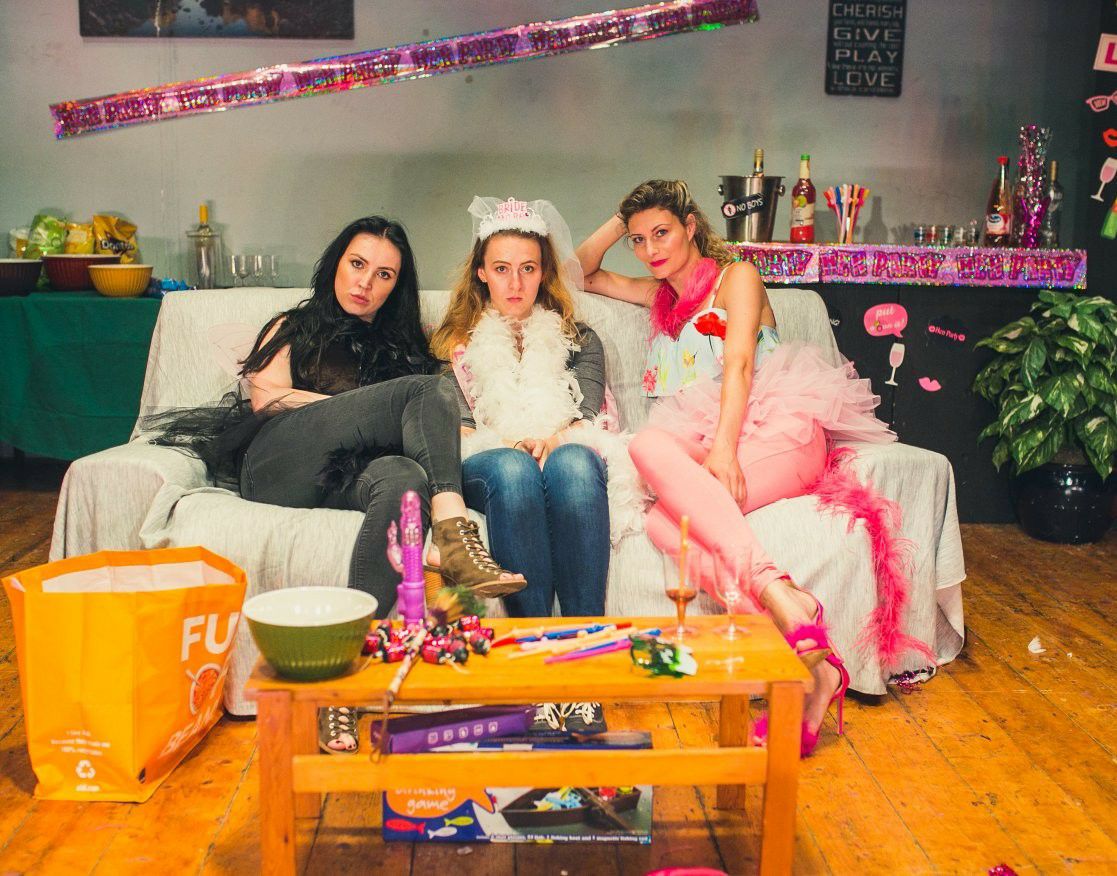 Cleverly written by David Griffiths, the play is jam packed with fantastic material, from hilarious 'one liners' to colourful characterisation which was brought to life through an exciting, fast-paced creative vision from director Victoria Pinder and executed by a group of five skilled performers.
Holguin's ditsy and entertaining character was evident from curtain up and as the show progressed, so did the audiences love for this character. Holguin's talent and natural humour meant that even her tone and facial expressions had the audience in stiches. I couldn't take my eyes off her costume – it was brilliant! Murphy 's role was instrumental to the flow of the play and her believable sassy character bounced off Lasi, who acted as the voice of reason in her stroppy bridezilla role although I am unsure if I truly felt the friendship chemistry between these three. A welcomed variation in character came from Morgan whose geeky stance and flouncy gestures were fabulous for his amusing part. And of course, an unforgettable, well-choreographed entrance came from Anderson who 'went for it' throughout the show, much to the delight of the audience! Some terrific performances, I particularly noted the facial expressions of every one of these actors- they were captivating, fitting and truly hilarious.
For me, the actors with particularly fast accents need to slow down the delivery of some lines. Without using microphones, the audience has to work extra hard to concentrate on what is being said and some lines were lost at the start meaning that I felt slightly disengaged. However by the end of the first act, it was clear that the performers felt more relaxed and confident on the stage which left me engrossed.
Utmost praise goes to the sound and lighting team within this production (Hayley Jeffrey, Tim Saint) as both elements were executed with precision and perfection. The use of the screen to depict the text conversations and phone calls was genius and added an exciting new dimension to the play with credit to producer David Griffiths for his designing of the video effects. Pinder made sterling use of space; skilfully incorporating off stage area's which added another appealing layer to this pleasing and likable show. The show ended abruptly however this meant that the pace never dropped and the audience were left slightly surprised but smiling and fully entertained.
Thank you for Thingwall Players for bringing theatre into the modern world in a truly comedic and humorous manner- I wish you every success with the rest of 'Saving Grace'.
Saving Grace continues at Thingwall Community Centre on Friday 14th July 2017 and Saturday 15th July 2017 at 7.30pm. Tickets are available via www.trybooking.co.uk/CFX or www.thingwall.org.uk
Reviewer: Bláthíne Maguire
Reviewed: 13th July 2017