Intriguing from the title to the very last bow, Merseyside Academy of Drama (MAD) present their production of 'How to disappear completely and never be found'.
This play has an important focus as it depicts the toxic life of an advertising executive named Charlie (Toby Everett), who faces the repetitive challenge of his demanding and chaotic working life in London. Charlie's stumbles his way through daily tasks, searching for some escape and relief from his growing pressure and insanity. Filled with insight and reflections on modern day life- this play will really make you think and helps to highlight the contemporary stresses that are affecting everyone.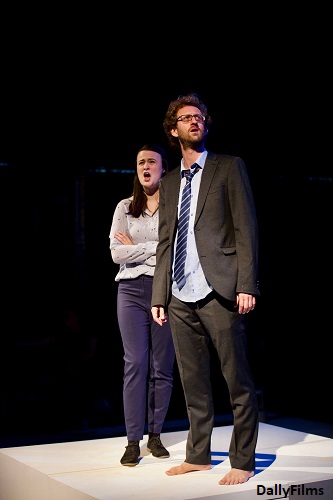 'How to disappear completely and never be found' is dependent on a very strong lead character which Toby Everett absolutely delivered and more. He was believable and powerful as he played this demanding part, sharing Charlie's emotion, passion and instability with conviction and excellence. I found myself completely engrossed in his highly visible struggles. Everett impressively evoked sympathy and empathy from the audience as he portrayed Charlie's journey of trying to find himself.
Everett was well supported by a talented group of eleven actors who made up the full cast. With a large number of characters, most of the company played multiple roles showing their diverse abilities. Some of the smaller parts which made a bigger impact included Detective Alan Fry (Alex Robson), Erica (Sophie Coyne) and the bureaucrat (Jenny Coutts). Mike (Brian McMinn) was the voice of reason throughout the show and although first night nerves were apparent, his talent prevailed and he was both likeable and engaging. This is a cast with mixed confidence but great potential and credit to each and every one for their variety and entertainment (Shaun Greatbanks, Susan Kanellos, Lauren Cusack, Jessica Izzard, Lauren Williams, Hannah Dalgleish and Kate Bannon).
I felt that more voice projection was needed on some occasions as it was difficult to hear all the dialogue, particularly within the female cast. This may also be due to the staging and positioning, as the cast were sometimes speaking at the end of the performance area and projecting their voices to the corner of the room so their voices struggled to carry back to the audience who were in the centre of such a large room.
The sound and lighting worked harmoniously together to create the perfect atmosphere from the onset. Costumes were minimal which worked, giving a sense of normality among the madness and Everitt's dirty bare feet only added to his dishevelled character.
This production captivated the audience by highlighting some frightening truths and realities behind the demands of living in the modern world. In some parts I felt lost between what was real and what was not, especially during the scenes between Ellie and Charlie which complimented the overriding feelings of confusion and disorientation within this play.
Final note goes to the director Mike Evans who rose to the challenge of creating this extraordinary, relatable and touching insanity. Evans vividly formed umpteen scenes in various locations through clever lighting, sound and movement within a very minimal set. A huge number of small roles were well catered for through his vision and fully executed by this skilled set of performers.
Thank you MAD for bringing these highly important issues of mental health and addiction to theatre in an artistic, creative and believable manner. I wish you every success with the rest of 'How to disappear and never return again'. This show continues at 'Black E Liverpool' on Saturday 26th August 2017 at 7.30pm.
Reviewer: Blathine Maguire
Reviewed: 25th August 2017