Grimley – the fictional setting for 'Brassed Off' - certainly puts the 'grim' in the saying "it's grim up north". Set in 1994 with echoes of the 1984 miners' strike in the background, 'Brassed Off' is the story of the Grimley colliery which is facing closure.
The story has more than a foot in reality as Grimley was based on Grimethorpe and the story roughly reflects the history of the Grimethorpe Colliery Band (who recorded the soundtrack for the film starring Pete Postlethwaite).
The set for tonight's performance was very good – complete with rotating colliery pit wheel which formed a striking silhouette against a backdrop which was lit in varying colours throughout the show.
The story revolves around Grimley Colliery which looks all set for closure, pending a ballot. The miners have all been offered increasing amounts of redundancy money and the community is divided between those who believe the closure is a foregone conclusion and that the money should be accepted before the offer is withdrawn (mainly the wives) and those who are still clinging to a shred of hope that it will be saved. Without the pit, the miners and their families have nothing.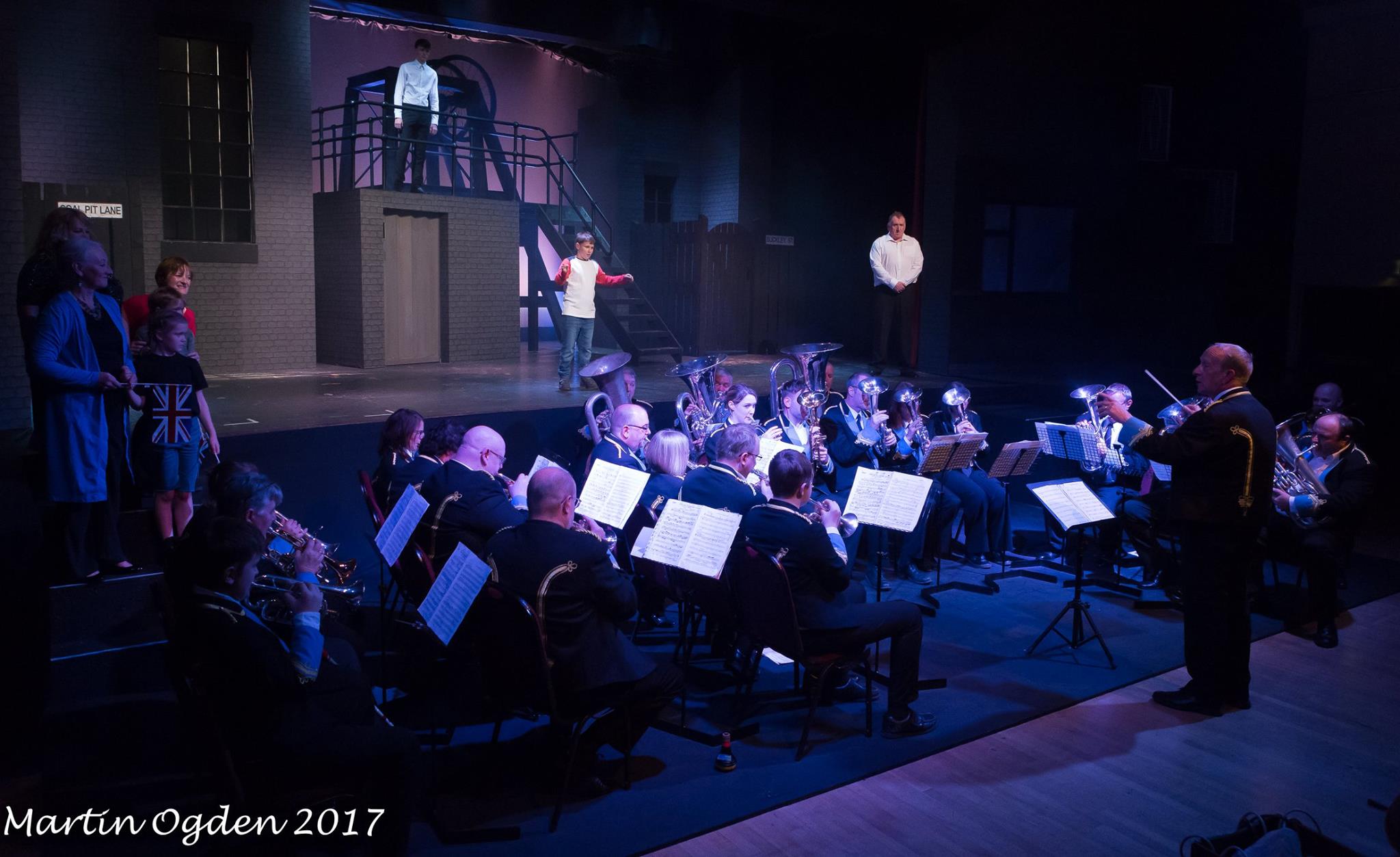 What this story emphasises very strongly is that mining wasn't just a job, it was a way of life. It pervaded every area of the miners' lives; the colliery almost having a personality which dominated everything. Every mining village would have had a brass band and even though mining has never touched my life in any way, I felt the loyalty and sense of community very strongly which, it has to be said, was demonstrated excellently by the acting tonight. The passion and strength of feeling came through loud and clear.
The added bonus for this production is that there is a real life brass band in it: Mossley Band. They are FANTASTIC. They really brought the whole thing to life and the quality of their playing was wonderful. I found it mesmerising to listen to and would have been very happy for them to have played a lot more. Several cast members integrated into the band as their characters were band members: to my eye, they all looked as though they were really playing their instruments so if they're not actually musicians, then hats off (or should that be helmets off) to them!
I did find the play a little slow to get going and I felt it lacked a bit of pace but this picked up once we got to the first band rehearsal and then Gloria Mullins (Jo Farrow) arrived.
There are moments of real despair and anguish in this show which are so real and very moving – the character of Phil (John Meachen), particularly goes through a lot, to the point of complete loss of hope, such that he is driven to the edge of desperation and feels he has no options left....except one. This scene – although not a happy one by any means - is extremely well acted and directed, with the Colliery silhouette providing an ever present reminder of the way of life which is being slowly destroyed.
One of the funniest moments in the show is where the band are taking part in a competition at Saddleworth which involves marching (and playing) through fourteen different villages...and visiting various hostelries en route. The direction for this was inspired and utilised the auditorium very well with the band actually walking right around and behind the audience. Be warned, however...it starts off with a VERY loud bang on the drum which had most of us jumping out of our skin! As everyone drinks more, the refined and proud marching becomes more and more straggly...with plenty of 'bum' notes. Excellently performed by everyone and very funny.
As with many northern based dramas, there is a fine balance of tragedy and comedy. There is much humour in this play which is showcased well, particularly by Jim and Harry (Jon Crebbin and Mike Sammon). Their acting was excellent and they were totally convincing as old friends. The conversation and interaction between them was honest and at times, hilarious.
I found the way the play ended was extremely moving and very well directed with clever use of 'young' Shane and 'old' Shane to demonstrate the passage of time.
Special mention should go to Ben Hadfield who plays 'young' Shane – this young man has a great deal of confidence without being precocious and I thought he was instantly likeable and very believable.
All the cast performed excellently tonight with an extremely high standard of acting from everyone. The characters and the interaction between them all, particularly in scenes of tension and anger, were very convincing indeed.
This is a way of life which doesn't exist anymore and it was nostalgically revived by Mossley Amateur and Operatic Society (MAODS) tonight with vitality and affection. Don't miss the chance to experience some real Yorkshire grit as Grimley Colliery closes for the final time on 23rd September.
Reviewer: Nicky Lambert
Reviewed: 18th September 2017
North West End Star Rating: ★★★★