I have to preface this review by saying that my husband and I saw Avenue Q in New York on an off-Broadway performance and so we were equal parts excited and sceptical about this evening's performance by Diva Productions - could it really compete?!
If you are unacquainted with the hilarious musical that is Avenue Q, where have you been?! Not for the prudish or faint of heart, Avenue Q is like Sesame Street meets Rent after dark. Following a cast of characters (a mixture of humans and Muppet-style puppets) in their run-down apartment block as new resident Princeton played by Chris Moss, searches for his 'purpose'. With songs about homosexuality, racism, and er… puppet coitus(!) there are as many cringe moments as real belly laughs.
Some of the characters, such as Trekkie Monster, are played by two puppeteers at once (perfectly in sync - no mean feat), whereas others have the same person controlling the puppet and providing the voice. The real testimony to whether a performance of Avenue Q is successful is if the audience barely notices the actors and concentrates entirely on their puppet counterparts and for the most part, in this performance that was the case. As I was reviewing, I think I paid a little more attention to the humans behind the felt than the rest of the audience and I did feel that occasionally Kate Monster (Played by Anna Potton) could have been a little more animated to keep the focus on herself- but what a voice!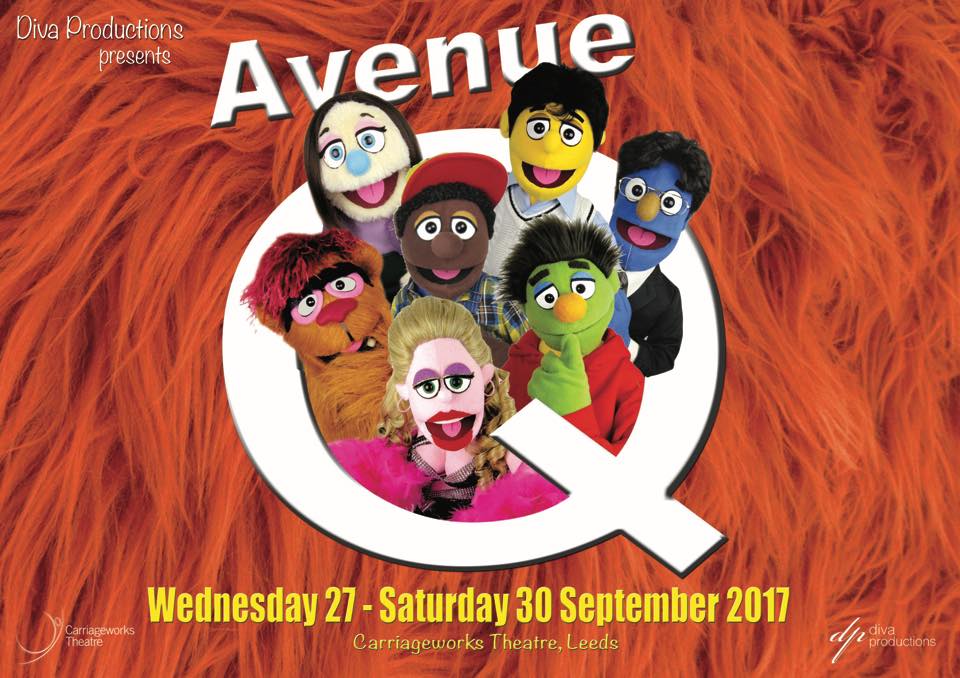 In fact, the vocals of this production were incredible (from someone who listens to the soundtrack on the regular!), individually and as an ensemble. Even when the songs were vulgar and full of foul language, it was still aurally beautiful! Enunciation and clarity is so important in a musical like this and judging by the tears from the guy laughing next to me, no words were lost on the audience! Musical Director Adam Boniface should be proud!
Luke Gillingham was the standout for me, as he played Rod (a closeted Republican with a crush on his roommate and best friend, the adorable Nicky played excellently by James Sidgwick) and Trekkie (a lovable perverted millionaire) - two incredibly opposite characters who were brought to life flawlessly by Gillingham. I have no idea how he did it!
In the American version, Gary Coleman was played by a black woman, and when I saw that he was going to be a puppet voiced by a white woman in this version I was pretty sceptical but oh my God was I wrong! Suze Trim was unbelievable! I would go as far as to say that her version of Gary outperformed the Broadway version we had seen as she took a bit-part character and gave him the most amazing stage presence. I found myself wanting Gary to be in every scene!
I do have to be honest (as is my job), I wasn't quite as convinced by Brian played by Dale Vaughan. I can't quite put my finger on it, but I think it was the slightly unnatural "American" accent and a bit of a drop in energy in some scenes. Don't get me wrong, he wasn't bad by any stretch, but perhaps was a little left behind by some of the other talents in the cast.
The use of multimedia screens showing short clips a la Sesame Street was a hilarious touch, and the audience were very appreciative of the odd change in lyrics to include local interests (unless someone really did put a Leeds football season ticket in the money hat!).
If you aren't into innuendos (or in some cases, quite graphic descriptions!), bad language and tongue-in-cheek comments, there is a chance that this show isn't for you and you won't enjoy it. If, however, you have a bit of a dark sense of humour, I cannot see how you would not be able to fall in love with this production of Avenue Q. Mixed into the hilarious (and sometimes silly plot points) there are some important conversions being had about love, racism, the treatment of minorities (in this case, monsters) and the meaning of life - deep stuff for a show starring 90% puppets.
This is a musical for the Millennial generation or those of us who left University thinking we would 'make a difference to the human race', as Princeton sings, and are now left jaded and cynical. But hey - it's just Schadenfreude - making people glad that they're not you!
Director Andrew Ashley and Assistant Director Andy Fretwell and the rest of the team really deserved the standing ovation they received - even with knowing the plot, jokes and songs, I still laughed - a lot! The perfect cure for the end-of-summer blues!
Reviewer: Codie Wright
Reviewed: 28th September 2017
North West End Rating: ★★★★