STOS Theatre Company produces the world's top musicals at Sheffield's Lyceum Theatre, made for and by the people of South Yorkshire. STOS draws on the very best local talent, employs hugely experienced professional creative teams, and invests up to £100,000 on each show to ensure the production values are without equal. It performs exclusively at Sheffield's 1,100 seat premier theatre venue - Sheffield Lyceum.
Recent STOS productions include; White Christmas (2014), Our House (2013) and West Side Story (2011).
Their latest offering is the sensational Olivier Award winning West End show Legally Blonde. The show is an all singing all dancing romantic comedy, based on the 2001 movie with the same name. This musical is all about knowing who you are and showing what you've got! It's the funniest, most fabulous musical around.
The show starts at the Delta Nu sorority house at the University of California (UCLA), where "it" girl Elle Woods has it all. Elle and her friends are celebrating the fact that Elle's long standing boyfriend, Warner Huntingdon III is set to propose to Elle - their sorority president. However, instead of declaring his love for her and popping that all important question, Warner tells her he is breaking up with her as she's just not "Serious" enough (cue the song!). Elle decides she must fight for her man and prove that being blonde doesn't necessarily mean being dumb.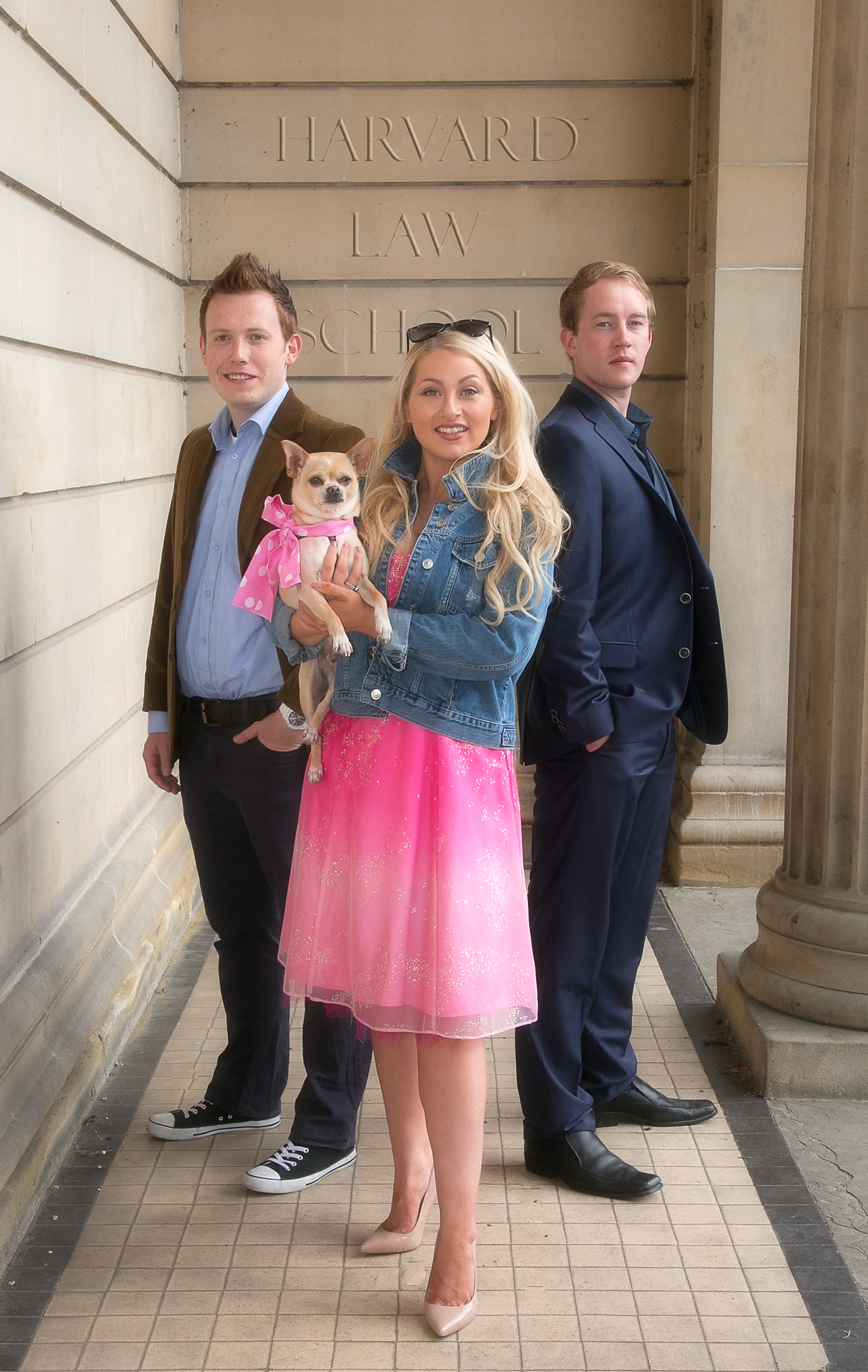 Although I admit it took me a while to get into this particular production, despite having seen this show quite recently in North Yorkshire, within a couple of songs I was well and truly loving every second. My only gripe is, now forgive me as it may have been the fact that I was in the Circle or that fellow theatre goers around me were talking at various points, I often felt that during the songs, words did not come out when they should have, or words were mumbled and unless it was the chorus I often struggled to hear what was being sung. Several times there was feedback from the microphones which made hearing even more of a task. However, this did not deter the quality of the performance and I am sure this was just opening night blips that will be resolved for future performances.
Abi Weigold shone as socialite Elle Woods, equally matched by Richard Granger as Emmett Forrest.
I was in total awe and admiration of Aggie Gryszel as Brooke Wyndham - such energy (literally!) and passion for her role it was clear to see how Aggie manages to teach dance lessons at two Sheffield schools (The Betty Chappelle Dance Centre and Dronfield Dance and Theatre Academy) as well as choreographing for many companies in Sheffield. Aggie's energy and passion for musical theatre shone through in her high energy singing and dancing numbers - I was out of breath just watching her! Bravo Aggie!
Rufus the Dog (played by Murphy and Odin) seemed to be showing signs of stage fright this evening but he stole the heart of the audience along with Bruiser (Dora and Lola) who seemed much more the experienced budding doggy actor!
The stage set was exceptional and could have easily worked in the West End and high energy choreography (Claire Harriott), Legally Blonde is not to be missed. I was singing the songs in my head on the drive back home and excited at the prospect of coming to STOS's forthcoming production of MADE IN DAGENHAM (November 2016) - a show I felt privileged to have attended on Press Night in the West End a couple of years ago.
Tonight's performance of Legally Blonde introduced me to yet another wonderful Amateur Dramatics Company, highlighting just what amazing talents we have here in Yorkshire.
Hats off to the entire team of STOS for what was an outstanding evening of spectacular talent and entertainment. I eagerly await my return to your next production in November 2016!
Reviewer: Lottie Davis-Browne
Reviewed: 17th November 2015