We've all heard of the Brothers Grimm who penned many a dark tale but tonight was all about the hard work of two Rainhill ladies – Samantha Moores and Claire Jones – who jointly direct and choreograph this delightful series of vignettes whilst at the same time bringing together the three strands of RMTC Youth – Infant, Junior, and Senior - into one seamless production. Oh, and on the subject of seams, when this pair aren't busy they make the costumes as well!
It was good to see the grittier, original tales being used rather than sanitised Disney versions and the styling of each to be narrated with accompanying mime and choreography perfectly allowed the stories to unfold before a solo piece wrapped it up.
First we had the tale of Rapunzel letting her hair down with a strong solo from Rhianna McEwan. Then came The Elves and The Shoemaker which through some delicate choreography allowed the infants to shine. Next up was Red Riding Hood which elicited a few gasps from some younger audience members – OK, and me – as well introducing a rich vein of humour into the piece as personalities came to the fore. A polished song and dance routine from Paige Quilliam took us into the interval.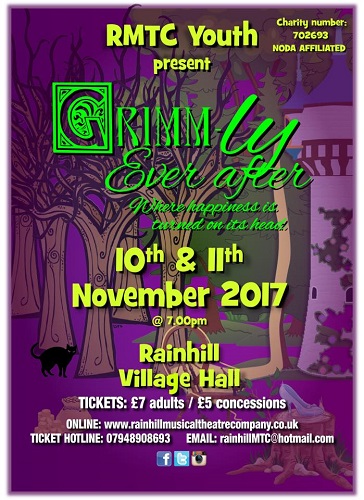 The second half opened with a bang with Into The Woods performed by Amy Balfour, Georgia Nicholas, Joseph McDevitt, Katie Reeves, Jessica McDevitt, Emily Nugent-Brant, Lilljana Spencer, McEwan, and Quilliam.
Then the narration, mime and choreography resumed with the tale of Hansel and Gretel which was topped by Balfour's solo dance routine which demonstrated wonderfully her natural talent and grace. Rumpelstiltskin spinning straw into gold was the perfect prelude for Cinderella and two stepsisters with real attitude and some grim humour that again brought some ooh's and aah's.
Finally, and sadly, we had the tale of Puss in Boots and with a full-cast revue led in song by Nicholas, we had most definitely got the cream tonight:
Infants: Lydia Caddick; Misha Hewitt; Maisie Riley; Celine Shaw; Holly Spencer-Storey; Clara Robinson.
Junior: Jessica McDevitt; Emily Nugent-Brant; Patrick Reeves; Millie Riley; Alfie Shaw; Lilljana Spencer; Grace Spencer-Storey.
Senior: Amy Balfour; Rhianna McEwan; Georgia Nicholas; Paige Quilliam; Joseph McDevitt; Katie Reeves.
As usual none of this can happen without the sterling support behind the scenes from Les Dagnall, Keith Marsh, Tony Dagnall-Moss, Karen Woods, and Sally Adamson amongst others.
RMTC Youth present Grimmly Ever After for one further night on 11th November 2017 at 7.00pm. Tickets £7 (£5 concessions) available online www.rainhillmusicaltheatrecompany.co.uk or Hotline 07948 908 693.
Coming up from the main company is Aladdin on 11th-14th January 2018 @ 7.30pm with matinee performances on the Saturday and Sunday at 2.00pm. Tickets £10 (£8 concessions) available online www.rainhillmusicaltheatrecompany.co.uk or Hotline 07948 908 693.
Rainhill Village Hall (L35 4LU) offers free evening car parking and is also only a short walk from Rainhill Station which is on the Liverpool-Manchester line with a regular train service. There are some lovely restaurants and bars in the village if you want to take in a show and make a night of it.
Reviewer: Mark Davoren
Reviewed: 10th November 2017