Les Misérables is probably one of the world's most popular musicals and it not surprising when you consider the beautiful and powerful music, rousing songs, emotional pull and stunning set pieces of action including a battle on a barricade. Futurist Theatre Productions took on all these factors with flair and class in a slick, powerful and captivating performance within this incredible Youth production.
Opening in Toulon, France in 1815 we are introduced to Valjean (Alex Hall) prisoner 24601, who is being released on parole by officer Javert (Lewis Dixon) but tired of his poor treatment Valjean breaks his parole and goes on the run. As the story moves forward to Montreuil-sur-Mer he see Valjean has become Mayor, and he pledges to save a dying woman's child, Cossette. With Javert once again in pursuit he is forced on the run again where, in Paris, we are presented with a group of idealistic students who are preparing for a revolution. When Cosette falls in love with a student, Marius, Valjean joins the fight in order to ensure his safety.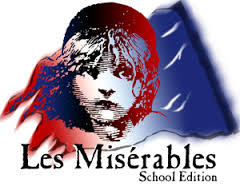 The cast were simply exceptional in bringing to life this complex and challenging story with genuine, heart-felt performances and stunning vocals across the board. This was a company of outstanding young talent with many fine performances. Notably Forester Hirst and Mariah Young as the Thenardiers were excellent in delivering strong character roles with impeccable comic timing – Master of The House was a triumph with the company vocals hitting hard with clarity and passion above the wonderful orchestra. Lewis Dixon was a convincing and powerful Valjean capturing his final moments before suicide in particular with believability and conviction. Emily Watson was a captivating Fantine with stunning vocals, which melted the hearts of many in the audience. One of the real stand out moments however was the triumphant finale which sounded through the auditorium with incredible passion, harmony and heart; this combined with the stunning lighting design, representative of the French Tricolore, was a stark reminder of the recent events in Paris which these performances had been dedicated to.
Above all however Alex Hall's Jean Valjean was an incredibly strong, moving and mature performance that, frankly, could easily have been placed on the West End stage – this young man is surely headed for big things if he wants them.
The set was simplistic and effective, adding to the faultless pace of this production which used hardly a prop on stage; some moments set back behind the central opening doors were lost due to sightlines, as were some moments through the use of the thrust staging but these are minor grumbles in an otherwise well directed and choreographed show. The relationships between characters on stage had been well thought out and developed, although one personal observation would be that Cossette and Marius lacked a little chemistry in their romance and this is something that could have been brought out further.
The sound in this production was impressive, from the preshow sound effects capturing the perfect atmosphere to the wonderful orchestra, which brought to life this tremendous score. Perhaps more impressively the lighting was very much a strength of this show, combined with the minimal staging. The mood and atmosphere created through the choices in back lighting, effects, shadow and colour were well considered, although a little more face light in earlier scenes would not have gone a miss!
Overall this was an exceptionally professional and powerful production. Les Misérables is one of the world's most loved musicals and this production was world class. I urge you to watch this group very closely – they are sure to go from strength to strength.
Reviewer: Ashley Price
Reviewed: 28th November 2015