13...unlucky for some – as the saying goes. However, not in this case!
I had never heard of this musical from Jason Robert Brown and I'm always a little out of my comfort zone with any musical that isn't a long established classic. Having read the Wikipedia synopsis, I wasn't bowled over with enthusiasm...until I saw the Manchester Musical Youth production tonight.
13 is a musical set among high school teenagers and it's full of the usual teenage angst: the horror of not being one of the in-crowd, of being classed as a geek and also the whole weird and wonderful world of the opposite sex. We follow the story of Evan who is approaching his Bar Mitzvah party and is desperate to invite all the cool kids...and feels he has to distance himself from his real 'geek' friends in order to secure the promise of a fantastic and unforgettable party.
MMY has had an influx of new members since their last production and some former members have moved up to "MMY The Graduates". So there were many new faces tonight and a lot of them are going to become firm favourites with the viewing public.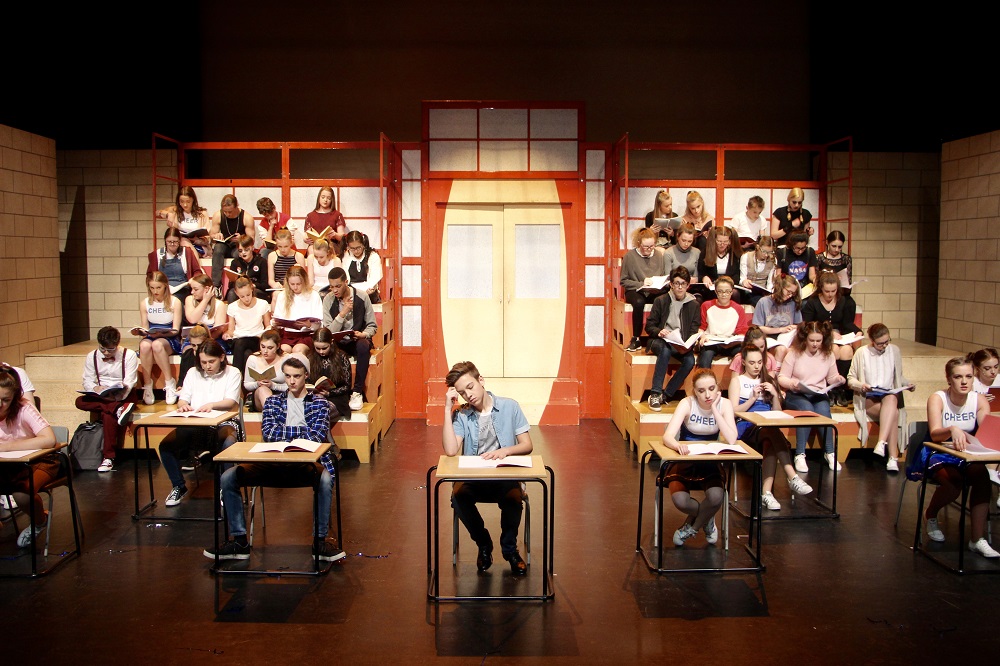 Riccardo Atherton plays the lead role of Evan. Wow. Could they have cast anyone better? Right from the opening number, I absolutely loved his charming cynicism. He played the role with a knowing maturity way beyond his years and it was a delight to watch him. I really loved his interaction with Archie (Ben Fricke-Holland), particularly during "Terminal Illness" - these two are comedy gold together – plus there was a little bit of tap dancing (always a winner!)
Talking of Archie – Ben Fricke-Holland is certainly one to watch. He has the gift of knowing exactly how to squeeze maximum comedy out of the simplest lines and play the role to the absolute max. He had some killer lines tonight and they all hit the spot.
The three main female roles (Kendra, Patrice and Lucy) were played by Niamh Mulvilhill, Belle Parr and Rae Atkin. These ladies did themselves proud tonight. Each character is completely different: Kendra is, well let's be honest, she's a bimbo. Patrice is a self-confessed geek who is universally hated by her school colleagues and Lucy, well, Lucy is in a class all of her own. I'm sure most girls have experienced a Lucy in their school years – and Rae Atkin sent a little frisson of fear through me when she was at her smouldering vitriolic worst! Well done to you, Rae – every look was contemptuous and every movement and expression portrayed exactly what it was supposed to. Niamh was hilarious as the naïve - yet stupid – Kendra and Belle played the role of the underdog magnificently, portraying Patrice's strength of character excellently.
I have to give a special mention to Malcolm and Eddie (Max Lawrence and Joe Atherton). They are a comedy dream team! From their wannabe Barry White singing and undulations to their brilliant rendition of "Bad Bad News" with Simon (Tom Buls) and Richie (Chris Bache), they had me entertained completely every time they were on stage. They are completely hilarious and Max's facial expressions and delivery, not to mention comic timing, is hysterical.
Brett (I'm sure we all knew a Brett at school too) is played by Harry Warburton who could have had the role made for him. Again, he knows just how to pitch the comedy so it's right on target.
Most people have suffered with school politics at some point and the themes in this show will resonate with everyone.
There are some wonderful moments in this production: the high points for me were "Hey Kendra", "Terminal Illness", "Bad Bad News" and "It Can't Be True". The way these songs were performed was absolutely outstanding – the talent was through the roof. At the risk of repeating myself, I cannot believe this is youth theatre. This show could put professional productions in the West End to shame!
The direction and choreography was flawless as usual and the production team and all involved backstage are to be heartily congratulated – and thanked – for making this such an enjoyable show to watch.
I loved the Finale after the curtain call – everyone threw themselves into it with complete gusto and although I'm sure it has been skilfully choreographed, it looked as though everyone was just doing their own thing and having an amazing time doing it! It was really joyful to watch and it made me wish that the evening was just beginning so I could watch it all over again.
It was really lovely to see the new wave of performers in MMY who certainly have earned their place in this wonderful company. What is always patently obvious in any MMY production is the sheer joy and passion that everyone has for their work. It shines out of each and every performer and the creative team of Dave and Kimberly Holden, Craig Gaffney and Emily Clarke should be mightily proud of what they have produced – yet again.
When you have read this – go and book tickets! Or don't you want to be in with the cool kids? https://www.z-arts.org/events/13/
Reviewer: Nicky Lambert
Reviewed: 14th February 2018
North West End Rating: ★★★★★