Brace yourself to be wowed by the holy trinity of musicals – soaring harmonies, dazzling dance routines and exceptional acting at Ashton Operatic Society's Sister Act. Well worth battling through the snow for.
Originally a popular 1992 film starring Whoopi Goldberg, this comic and musical masterpiece follows the fortunes of Deloris, an aspiring disco diva whose life takes a surprising turn when she witnesses gangster boyfriend Curtis commit murder. Hidden by police officer, admirer and school friend Lt. Eddie Souther in the last place Curtis and his gangsters would think to look – a convent –Deloris swaps her sequins and furs for a new habit and more nuns than you can shake a rosary at.
In the opening scene we are immersed straight into 1970s Philadelphia's seedy nightclub scene where we first meet the star of the show Deloris Van Cartier, played impeccably by Catherine Cooper (what a voice!) who added extra sass and 21st Century divaship to her portrayal of this iconic role. Martin Kelly's Curtis was suitably menacing, with his three stooges TJ (Jason Tinney), Joey (John Mercer), and Pablo (Ben MacKenzie) each owning their characters and delighting us with some superb Drifters- style boy-band moves in When I Find My Baby.
In complete contrast to Cooper's feisty Deloris is Paul Allison's adorably awkward interpretation of Eddie Souther. Paul's performance was a real standout – from the lovely sentimental moments demonstrating his deep affection for Deloris to his transformation into a suave (ish) Travolta-esque character in I Could Be That Guy.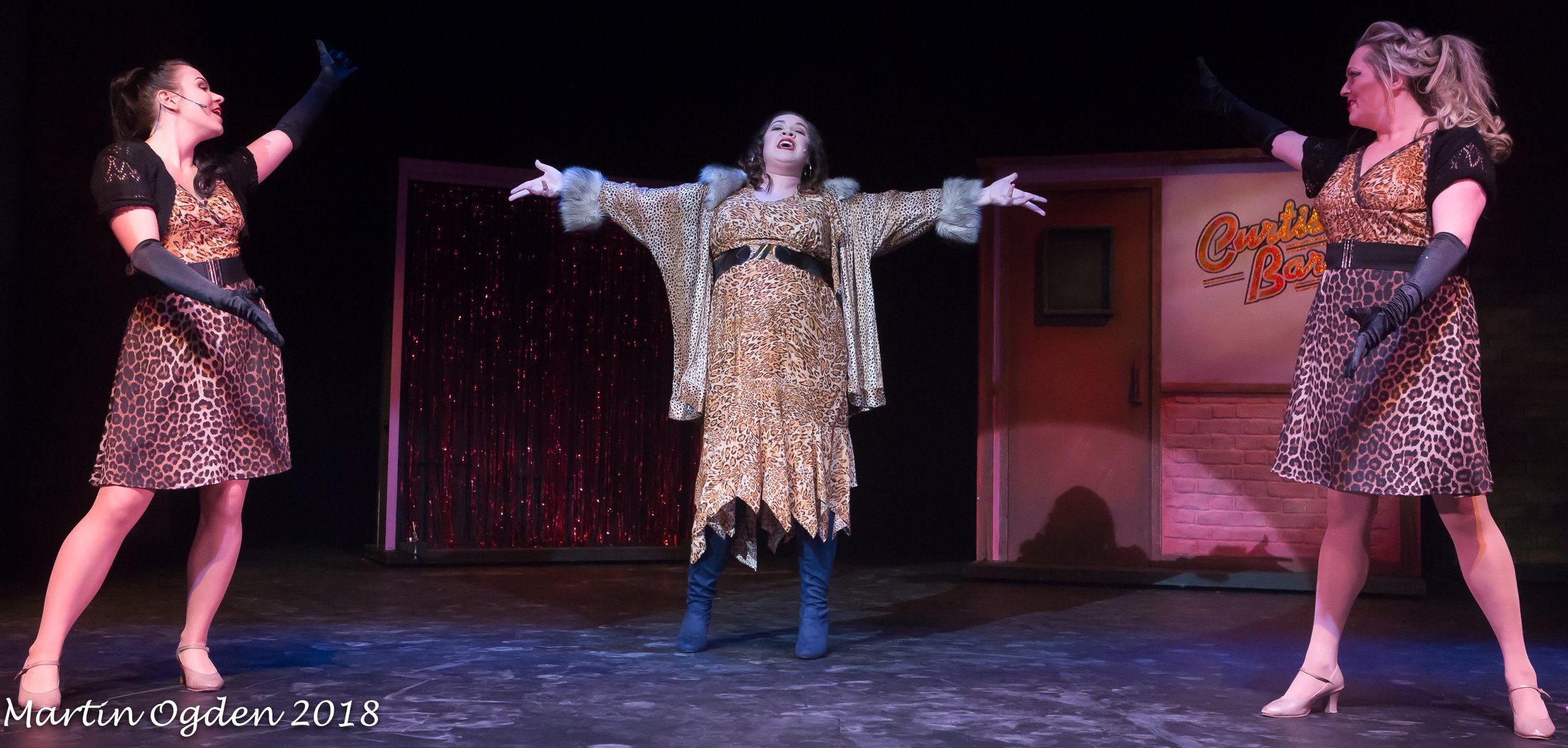 Moving across to the convent, we meet the upbeat Monsignor O' Hara (Carl Morgan) and the no-nonsense Mother Superior played effortlessly by Lisa Kay whose delivery of Mother Superior's dry, one-liners added an extra dimension to the character for the second time I have seen her play this role. During Here Within These Walls there was a number of nice moments of breaking the fourth wall, something that Cooper also mastered throughout – an effective device from director Martyn Preston.
The superfluity of around 18 nuns was ably led by Mandy Mallinson's pleasantly understated portrayal of cantankerous choir mistress-turn-rapper Sister Mary Lazarus and Michelle Sutton-Cooke's lively Sister Mary Patrick (a nice contrast). It was wonderful to see the initial reaction of the nuns to Deloris, though due to half of the cast having to have their backs to the audience in this scene it is sometimes hard to see individuals when they are delivering their lines. That said it is an extremely difficult scene to set due to numbers on stage and having to depict communal dining, so it was certainly a commendable effort.
Overall, the set is fairly minimalistic but extremely effective – we are taken from nightclub, to alleyway, to police station, to bar, to convent, in a matter of seconds. Scene changes are practically seamless which is extremely impressive for an opening night. In particular, Preston's setting of "The Chase" is probably the best I've seen. This part of Act 2 has a tendency to drag, but Preston's direction kept up the pace and included just the right amount of slapstick, whilst getting the scene's job done.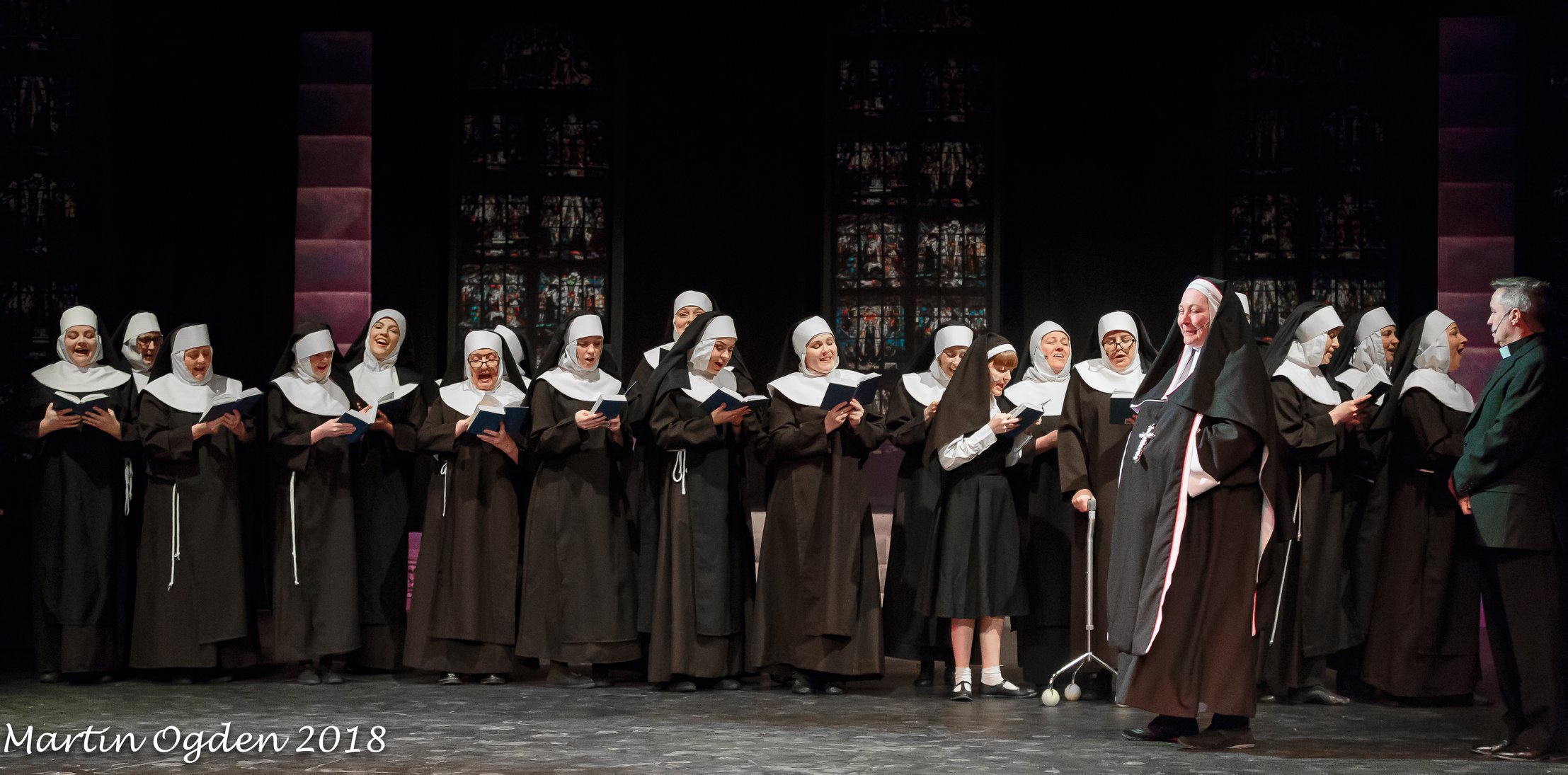 Lorna Richardson's interpretation of young postulant Sister Mary Robert deserves special mention. Richardson skilfully portrayed Robert's transformation from shy, retiring wallflower to brave young woman including some lovely, tender moments with Deloris in Act 2. From the first time you hear her sing in Raise Your Voice to her soaring vocals in Life I Never Led, this young lady is one to watch.
Other standout numbers – expertly led by musical director Simon Pickup's 11-piece band – include Cooper's heart-warming Sister Act, full company numbers Take Me to Heaven (Reprise) and Sunday Morning Fever, with Jean Johnson's excellent choreography in Fabulous Baby (Reprise) and finale number Spread The Love Around taking the performance levels up a gear.
The singing from all the cast is very strong and the score is not an easy sing. Usually working on a minimum of three part harmony in addition to lead vocals, many of the bigger numbers have much more. Simon Pickup has obviously worked hard with the cast on this and it was pleasing to be able to hear all the parts through the majority of the show.
This really is a show not to be missed. The rest of the run is almost sold out so be quick – buy your tickets and find out why It's Good to Be a Nun.
Reviewer: Alexandra Severn
Reviewed: 28th February 2018