Nowadays it is no surprise to be met at the theatre by security staff checking tickets and handbags etc and upon arrival this evening at the Brindley Theatre, Runcorn it is no exception. Only these are no ordinary security staff, the acting starts before the show even begins and these four dinner jacketed and bow tied gentlemen are actually the stars of Bouncers!
Bouncers is a play written by John Godber in 1977 covering an evening working the doors of a nightclub for four bored door men and discussing their expectations of the usually Friday night clientele. We have four young beer swilling lads hoping tonight is the night to 'get lucky' and four excitable teenage girls heading to the local disco for an evening of dancing, drinking and also keeping an eye on the local talent. With visits to barbers, hairdressers, fast food vendors and a dj this is a sizeable cast for the play, only this is where things change, all roles are portrayed by just four actors namely the Bouncers, Bryan Higgins as Lucky Eric, Tony Avery as Ralph, Daniel Richter as Les and Seb Farrell as Judd. With props and scenery consisting of just handbags and beer kegs, very little lighting effects and with no costume changes how can this possibly work?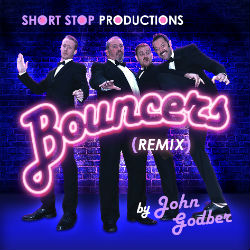 Well extremely well is the answer when you have a talented cast such as this performing this evening with Short Stop Productions. Usually there is one stand out actor but not in this production, each and every one of the guys totally threw their all into the characters they portrayed whether performing as the Bouncers or as Rosie, Maureen, the Elaine or Sexy Sue as they hit the dance floor, or the guys and their laddish behaviour in the gents with some brilliant graffiti reading one liners. I can't envisage anyone being more suited to their roles.
Changes from character to character are numerous and executed smoothly with perfected fabulous voice changes and physical actions leaving you in no doubt as to who is being represented. From burly Bouncer to giggly girl in the blink of an eye, to sex mad drunken brawling lads is simply amazing to watch as. There are totally polished performances from each actor and I was totally captivated by the slow motion, perfectly timed action during a fight and a 'rewind' moment later on. Higgins also delivers several monologues which are a sombre contrast than the rest of the play and delivered passionately.
Covering binge drinking, casual sex and violence, little on the nightlife scene would appear to have changed from the days this was written other than the hit music played. Bouncers relies on acting skills and this production certainly had that covered with the four incredibly talented stars this evening and although the content might sound heavy it is far from it. Bouncers is guaranteed to have you laughing from start to finish and I simply could not fault any aspect of it.
Role play continued as the audience left the theatre with the Bouncers on the door, commitment from start to finish. Well done, amateur talent at its absolute best.
Reviewer: Lorna Weekes
Reviewed: 6th April 2018