Willy Russell's story of twins secretly parted at birth has a long history and the musical version is well and truly cemented as a classic of British Theatre, enjoying a long run in the West End until recently and is still on tour across the UK. Many audiences do not realise that the story started as a piece commissioned for schools in 1980s, designed to be performed with a minimal cast and staging and this, play version, is what Acorn Theatre Company presented at Batley Town Hall tonight. The good news is that the play script still stands up without the songs of the musical; the themes of superstition, class and fate still find their voice through Russell's words but unfortunately here they were not drawn out enough in this performance.
The play opened to a rumble of thunder and sound of rain as the Narrator (Paul Hardill) enters, takes a drink of whiskey and sits stage right on an arm chair talking directly to us. Creating a sinister atmosphere this held much promise but as the play progressed the repetitive nature of the sound effects and delivery of the narration did little to engage us fully in the story. It was in fact the sound and technical elements that caused a few problems in this production. The opening scene (the only song remaining) in Act One was troubled with mis-behaving backing tracks as brave Louise Maude did her best to introduce us to her character of The Mother and set the scene. This appeared to throw her a little and it wasn't until a little later into Act One that she began to appear more comfortable in the role and then the more convincing she became. Her Liverpudlian accent was well maintained and she gave a solid performance overall as The Mother who only wants the best by her children, capturing her maternal nature effectively as well as her desperation. She was well supported by Nicola Watson who was an excellent Mrs Lyons. When she appeared I was at first concerned that she appeared to be very young, but this didn't matter as she showed considerable maturity in conveying what is quite a challenging role well, depicting a desperate woman's decent into madness with conviction and without over doing it at all.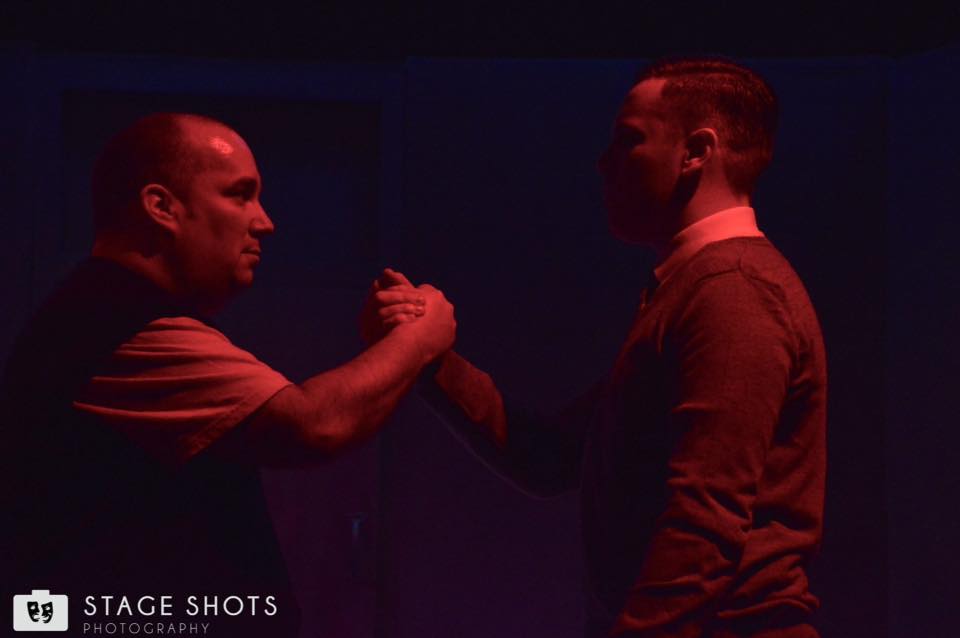 The twin boys Mickey and Eddie were played by Dave Hoyle and Dean Booth respectively and whilst they both had stage presence and were convincing as the characters when adults they lacked the energy needed early on when the boys are seven (nearly eight). There was in fact little difference between Hoyle's child and teenager, and more time could have spent bringing out the physical elements of the roles in order to match quite convincing vocal performances from the two actors. It was in fact with Linda (Ysanne Morrill) that the boys were at their best and in particular the scenes with Eddie and Linda's developing relationship stood out as some of the best. Morrill and Booth were convincing together with a good chemistry and they captured the emotional tension between them just right. Ysanne Morrill was in fact excellent in the role of Linda bringing a playful charm to her younger years, smouldering sexy appeal to her teenager and both strength and vulnerability to her adult Linda – a stand out performance.
What this production gained through its talented actors, it lacked unfortunately in pace and direction. Scene changes slowed the pace considerably, with hesitate sound and light cues which broke the tension and eventually distracted from their probable intentions. The aforementioned repetitive sound effects of thunder, the poor "tension noise" which was badly looped and the often corny lighting decisions (clunky red washes and spotlights to mark moments of tension were a little too much for me) failed to add anything to the work the actors were doing in bringing this story life. Pace could have been picked up by removing some of the unnecessary scene changes, which added little to the overall style which at times was confusing. For example the Narrator sat in his chair throughout Act One watching the action but then was absent throughout most of Act Two as the Mother and Linda both took turns to deliver monologues from his chair … It left me wondering what this space was for? Why was the narrator no longer a part of action in Act Two? Was this a waiting room in a parallel world?! Many opportunities to explore the theme of fate and superstition were overlooked and the Narrator role desperately under used overall. In fact, Hardill's performance whilst poised was a little too insipid – he needed to be something more than just a casual observer. The chorus was also desperately underused throughout, but possibly for the best in hindsight, as they were pretty lacklustre in most that they did.
It is with real conflict that I make these observations as what we actually had here were all the right elements and ideas that just didn't come together. There is no doubt that this was a talented cast of principal actors who dealt well on the whole with the development of their roles and relationships. What they needed was tighter direction and a clearer performance style to drive the episodic nature of the piece and ensure the pace and tension remained throughout. This was of course opening night and hopefully as the week continues technical elements will tighten up which will go some way in helping this production.
Reviewer: Sally Douglas
Reviewed: 18th February 2016