Hi readers of North West End, my name is Craig Hepworth and I'm the co-owner of Vertigo Theatre Productions in Manchester as well as a writer and director. For the next 8 weeks myself and various cast members and designers from my award-winning play Porno Chic will be doing blogs filling you in on what it takes to put a show like this together, acting in a show like this and designing a show like this.
For this first week I thought it would be best to start with a blog about taking on this subject matter and presenting it to a theatre audience. Hopefully all the blogs will give you an insight in to all areas of fringe theatre, and how a show this size on the fringe scene comes together. So let's jump right in with blog 1.
Blog 1- 'You can't do that on stage'
Back in 2013/14 when I came up with the idea of doing a play about porn star Harry Reems and floated it past my co-writer at the time Adele Stanhope, I thought she would think I'm crazy. Luckily, our history of taking on tricky subjects on stage had prepared her for anything, and she was excited to explore this world with me. Harry Reems became a famous name when the up and coming theatre actor ended up starring in arguably the first porno movie, the 70s hit Deep Throat. Harry's story had largely been ignored with the world paying much more attention to his co-star Linda Lovelace who would become the face of the sexual revolution.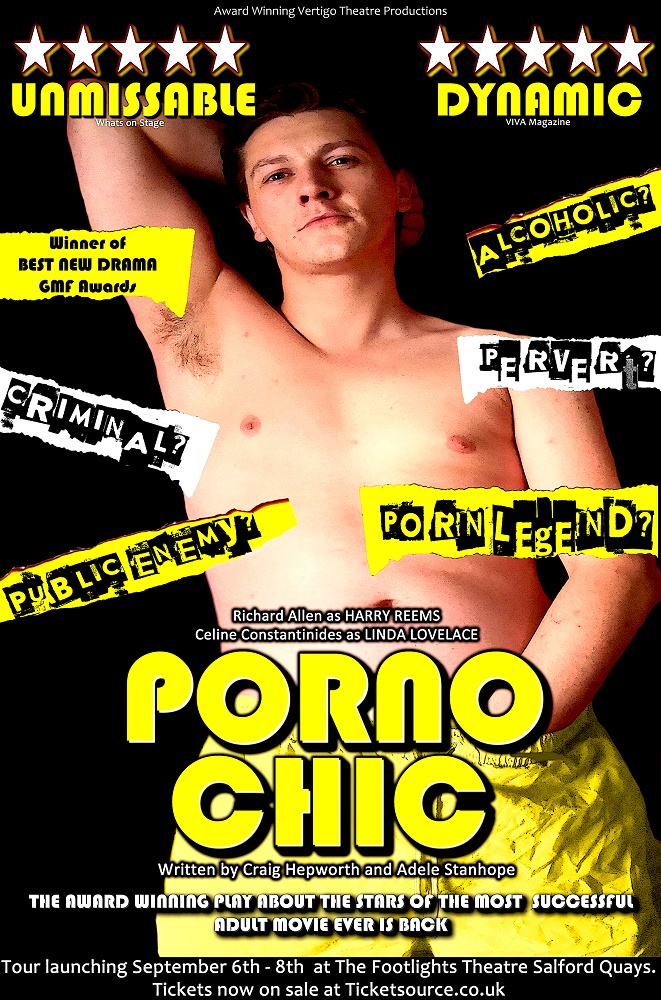 You see the movie became a sensation, if rumours are to be believed it made a whopping 600 million at the box office making one of the most profitable movies of all time, celebrities like Jack Nicholson, Warren Beatty and Shirly Mclaine defended the film, even former first lady Jackie Kennedy went to see the movie. The release of Deep Throat set America on fire, people praising its bravery whilst others hated it and everything it represented. The 2 leads would rise to fame but Harry was targeted by Nixon and the US government and charged with ridiculous charges for starring in the film. His life was torn apart, his dreams of becoming a Hollywood actor went down the drain and Harry continued to star in adult movies as he battled with alcoholism and a world that would shun him. I knew I wanted to tell his story, it had to be told, Harry's life and story needed to be shared.
Linda went through hell with her husband and 'manager' Chuck, he was abusive, violent, controlling and nearly killed her, but Linda Lovelace became a name as Harry's name faded in to the background. We knew early on that we wanted to tell the story from Harry's point of view, show his start in theatre, the making of Deep Throat, his rise and fall as well as showing Linda's story as Harry knew it. We also wanted to show the porno industry (though technically one did not exist at the time till after Deep Throat) but how do you show that on stage, could you show it on stage? As a writer I don't like to back away from anything, if you have seen my previous plays you will know that I like to take chances, after all, that's what theatre should do, but would audiences be able to be comfortable with porn? In theatre for some reason sex is still a bit taboo, yes we have had brief nudity or a few seconds of sex scenes but Porno Chic had to be more in your face, how could we possibly show the insights in to this world if we don't show it?
I also knew I wanted to make the time period a character of its own, after all, Nixon was under investigation for the Watergate break ins and would use going after pornography as a way to deflect attention from his troubles. The sexual revolution was in full swing, the young protested against the war in Vietnam and women's liberation was growing stronger by the day. Without all this Deep Throat the movie would have never existed, meaning Porno Chic would never have existed.
Porno Chic is a 2hr 15 min play that bounces from drama to comedy, movie style to traditional theatre, we needed to weave the pornography of the play in to this without putting it in for the sake of it. In 2014 the play premiered to rave reviews and sell out audiences, I however was still not pleased with the play, we backed off, nudity wasn't really nudity apart from the role of Harry, sex scenes felt wooden, it felt awkward, some audience members told me it was too tame for what it was trying to say, I agreed. At the time we had some cast members who were uncomfortable with nudity, something that is totally fine, but not for this play, the play talks about nudity and sexual freedom in a positive way, to then back away just seemed to defeat the point. After some casting changes the show returned, this time at the Greater Manchester Fringe Festival 2016. The show again played to sell out audiences (in fact each night we had to turn people away as it was so busy), the show was moving in the right direction, we had a fabulous new Linda Lovelace and the show went on to win Best Drama at the GMF awards and received 3 nominations at the Broadway World UK awards. However, if you are writer or director, you know that you are never really done with a play.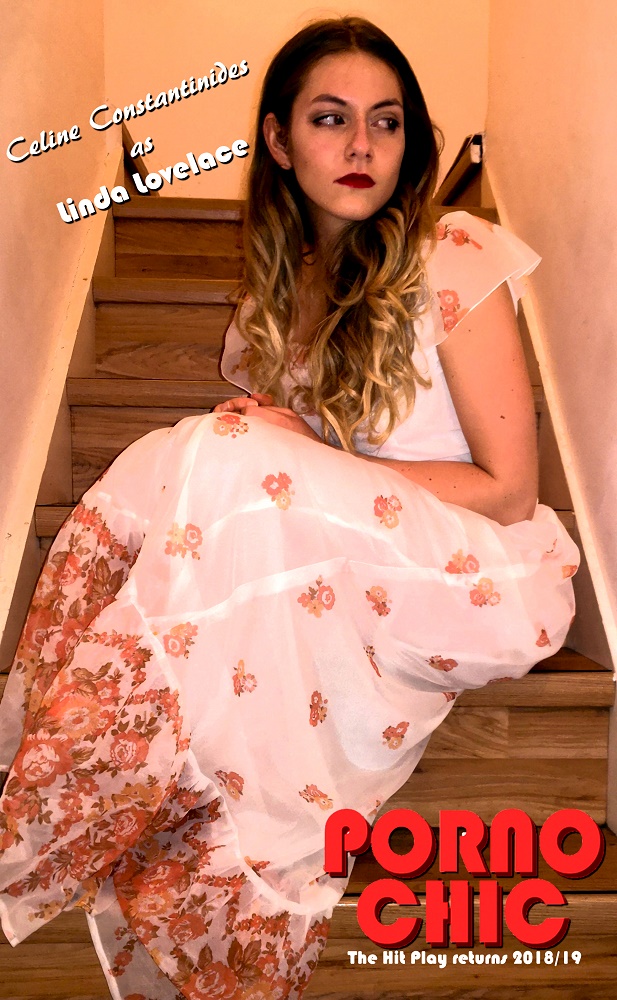 A few months later it returned due to popular demand and again sold out its entire run again, this time we relooked at the play and again made small changes, what went on that October worked great, but it still needed more. I think it's important to keep learning and listening to your audiences, we had three productions and lots of feedback, I treated the first productions as try outs, something I think is hugely important to get the work right, in fact I highly recommend doing a small try out production and listening to the audiences, those are the ones paying their hard-earned money to see it.
Producers here and in America started to take interest in our play, it's very exciting to hear such things when you work so hard to get it right. So now the show returns with 2 of the original cast members returning (Richard Allen as Harry Reems, Andrew Marsden in many roles) and Celine Constantinides would return as Linda Lovelace after joining the show back in 2016. Alongside those we have 5 new cast members, and it was imperative that casting was perfect for this time out as the show plans a national tour. It's a crazy casting process, having to ask actors if they are ok with nudity, it feels so uncomfortable, luckily we lucked out with a cast who are not only brilliant but brave, and it's not just the nudity or scenes of a sexual nature, the actors for the most part (minus the 2 leads) are playing many characters in the show, a hard task in any play, but especially one where you go from playing a porn actor to president Nixon for example, it's not an easy shift.
So as of writing this we have started rehearsals with the new cast, and the cast are superb, funny and daring, just the kind of people I love to work with. It is strange hearing so many new voices acting out these roles, but to say it's brining a new dimension to the play is an understatement, it's like watching scenes for the very first time, it's very exciting. This time we won't be holding back, the comedy and drama work beautifully, my designer Karl Burge (who's also my co-owner….and partner) is creating some superb visuals for the stage, and we will do everything we can to represent the porn world back then as it should be represented. I think if any writer or director are going to do a subject matter that needs to be brutal, honest, controversial etc, then they should not hold back. Theatre has a history of breaking taboo's and boundaries and we hope Porno Chic can become a representation of that. Now we are rehearsing hard, finding exciting new things within the text and having a ball doing so. We say our rehearsals are a safe space where nobody should be embarrassed or intimidated, we all support each other and cheer each other on, I don't make a big deal about when we get to a sex scene or a nude scene, that way the actors can just relax, it's just another scene.
So in closing, I'm excited to bring this show back in a production that I can be fully proud of with a cast that brings so much to my play. Next week Celine Constantinides will be doing a blog about acting the part of the controversial figure Linda Lovelace. We hope to see you all at Porno Chic this September….and don't be shy, it's just sex
Till next time
Craig x
Porno Chic returns for three nights at The Footlights Theatre, Salford Quays this sept 6th - 8th. Tickets can be purchased below, please note it's not suitable for under 16s
Ticket site - https://www.ticketsource.co.uk/vertigotheatreproductions
Vertigo Site - http://www.vertigotheatreproductions.co.uk
Porno Chic site - http://www.vertigotheatreproductions.co.uk/Porno/