When Aine Curran began her dance training in Steeton where she grew up she never dreamed she would be appearing in Mamma Mia! just down the road at the famous Leeds Grand Theatre.
Aine is appearing in the first UK tour of the smash hit musical which has been seen by a staggering 10% of the total UK population during its long London run, as well as breaking records across the globe. So for anyone who has been living in a cave for the last few years what is Mamma Mia! all about?
"Mamma Mia! is all about enjoying the music of ABBA, but the story is about a mum and daughter relationship and three dads," says Aine. "Sophie is about to get married on a Greek island where they live and wants to know who her dad is. So she goes through her mum's diaries, and invites the three possible dads to the wedding, but she doesn't know which one it is."
Mamma Mia! was the first jukebox musical that pioneered using the songs of a classic band to help drive the narrative along, and what better act to start with than seventies pop behemoths ABBA.
"I can't say I was an ABBA fan but, of course, doing the songs every day I've definitely become one, and it's such an amazing feeling hearing a live band play the music. You honestly don't realise how big a role ABBA's music plays when you are going out shopping or on the radio as they are literally everywhere."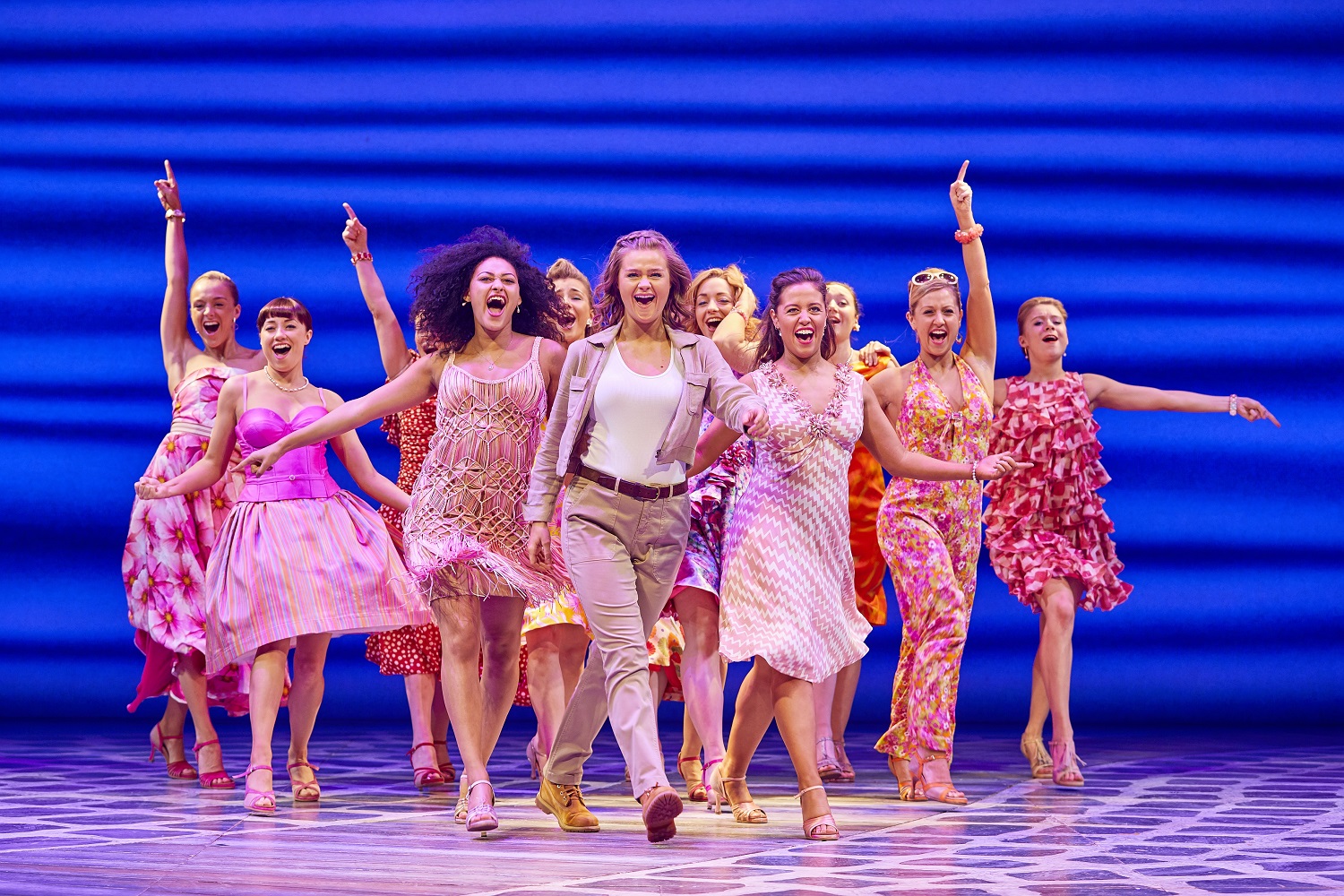 Jukebox musicals are common these days, but when Mamma Mia! first hit the West End it was new and different, so there was every chance it might flop like so many other shows. In the middle of a gruelling tour Aine is in no doubt why it has become such a huge show.
"When people went to the West End they picked Mamma Mia! because they knew that the whole family could have a good time together," notes Aine. "We have the complete age range that come to see the show and it's one people can take their grandkids to.
"The younger ones might not know the music, but they love watching people sing and dance on stage, and the older ones really know the music so well. It's such a feelgood show and everyone is always up and dancing at the end which is a good sign."
Anyone who seen a West End standard touring show at the Grand knows it takes real grit to make it through the tough auditions and then do a physically and musically demanding show six times a week. For Aine that long road started in the traditional way.
"I trained at the DM Academy in Shipley dancing there until I was 16, then I went to professional dance school in Chester for three years, so I've always been northern based, and I now sing, dance and do the lot.
"It's so amazing to be at the Grand and it's our longest stint on the tour, so it's nice to play to a home audience, and be in a theatre where everything is so familiar. The people are northern and it is so warming to be at home so friends and family can come and see the show which is something special. This week I've 14 family members coming and it is nice they all want to see it."
There's a lot of jargon and in-words in theatreland, including what people actually do on stage. Aine is billed as a swing, so what on earth does that mean?
"It means I don't play every show unless someone is injured, sick or covering another part as we all have to cover another part. I then jump in all for pretty much all the female roles apart from Sophie who is the lead, so I cover seven girls, and cover one of the friends. I have to learn seven different shows, and it can happen at any point, so say someone gets injured in the show you have to be ready to jump in."
So it's the theatrical version of a reserve Premiership goalkeeper impatiently sitting on the bench waiting for something unexpected to happen so they finally get their chance to shine.
"We're always in the theatre on stand by, and I have a lovely book which is the bible of the show, and it's now my best friend. I really enjoy being a swing as no show is the same for me so it really challenging for my brain as well as my body. I've done the show in Germany for a year, where I was in the ensemble with only one track to do, but now I've had to learn all the girl's tracks.
"I am still surprised when things that happen that are out of our control, and we do have more challenging days than others which is what gives us the whole adrenaline rush. That's why I love the job as you have to be totally switched on, and it's always something different."
Mamma Mia! is at Leeds Grand Theatre until Saturday 8th July. To book www.leedsgrandtheatre.com or 0844 8482700