When Joanne Clifton finally lifted the iconic Strictly Come Dancing Glitterball it was yet another victory for the former world champion ballroom dancer but she was already planning to launch a new career in musical theatre.
She is now starring in a national tour of the iconic 1980's film Flashdance that grossed over $100 million at the box office, and is on at Blackpool Opera House until Saturday 4th November.
Everyone remembers the Irene Cara's upbeat theme tune Flashdance…What a Feeling, and the climatic acrobatic dance sequence in the movie version, but it is one of those films where people don't always recall the plot.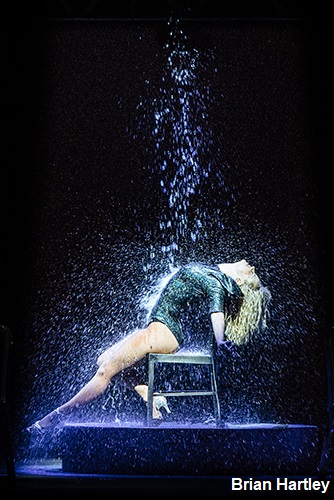 "Alex Owens is a 19 year old who has run away from home because her mother has died and her dad is an alcoholic," says Joanne. "She wants to pursue her dreams of being a dancer, but she works as a welder in a mill, and she doesn't have enough money to get into Shipley Dance Academy where she wants to train.
"Her friends try to persuade Alex to go for an audition, but she falls in love with her boss Nick. He pays to get her an audition, which she is mad about, but she eventually goes, and I'm not going to tell you if she gets in."
Clifton started competing on the dance floor aged 4 taught by her parents, who were former world number ones, eventually winning the World Ballroom Showdance Championships, but this new role is really challenging her skills as the moves are a long way from the waltzes and foxtrots she had perfected.
"The closest I've done was freestyle disco dancing when I was a kid, which I suppose has helped, but this is completely different. I'm rolling about the floor, I'm doing all these hip-hop street moves and it is a challenge having done one style my whole life. I popped my calf muscle in the second show, and I have tendonitis in my shoulder, but I'm getting used to it."
Clifton is joined on the road by former a1 star Ben Adams who is co-starring as her character's love interest rich kid Nick Hurley who owns the mill she works in. Another big challenge for the cast is the 1980s remains a decade that spawned some very unflattering fashion styles, but Clifton is pretty comfortable with costumes that are much less flamboyant she was used to on the dance floor.
"I quite like the costumes so we've got baggy jeans, double denim and some corduroy in there, plus a leotard. I was usually the one on Strictly who asked for costumes to be made longer rather than shorter, so I now find myself dancing in my knickers in front of thousands of people which is a bit weird, but I'm used to it now."
Unlike some musicals based on hit moves this is not just a scene by scene replica of the big screen version including a reinvention of that memorable dance at the end that made a star of Jennifer Beals who played the original Alex.
"The choreography is not exactly the same as the film as it wasn't her dancing although she did some of it," notes Clifton. "There were four different people doing the moves, and one of whom was a man doing the forward leap and the roll.
"As I'm not that style of dancer the choreographer Matthew Cole has done nods to that choreography, so you'll see some bits you'll recognise, and he worked round my abilities so there is lot of Latin American in there."
As well as this tour Clifton has been out of on a long national run of the energetic Thoroughly Modern Millie, which gained her some very positive reviews, and she has no regrets about swapping the sequins for the stage.
"I'm very satisfied what I've done with my dancing career, competitively and with Strictly, so after winning it last year it was the right time to move into musical theatre. Thoroughly Modern was completely different to Flashdance as in this I'm the sexy tomboy, and Millie was a ditzy little hillbilly, but I love they were opposites,"
So, no plans to return to the glitz and glamour of Strictly?
"Never say never as I could go back as I think they'd have me. I still do a lot of work there with It Takes Two. I'm in Blackpool now and they're filming a bit with me for the Blackpool show so I'm still involved."
Flashdance is at Blackpool Opera House until Saturday 4th November and to book go to www.wintergardensblackpool.co.uk The show tours until 25th August 2018 and to book go to www.flashdanceuktour.co.uk