Ben Adams made his name in boyband a1 who sold millions of records worldwide and are still huge in Europe and Asia.
He's now on the road playing Nick Hurley in '80s classic Flashdance telling the tale of a welder called Alex who follows her dreams of becoming a professional dancer, and Paul Clarke caught up with Ben in Blackpool as the company start their UK tour.
Tell me about your character?
Nick is the boss of the steel mill, and Alex the main character's love interest. I'm basically a rich kid who doesn't really know what he is doing, and then falls in love with Alex who works in the mill, so has to start looking at his actions and taking things a bit more seriously.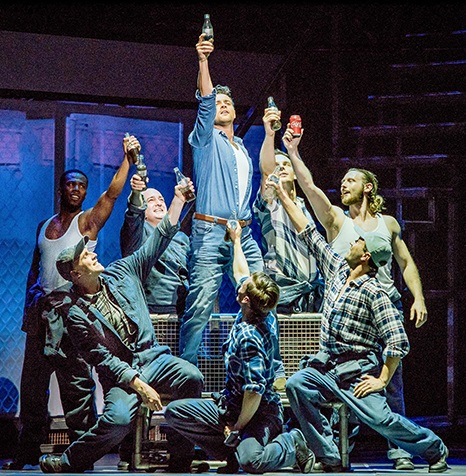 What are the challenges playing Nick?
I've never done an American accent before, but according to the reviews I'm doing it faultlessly which is great, and I've never owned a steel mill. The character is not too dissimilar to my own personality so it's fine.
You've had a varied career but how on earth did you end in the final of the Norwegian version of Strictly Come Dancing?
a1 are still massive all over Europe and Asia, and we have a Norwegian member of the band called Christian, so our ties there have always been pretty strong. So I just got a call and they said do you want to do Strictly in Norway. I thought that's a bit random so let's do it, and it was lots of fun.
So, making the final of Strictly Norway means you do some dancing in the show?
I don't think the producers knew that so I kept it quiet so I didn't have to do any dancing. I'm the polar opposite of Joanne Clifton as a dancer, but I do come on and do a bit of dancing at the end in the megamix.
That means former Strictly winner Joanne is doing all moves playing Alex as well some big numbers with you?
We're best friends as we spend 24/7 doing the show and we laugh all the time. We try to make sure we don't laugh onstage, which hasn't always been possible, but she is super talented, and our voices blend well together.
Has your time in a1 helped you make the transition to musicals?
Everything to do with entertainment is helpful but Flashdance is more like a pop concert than traditional musical theatre because of the straight '80's soundtrack. Vocally I can do a musical theatre style if I want, but actually what I love to do is sing pop sings, which is my forte, so the style of music in Flashdance suits me down to the ground.
I hear you've got a big project coming up in the West End?
I've written a musical called Eugenius and it has just been announced it is going into the Other Place in London which is very exciting, so I've had my head in musical theatre for some time. I'm not going to be in Eugenius myself as I wrote all the music and lyrics, but as soon as Flashdance came along I thought it would be great to do something on the performance side rather than in the background.
a1 are still going strong when other boy bands have imploded in bankruptcy and bitter recriminations so is being in the band still fun?
We've been doing stadiums in Asia and it's incredible. Whatever we did in a1 set me up for life, so I've never had to do a sensible job ever. Whether it is the Flashdance tour, writing and producing for other people, a1 concerts or a solo album next year it's allowed me to have a lot of fun. I've crammed about 10 lifetimes into a very short space of time.
Flashdance is at Blackpool Opera House until Saturday 4th November and to book go to www.wintergardensblackpool.co.uk The show tours until 25th August 2018 and to book go to www.flashdanceuktour.co.uk