When Tom Hedley pitched a movie about a working class welder trying to win a place at a posh dance school he never dreamed Flashdance would become a worldwide smash hit.
Tom was a successful journalist who used his own experiences to create the story of blue collar worker Alex Owens fighting her way out of poverty to live her dream, and now he has adapted the movie into a popular stage version currently touring the UK with Strictly Come Dancing champion Joanne Clifton as the dancing welder.
"There hasn't been a working class musical, and very few movies like The Deerhunter which was such a brilliant working class move taking place in Pennsylvania," says Tom. "I liked the whole social realism side of it and I knew a girl who was a pipefitter.
"She was very hot and she was better at her job as a welder than any guy. She had to be because the guys wouldn't put up with her, it was a tough world she was in, and she was very good at it."
One of Tom's relationships helped him form the story, and the glossy, stylised look of the film, into a script that the Hollywood suits were keen to get on onscreen.
"I had a girlfriend who was a bit pretentious who didn't want to be a waitress so got a job as a fire alarm installer who would come round in boots and a leather jacket, then would switch for dance class and she threw together this wonderful mix of worker drag and dancer drag.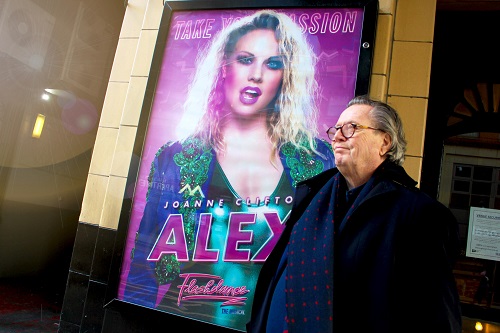 "I thought it was a style I'd never seen before that inspired me and I called it Flashdance because I wanted to describe a complete style where the moment fashion, dance and music come together in a single image. That's Flashdance."
Hollywood loves nothing more than a rags to riches story, or a movie where the underdog triumphs over adversity, and Heaton really hit paydirt when he managed to combine those two ideas into one film.
"I've always thought of it as an urban fairy-tale," muses Tom. "I considered the movie Rocky that had the most ridiculous story with the woman who sells turtles, and Rocky punching bags of meat, but it was so good. It was like a Frank Capra disco move and I said this is really a musical.
"When I did Flashdance the studio didn't want it as they thought musicals were expensive and old fashioned, but then music videos were happening with MTV, and there was a fresh vocabulary so we used that for a musical.
"They didn't sing to the camera as in Fame when they jump on the taxis and sing in Times Square then it becomes Broadway. I wanted to do something more cinematic."
The critics may not have liked the movie much when it was released in 1983 but the public disagreed as newcomer Jennifer Beals became an eighties icon as Alex. The script was full of big numbers that were on constant MTV rotation leading to the unforgettable climatic moment when Alex soars through the air at her dance school audition.
"It opened as the number one R rated movie, it cost $11 million, made $108 million in North America and across the world it made a fortune because it struck a chord," recalls Tom. "It was the happy coincidence of MTV beginning and they utilised dancing for a signature image when it went national."
It seems odd that a movie with such obvious potential to be a stage musical, with big number like the Oscar winning title track and Manhunter didn't actually get its world premiere until 2008, but there is only one person to blame for this.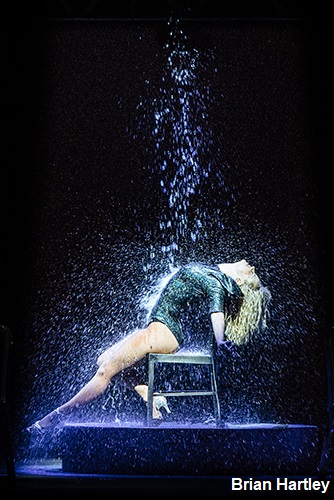 "That's my fault so blame me," laughs Tom. "I didn't want to do a sequel as it would have been too corny if Alex ran away with Baryshinikov, and dumped the guy in the mill, it would have been too tacky. Flashdance was just a slice of style and I thought it too ephemeral to translate for a sequel which might make little money.
"I resisted doing a stage version then all these other show that copied Flashdance like Billy Elliot, which was a good movie, did it. There were lots of tacky one like Footloose and Dirty Dancing, which I hated. I just said no, but thank god I did say yes because you can cheat in movies, but on the stage you can't. I didn't think Flashdance the movie told very much of a story but the stage version does."
As well as keeping the movie's iconic images, like the water scene and Alex's dance at the end, Tom has taken the chance with the stage musical to tidy up some of the things he didn't like in the movie. He has righted his biggest onscreen mistake not giving Nick, being played on this tour by A1's Ben Adams, much more to do.
"That was my big disaster in the film as I was so involved with these modern burlesque working class girls from Toronto I just forget about the guy. I gave him so little dialogue he just sits there staring at Alex throughout the movie, and I thought I can't do this on the stage.
"I had to really develop the class story as a girl like Alex wouldn't go out with a suit as he works for management, and that would be a matter of working class pride. That meant you have to tell a real story on stage whereas as in a movie you can get away with murder."
British born Tom is now based in the USA, but made the trip back home to see the latest touring version with Clifton winning rave reviews as Alex. The good news is that Tom thinks the Strictly star has all the attributes needed to make his creation come to life.
"Jennifer Beals wasn't much a dancer, we had four dancers on the movie, but you can't do that onstage. To do this show they have to be super athletic, sing, dance and act so it is very hard. I saw this show in Glasgow, which I think of like Pittsburgh, and they raised the roof because they just got the world."
Flashdance is now on a UK tour until October and to find a date close to you and book go to www.flashdance.co.uk