Denis Lawson is one of those actors never out of work as directors know he brings intelligence and class to his roles from playing a fighter pilot in Star Wars to a cop in hit TV series New Tricks.
He's now back on the road in Yasmina Raza's tricky three hander Art which comes to Leeds Grand Theatre from Tuesday 3rd April.
"It was originally a French play adapted by Christopher Hampton, who is a brilliant writer, which was found by Sean Connery's wife, and he produced the original version," says Denis. "It's about three male friends who have a 25 year friendship, and one of them Serge, played by Nigel Havers, buys a white painting for a great deal of money.
"His friend Marc, who I play, doesn't understand why he bought this painting, dislikes it intensely and this single purchase throws their complete relationship into turmoil resulting in a terrible night.
"Stephen Tompkinson plays Yvan, who is the hapless member of the trio, and gets trapped in the middle of this terrible, terrible argument they have, so it is about a big crisis over what seems to be a very simple thing. It's quite intense as it only an hour and 20 minutes long, so it is a very satisfying night for an audience."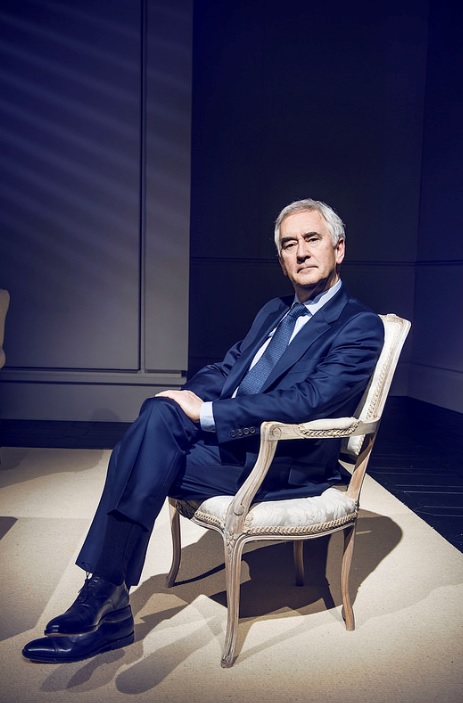 This play is set in a room with one white canvas as a prop so this demanding work always attracts powerhouse trios. The original London cast was Sir Tom Courtenay, Sir Albert Finney and Ken Stott, which might be big boots to fill, but this latest trio of bickering friends have decades of quality screen time between them.
"It's wonderful to do, but you are very exposed as there is nowhere to hide in the play, the three of us have to be right on everything and you can't relax for a second. It takes a lot of skill, so I'm glad to say the three of us get on really well, and work very well together, which helps an awful lot."
The core of the play is a fierce debate about what is art, which is a feeling most people have had standing in a gallery, or even when sitting down in a theatre.
"In particular with modern stuff you can say 'is that art?' It is an interesting play from that perspective in how we respond emotionally to what you call art whether it be a painting, a movie or a piece of music. We all have different reactions to it so it is a very, very basic human thing."
A wordy play about a white canvas was an unlikely smash hit when it made its West End debut, which proves it is impossible to predict what will capture the public's imagination. This was never truer then when early in his career Denis signed up for Bill Forsyth's cult movie Local Hero which despite having none of the obvious elements of a hit proved to be a critical and commercial success.
"We did have the most wonderful time doing it and was the most enjoyable job I've ever done. But at the same time we had no idea what we'd made because you leave it with director to edit so you can't really look at it objectively. The fact is it that is wonderful when people still talk about it, and watch it, which makes the longevity of the movie so satisfying.
"When you are working on something you have no idea so when you are rehearsing a play you don't know how an audience is going to react. TV or the movies are the same so all you can do is the best you can, and the audience come in look at it and say 'sorry, this is a pile of sh*t' or this is great. You have no idea every time."
It was also a chance for Denis to work with Oscar winner Burt Lancaster who was coming to the end of his legendary career as an all-time Hollywood great.
"They could only afford to have him there for three weeks, but Bill wrote the part for Burt, and somehow managed to get him into it," recalls Denis. "He was wonderful to have around, and I had some great chats with him sitting on the beach as he had started a circus performer, and I was interested in physical theatre.
"Burt tried to teach me a backflip on the beach and it wasn't until later when I read a biography on him I found he was a tough cookie. He had a legendary temper, and was one of the most powerful producers in Hollywood, but we got the very best of him. It was really interesting to watch him work and I learnt a lot."
In his long career Denis has picked up many accolades for his work but he also holds a unique record. He played X Wing pilot Wedge Antilles in the original Star Wars trilogy, and he is the only character to survive two deadly attacks on the Death Stars.
"When I turned up to that do in, oh my god 1976, we are all just a bunch of young actors messing about and it had a budget of about seven million. Mark Hamill and I became great friends and then it just exploded. They are brilliant pieces of work."
The revival of the Star Wars movies led to a rumour that Denis had turned down a role in The Force Awakens because he was bored of the franchise
"It's my own stupid fault as there is stuff out there on social media about me being bored with the whole thing which is just nonsense. I was actually winding up a journalist, and saying it is your fault I'm not doing the film, but actually I couldn't do it. It was a bit of a mistake on my part."
In reality Denis has such affection for his appearances in three of the biggest grossing films of all time that he travelled across the Atlantic to join in the 40th anniversary celebrations for Star Wars.
"It was in Orlando in the second largest building the United States after the Pentagon, and it was rammed. It was weird and bizarre, but at the same time it was quite moving as people were so thrilled you'd turned up. I had men standing in front of me crying that I was there, but it was actually very, very touching,
"At one point these black drapes opened and there was a full symphonic orchestra with John Williams conducting the music. You've heard it a thousand times but, oh god, the emotional impact of that was enormous."
Art is at Leeds Grand Theatre Leeds from Tuesday 3rd April to Saturday 7th April. To book www.leedsgrandtheatre.com or 0844 848 2700.