The Shrek movies starring the larger the life ogre and his motley crew of mates grossed millions at the box office so it was hardly a massive shock that the stage version was such a hit in the West End.
Now the year-long UK tour is coming to an end for Shrek, Princess Fiona, Donkey and all the fairy tale character at Leeds Grand Theatre from Tuesday 18th December. Call the Midwife star Laura Main has fitted filming the smash hit BBC show around playing the feisty green princess.
"Shrek the Musical is very faithful to the first film and we are not seeing life beyond all the kids and the marriage, so just up to the happily ever after," notes Laura,
"There are clever little nods to the other movies, so we have a song called The Travel Song where lots of puppets go by at the back of the stage, and at one point Donkey says 'oh, look. It's a cat wearing boots.'"
The cartoon antics of Shrek's crew battling the evil Lord Farquaad and his minions naturally lends itself to the stage, with no expense spared to create some totally over the top costumes and sets. Laura also has to contend with changing colour too.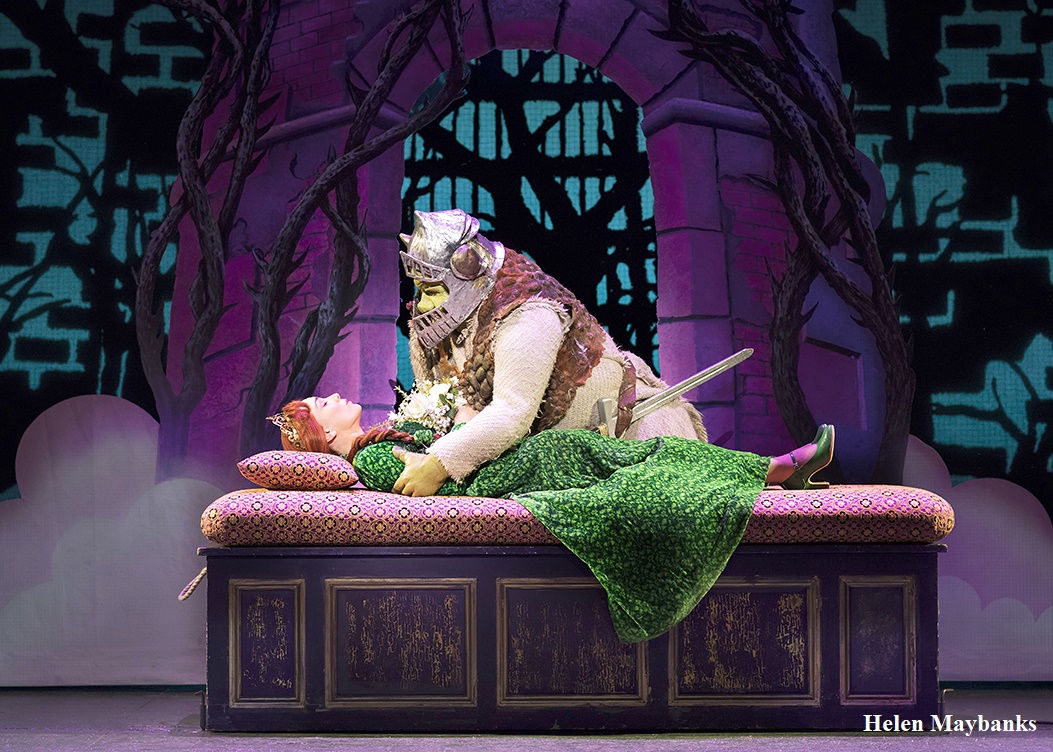 "It's very clever how they do the transformation especially because I have to go back and forth, unlike Shrek who spends the whole show as this green ogre. Steffan Harri who plays him has to get to work an hour and a quarter before the rest of us because he has all the make up to get on.
"For me I have to go from regular Fiona Princess to an ogre and then flip back. At the very end when I fully transform as a green ogre it is unbelievable how they do that because it is done in under one minute.
"I rush off stage and it's like a pit stop with seven people around me. You have to be really calm, and it is very well choreographed with people from make-up, wigs, costume and sound then I'm back on as an ogre."
As well as being an experienced musical theatre performer Laura is also a regular on the BBC period Drama Call the Midwife playing former nun Sister Bernadette who swapped her wimple for family life. Her filming commitments on Call the Midwife meant Laura dipped in and out of this mammoth tour as it criss-crossed the country.
"After season seven I went straight into rehearsals, did five months touring and then I started series eight," says Laura who is looking forward to entertaining audiences in Leeds as the tour finally comes to an end.
"I did a bit of back and forth and sometimes came back into the tour for a venue or two. For Call the Midwife we do six months filming, and get two weeks holiday in the middle, but I was in Milton Keynes doing Shrek. I thought it would be quite scary having all that time away from the show but I'd done enough time onstage so it actually felt great."
Predicting what will make a TV hit is a lottery and no-one could have foreseen a period drama about a group of midwives and nuns in London's rundown East End would secure record audiences for BBC1. It might have a stellar cast packed with some of our nation's greatest female actors, but Laura was unprepared for how quickly it won a place in the nation's hearts.
"You could never have hoped or wished that it would have taken off in the way it has, and to get those huge viewing figures. Series nine is commissioned and even very, very experienced actors like Jenny Agutter, Pam Ferris and Judy Parfitt said you just never know. They say enjoy this girls because you can't tell if something is going be something really special, and we all appreciate that."
Shrek The Musical is at Leeds Grand Theatre from Tuesday 18th December to Sunday 6th January. To book www.leedsgrandtheatre.com or 0844 8482700