When Joe McFadden and his partner Katya Jones lifted the coveted Strictly Glitterball they pulled off one of the show's biggest upsets but the likeable actor is now back doing his day job as The House on Cold Hill comes to Leeds Grand Theatre.
The House on Cold Hill is the fourth theatrical adaption of a best-selling novel by Peter James based on his real life experiences of living in a haunted house, and this tour is riding on the huge popularity of paperback thrillers with millions of readers.
"It tells the tale of Oliver Hardcourt and his wife Caro who buy this beautiful, sprawling country pad after he's sold his advertising business," says Joe. "Caro is a lawyer, and they have this lovely daughter Jade, so they look like they have this really charmed life.
"They very quickly realise that all is not well in this house, and the great thing is that as well as being the breakdown of their happiness, it drives them a real wedge between the couple because each feel they have to protect the other. They start lying about things that are going on in the house so as well as being a ghost story there is a good play about families."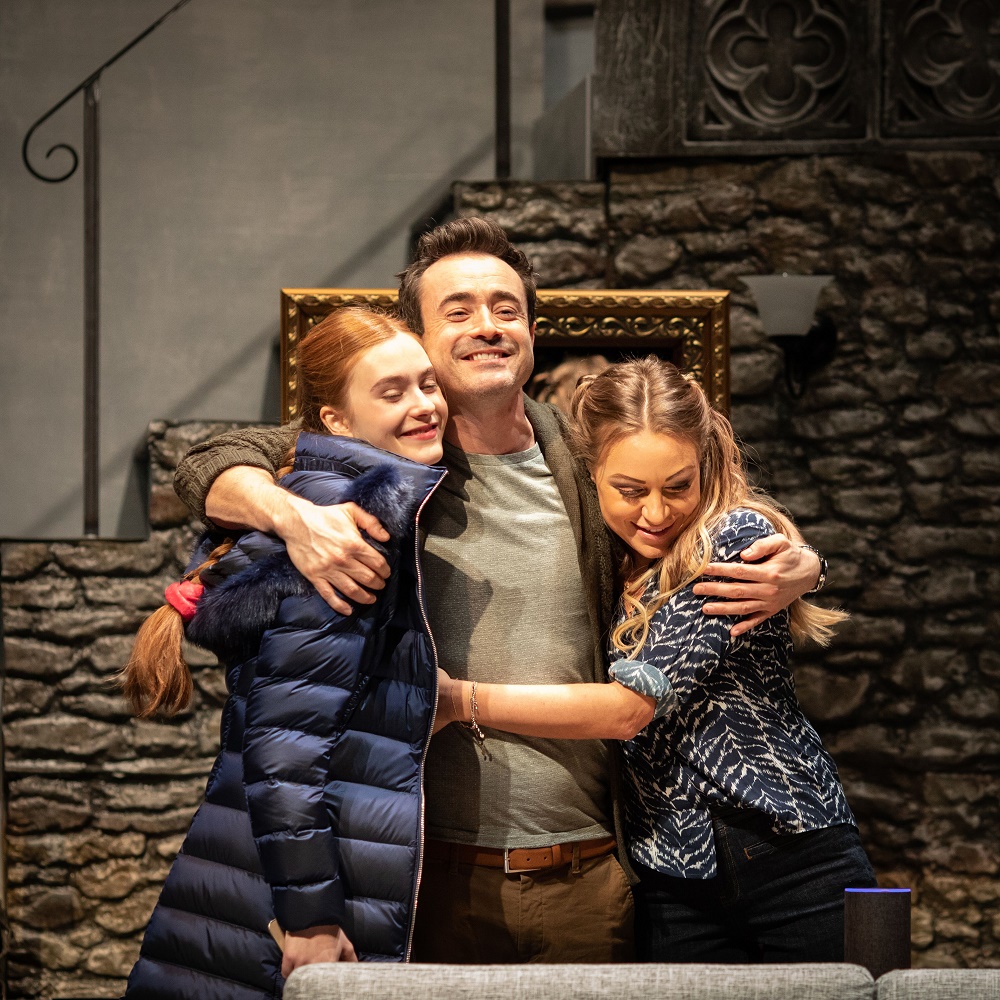 Usually when thrillers are sent out on tour they tend to be a slightly creaky version of an Agatha Christie whodunit set in a country house in the last century. As well as being a supernatural thriller, The House on Cold Hill is a contemporary piece, so the cast use all of the gadgets that dominate modern life.
"That's the draw of the play in that people will be able to relate to it so our daughter Jade is facetiming with her friend. This ghostly women keeps appearing in the background, and Alexa keeps piping up saying these strange, disturbing things during the play. It is something that everyone relates to as it's the technology most of us are using every day."
In keeping with the contemporary feel the producers have cast Joe who became a familiar face on our screens as Dr Raf di Lucca before he was killed off in a shooting incident in Holby City. His wife is played by Rita Simons, who met a similar grisly end on Easterners when Roxy Mitchell ended up in a watery grave.
"Rita and I work really well together, Charlie Clements was also in Eastenders and Persephone Swales-Dawson also has a massive fan base from her time in Hollyoaks. All the Eastenders fans are coming as are the I'm a Celebrity and Strictly fans so the reaction has been surprisingly great. As well the audience being really scared there is a lot of humour in the play, which is why it is so clever as that is the best releases of tension."
Joe made his name in the TV adaptation of The Crow Road, but early in his career he was cast as Aladdin in an alternative take on panto where Widow Twankey was played by UK acting royalty, Sir Ian McKellen.
"It was an interesting job as none of the others had done panto before including Maureen Lipman, Roger Allum and even the director," recalls Joe. "I'd done it three times in Scotland as I'd been in a soap opera up there so I knew the beast.
"It was nice being with that much experience, and feeling like I was reassuring them that as long as it was silly, funny and Ian had a wig and dress on then people would love it."
Joe is also very familiar with Leeds as he spent two seasons roaming the Yorkshire Dales as PC Joe Mason on the smash hit ITV drama Heartbeat so he is looking forward to coming back to West Yorkshire.
"I love Leeds, but the first year I travelled up and down to London, and I thought what am I doing, so I settled in the city centre and had the best year ever. It's a brilliant town, and there is a whole busload of Heartbeat people coming in to see me one of the nights. I've never played Leeds Grand so that will be really good fun."
When Joe started his Strictly journey no-one gave him a chance of making the final let alone lifting the Glitterball. But he brought the discipline doing panto twice a day, adding his ability to add drama to his performances, as professional partner Katya choreographed dances that really played to those strengths.
"I was surprised as right from day one Katya told me not to look around at other people and concentrate on what I was doing," notes Joe. "I never thought I was in with a shout as there was so much talent in that final, and I think you can tell from my reaction no-one was more shocked than us.
"That's the way we played it was we would never rested on our laurels, so we would have a good dance, and Katya would be right on to the next one as you don't get to pat yourself on the back. You have to keep moving forward, and that's why she was such a fantastic partner, she is a world champion, and Katya manged to instil a little part of that sensibility into me. It was absolutely a shock, a lovely one, but I still can't quite get my head around it."
So the question that most people want to know the answer to is the Strictly experience as tough and draining as all the celebrities make it out to be?
"It is like nothing you have done before. It's massively rewarding, but it is most challenging things I've done, and probably will ever do. Having to learn that much technical dancing in such a short amount of time, and then having to go on TV in front of 13 million people when you are not sure you are ready.
"It is that nightmare that every actor has that you are shoved out in front of an audience and you are not ready to go on. It felt like that every single week, and whilst it was lovely to get the final, winning was the cherry on the cake."
The House of Cold Hill is at Leeds Grand Theatre from Monday 29th April to Saturday 4th May. To book www.leedsgrandtheatre.com or 0844 8482700.