It's fair to say that on any given day Joseph and the Amazing Technicolor Dreamcoat will playing in a theatre somewhere across the globe.
Now Tim Rice and Andrew Lloyd Webber's timeless classic based on the biblical tale of a slave turned monarch is making its way to Leeds Grand Theatre from Tuesday 4th June , with former boyband star Jaymi Hensley following in the footsteps of Donny Osmond, Lee Mead, Jason Donovan and even Philip Schofield who have all donned the Dreamcoat.
Jaymi made his name as one third of Union J who came fourth on ITV's X Factor, and is not the first to make the transition from TV talent show to musical theatre, and won't be the last, but says he has paid his dues.
"I am trained in musical theatre so I have a few different voices – I have a pop voice, I can be quite rocky at times and I have a legit musical theatre, sometimes operatic, voice," notes Jaymi. "This is a story that I think spans over 15 years, so I try use my sweet poppy voice at the beginning, and move to my musical theatre voice to show the clear transition to Joseph growing up.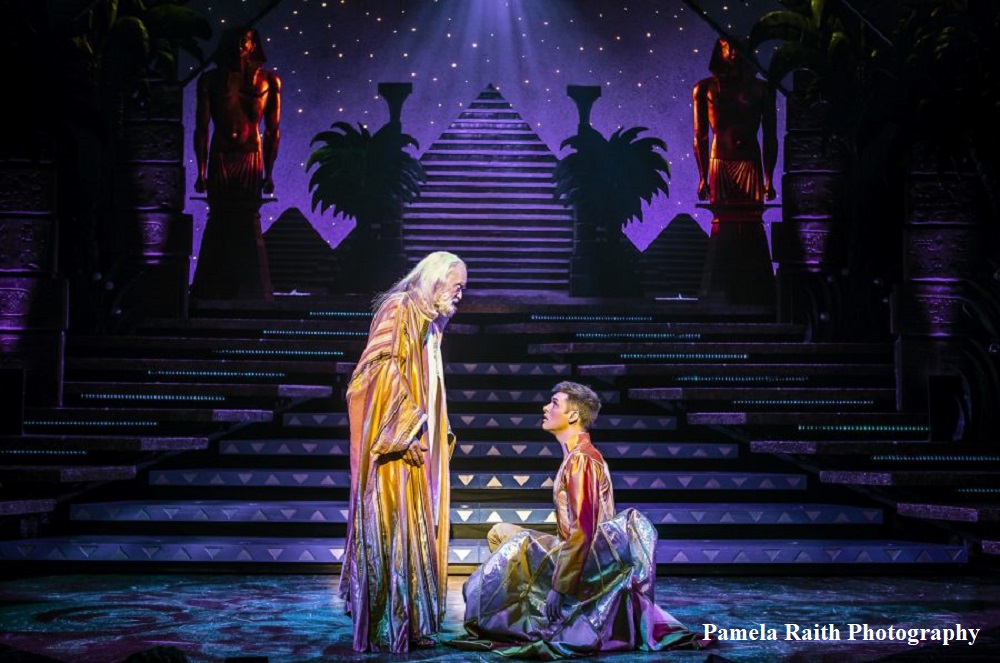 "It's a great show to pull out all the strengths I have in my locker. Acting and theatre was what I wanted to do, I love acting so it is really good to shake off those cobwebs, and exercise those muscles I had when I was at school and training."
Having spent the best part of a decade in Union J it's clear Jaymi is far from naïve, and well aware that some people will continue to sneer at talent show contestants leading a big touring show. He had lots of offers to try musical theatre, but he carefully considered which show would give him the best chance of silencing the naysayers.
"I knew I had to be strategic about whatever direction I went in as people can be quite uptight about people who have had singing contracts, or been in competitions, moving into theatre. I wanted to go into a light hearted role and Joseph is synonymous with people who are singers going into the role. Plus it is such a joyous show
"It felt like the right fit, and I think the great thing about this is I get to be me vocally, but I can really push my acting skills. In a year's time anyone who had anything to say about me being in a show wouldn't have a leg to stand on as I've done the hard graft."
What the cynics miss is that the demands of singing live beamed straight into millions of homes, and the relentless slog of keeping a boyband alive in the face of fierce competition from newer, more fresh faced rivals, might just be perfect preparation for a year on the road with this show.
"I went to stage school, I paid all the thousands of pounds, but I wasn't lucky enough to book a job when I left, so it was either a reality singing competition to try and be successful in my chosen field, or the job centre.
"X Factor is the hardest boot camp you will ever get to be a musical performer as you are working flat out hours. You are in the public eye with no sleep and overnight go from singing in karaoke bars to performing in front of millions of people. There is no jumping in the deep end like that, and I've toured the country in a boyband for seven years, so I am aware of how to look after my voice stamina, and look after myself on the road."
In a recent radio interview Take That's Jason Orange talked about the pressures of getting a boyband off the ground to the point where he contracted conjunctivitis after not getting enough sleep. Jayme went through a similar process as Union J build a fan base building on the success of their debut album going top 10, and they even appeared in Kick-Ass 2.
"The job is phenomenal and I wouldn't say it was hard work as I chose to do it. People don't see all the extra bits like not eating properly as you are on the bus, you are not getting sleep, you are away from home and you do a lot of press. It is all the stuff behind the scenes that makes you tired as the singing part of being in band is only 5% of the job. You are not prepared for that when you go for it."
It is now 38 years since Lloyd Webber and Rice penned showstoppers like 'Close Every Door', 'Song of the King' and the anthemic 'Any Dream Will Do', which have enchanted audiences year after year, so how has Jaymi freshened up such a familiar role?
"I've taken my own spin as when I took the role one of my main stipulations was I would have artistic licence to make the character mine. There is no right or wrong way with this character as it is a Bible story, so it's not a musical like Tina where you are playing a well-documented person. This is a 2000 year old fable and being Christian myself, and an openly gay man, I take from the Bible the parts that are relevant to me."
That combination of personal struggles, the white hot of intensity of the X Factor ordeal and the relentless slog of the boyband life is what Jaymi is bringing to the stage offering what he hopes is a modern take on the Prince of Egypt.
"The story of Joseph is of a young man who doesn't fit in with his contemporaries and the world he lives in," muses the latest in long line of Josephs. "He has a dream of becoming something more, he is different from his brothers and the people around him so the story is about him sticking to his guns and not bowing down to society. It does get rough, and there are low moments, but he becomes the Prince of Egypt because people see something special in him.
"I take that from my world as I came out when I was 14, which was 15 years ago, when it wasn't as accepted, and there were some dark moments. But now in 2019 I am very lucky to be in the public eye, and hopefully be a voice for young gay people.
"I took my journey in life and that is how I am able to be Joseph because I can tap into those emotions."
Joseph is at Leeds Grand from Tuesday 4th June to Saturday 15th June. To book www.leedsgrandtheatre.com or 0113 8482700.