It is thirty years since Shirley Valentine first broke free of her martial shackles on stage and Jodie Prenger plays the Liverpool housewife in an anniversary revival of Willy Russell's classic.
Prenger is perhaps best known for winning the role of Nancy in the West End production of Oliver! Through the BBC television series I'd Do Anything, but after a tour of One Man, Two Guv'nors she is stepping up a gear here as this is a one woman show and not a musical.
In fairness since her TV triumph Prenger has developed a strong musical theatre CV which includes starring in Tell Me On A Sunday, the title role in the national tour of the musical Calamity Jane.
Shirley is a Liverpool housewife and her kids have left home leaving makes chips and egg for her husband while talking to the wall. Where has her life disappeared to? Out of the blue, her best friend offers her a trip to Greece for 2 weeks and she secretly packs her bags. She heads for the sun and starts to see the world and herself very differently.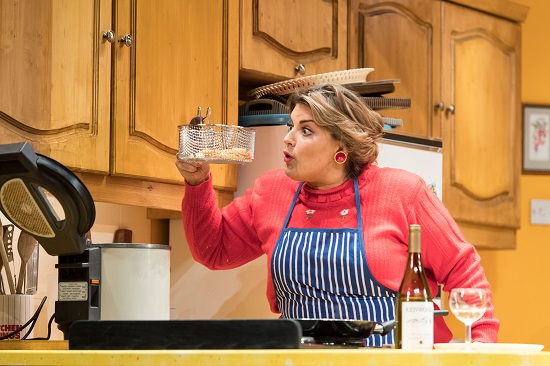 "It's now thirty years since Shirley Valentine first walked onto the page, into my life and the lives of so many others," says Willy Russell. "Shirley cooked her first meal of egg and chips on the stage of the Everyman Theatre Liverpool before then hoofing it down to London where she started picking up the string of awards she'd win in the West End, on Broadway and in the film that earned both BAFTAs and Academy Award Nominations."
Russell is one of the most successful playwrights of his generation penning massive hits like Educating Rita, touring classic Blood Brothers and Our Day Out. He is confident Prenger has the chops to make Shirley relevant to 2017 audiences.
"When producer Adam Spiegel introduced me to Jodie Prenger I knew in an instant that here was a formidable actress, one who possessed the grit and the warmth, the drive and the vulnerability, the energy and the heart to make Shirley Valentine really live again."
Shirley Valentine is at Leeds Grand Theatre from Monday 3rd to Saturday 8th April. Book online at leedsgrandtheatre.com or call Box Office on 0844 848 2700