Yesterday we were invited down to sit in on rehearsals for Meighan Youth Theatre's (MYT) latest production, A Chorus Line which is set to open at the Waterside Arts Centre in Sale this week.
MYT, now in its 8th year has gained a reputation for producing some of the best youth theatre productions in the Manchester area under the directorship of owner Joseph Meighan. Their last three productions Ghost the Musical, The Addams Family and The Wizard of Oz have all received critical acclaim and judging by today's rehearsal and band call this year is not going to be any different.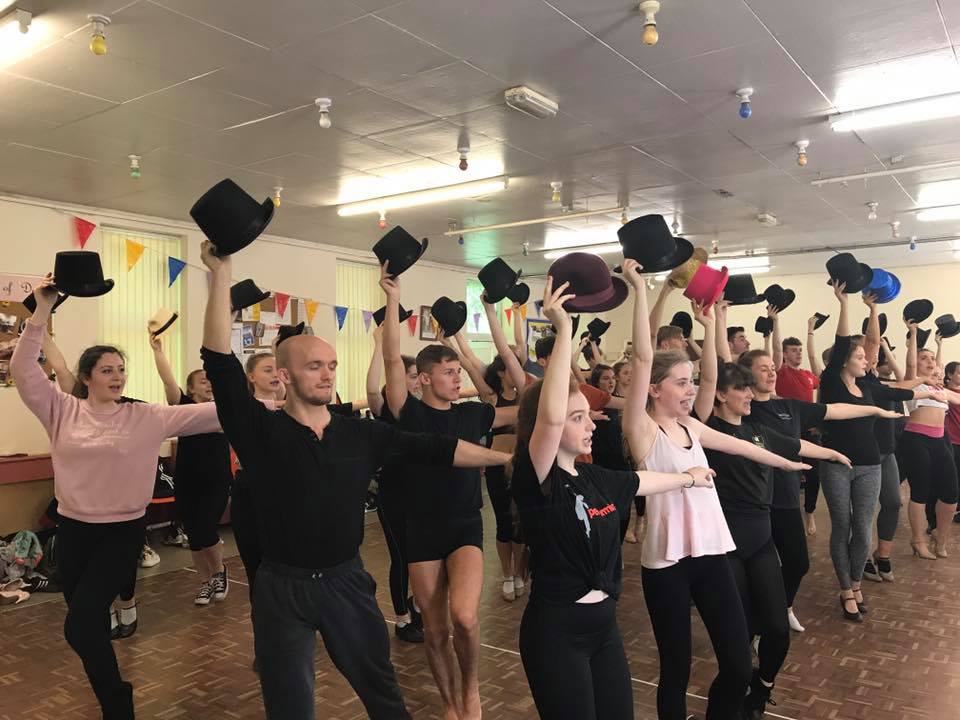 What is somewhat unique about MYT productions is the fact that they rehearse and put on their shows in just two weeks. Following casting earlier this year 36 of the most talented young performers in the area got together for the first time on Monday to begin the intensive rehearsal period. Keeping to a schedule which would make most professional actor's eyes water they have got just eight 8-hour sessions to bring this classic show to the stage.
A Chorus Line follows auditions for a new Broadway musical. For everyone present, it's the chance of a lifetime. It's the one opportunity to what they have always dreamed of – to have the chance to dance. Told through captivating song, riveting drama and stunning choreography, the auditionees describe the events that have shaped their lives and their decision to become dancers.
Based on true stories, A Chorus Line revolutionised Broadway becoming the longest running musical in New York theatre history, breaking records, winning nine Tony Awards, seven Drama Desk Awards, the New York Critic's Award and the Pulitzer Prize for Drama.
Boasting such classics as 'One' (Singular Sensation), 'What I Did For Love' and 'At The Ballet, A Chorus Line is an iconic musical masterpiece.
Award winning Director Joseph Meighan has brought together a formidable production team for this rarely performed piece. Musical Director Neil Bennett has previously worked on the UK tour of the show starring Adam Faith and choreographer Faye Etherington has worked on numerous off Broadway productions.
Heading up the impressive cast list is Chris Wagstaff (playing Zach) who at such a young age has already got himself an impressive CV with previous roles as the Phantom (Phantom of the Opera), Jean Valjean (Les Misérables), Sam Wheat (Ghost) and Uncle Fester (Addams Family).
Joining Wagstaff are Lucca Chadwick-Patel (Paul), Tara Kitson (Bebe), Ciara-Alexandra Booker (Cassie), Tom Kehoe (Mark), Rhys Nuttall (Mike) and Amelia Atherton (Sheila) to name just a few. With 19 named roles this is a huge undertaking of a production for any company, let alone a youth company with just 8 rehearsal periods available to them.
What struck me today was the total commitment and passion each one of these youngsters has, it is truly infectious. Their desire to learn from the vastly experienced production team was inspiring. Having seen the last three offerings from MYT, and having the benefit of sitting in on today's rehearsals I can honestly say that A Chorus Line is going to be their best production to date.
The show runs for just 3 performances opening on the 3rd August at Sale's Waterside Arts Centre. Not surprisingly tickets are selling well, don't miss your chance to see this amazing company perform and grab your tickets today before it is too late. www.watersideartscentre.co.uk Follow our top tip and arrive early and get yourself a drink in the bar!