School-friends Greg Yates and Tim Jones have enjoyed a friendship that has spanned the last 40 years. Having acted in hundreds of shows together they have now embarked on a new project; Wolverhampton Grand Theatre's production of BRASSED OFF as Jim and Harry.
Both Greg and Tim auditioned as part of the community and were given two of the principal roles which they will reprise when the production plays at Devonshire Park Theatre in Eastbourne in September.
Having attended St Thomas Moore school in Willenhall, the friendship was formed through their first love of sport, playing cricket and football together. However, they soon turned to the stage with the school producing four shows a year including pantomime, Shakespeare, musicals and plays. Between them they performed in most of the productions. Greg played iconic roles such as Macbeth and Edmond in King Lear. Although in pantomime he would go to the extreme opposite in the role of the Dame or Silly Billy. Greg's most memorable part was playing the role of Jesus in Godspell.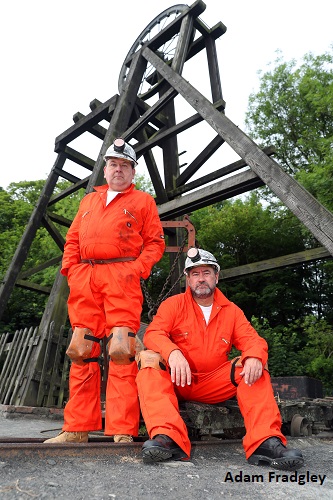 Greg first saw the casting call for BRASSED OFF in the local newspaper and despite what is a very large commitment over the summer he decided to apply for the auditions.
"The main draw for me is that I would like to turn professional again, I've just been in a film called Sustain which was crowd funded to enter into film festivals. I loved being in front of a camera again. With BRASSED OFF being a professional production it's a great opportunity to add to my show reel.
I also consider it a massive privilege to be working with esteemed professionals, especially Jeffrey Holland and Director, Gareth Tudor Price. I would also like to say thank you to the Grand for putting trust in the community that are taking part.
On a personal level, it was my father's favourite film and he passed way in 2012 so I would like to do this for him."
Tim first performed at The Grand in 1985 for the Bilston Operatic production of Guys and Dolls and since then he has performed in over 40 shows. His most memorable male lead was as Henry Higgins in My Fair Lady for South Staffs Musical Theatre Company in both 2001 and 2009.
"BRASSED OFF is a chance to be involved with something that is home produced on a professional level, which is thrilling.
I have relished the opportunity to work with a recognised director and being involved in the whole process of a professional show from start to finish has been fascinating. This show is very exciting because you have the band and a large community ensemble and it's great to do it at my home theatre the Grand."
Tickets for BRASSED OFF between Wednesday 23rd August – Saturday 2nd September 2017 are on sale and can be purchased in person at the Box Office, by calling 01902 42 92 12 or online at www.grandtheatre.co.uk
LISTINGS INFORMATION
BRASSED OFF
Wednesday 23rd August – Saturday 2nd September 2017
Please see website for individual performance times.
Tickets from £15.50*
*A £3 booking fee applies to all purchases.