Radicalisation is nothing thing as throughout history there have always been men and women prepared to carry our atrocities in the name of their cause and to die for it.
Marching on Embers from radical theatre company Buglight looks at radicalisation through the backdrop of post-Brexit Northern Ireland following two generations of one family, and the actions of the past that haunt their future.
Directed by Ruth Carney - and with a script by Chris O'Connor - Buglight examines what entices a person into violence in pursuit of their views that testing family bonds and loyalty.
Florie Connolly and siblings Sean and Sinead reunite in the family home, but the rifts of the past begin to tear apart the foundations of this prominent Republican family when one of them re-joins the struggle against their old foes.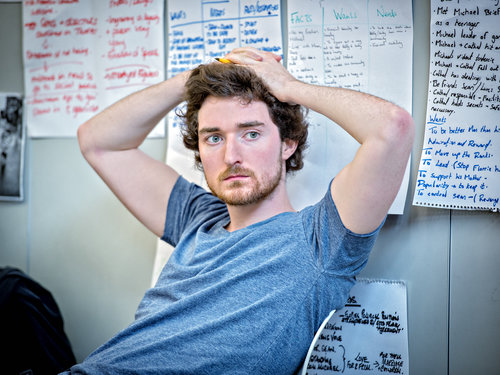 Marching on Embers began life as an exploration of the Northern Irish heritage of Buglight Theatre's co-artistic director Richard Galloway and the Irish heritage of Leeds writer Chris O'Connor. It looks at modern Northern Irish life setting the family drama against a fractured post-Brexit political landscape trying to bring a fresh perspective to global radicalisation and the allure of violence.
The production has been created through devising, improvisation and experimentation, and the company worked with Northern Irish teenagers in Ballymena as part of the development process. This resulting piece is performed by a Northern Irish cast featuring Richard Galloway, Maggie Hayes, Barry Calvert and Christine Clare.
Founded in 2014 by Keeley Lane and Richard Galloway, Buglight Theatre makes original work that connects with today's social and political issues. Their work is created as a collaborative process to tell hidden stories or well-known stories from a new perspective.
This is the Yorkshire company's second full-scale touring production following The House Behind The Lines, examining the forgotten stories of female sex workers behind the lines in WWI.
Tour dates:
20th September - CAST, Doncaster, 7.45pm, £10.50 (£9 concs). Tel: 01302 303959
23rd September- Seven Arts, Leeds, 8pm, £10. Tel: 0113 262 8777.
29th & 30th September- Harrogate Theatre, 7.45pm, £12.50, £10.50. Tel: 01423 502116.
4th October- Oldham Library, 7pm, £5 Tel. 0161 770 8000
5th October- Square Chapel, 8pm, £12, £10 concs. Tel: 01422 349 422.
6th October- Bradford Playhouse, 7.30pm, £12, £10 concs. Tel: 01274 800415.
7th October- The Lantern Theatre, Sheffield, 7.30pm, £12, £10 concs. Tel: 0114 255 1776.
Trailer: http://www.buglight-theatre.com/new-page-2/?rq=marching
Pic: Anthony Robling