Daniel Bye is on a roll at the moment with a national tour of his challenging show Instructions for a Border Crossing and now he's back in Leeds with Tiny Heroes where he celebrates the small local acts of generosity and heroism performed every day by the city's people.
Supported by Leeds Inspired, Tiny Heroes combines Bye's gift for storytelling with music, song and spellbinding visuals based on stories he heard from local people in conjunction with Interplay Theatre in Armley and LS14 Trust in Seacroft who both stage the show this month.
Daniel Bye says: "When people think about heroism, they tend to think of people pulling people out of burning buildings, or maybe a war story. We're interested in smaller acts of heroism, the things that people do every day – people volunteering in a hospice, or running a marathon for charity.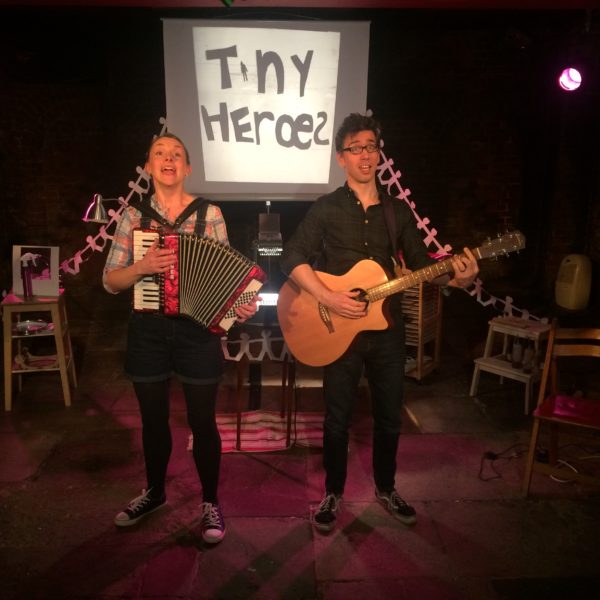 "Instinctively we don't think of these things as heroic, but what is a hero, anyway?"
Originally commissioned by Devon's Beaford Arts in association with The Bike Shed Theatre, Tiny Heroes premiered at The Bike Shed in early 2016, and is now 'coming home' to Leeds, where Bye has spent most of his adult life. Bye did all his three degrees at the University of Leeds (whom he also represented on University Challenge), continuing to live in the city after graduating, and going on to create work for the West Yorkshire Playhouse.
Unusually for Bye he is joined onstage by Victoria Brazier, recently seen in Leeds-based Red Ladder's We're Not Going Back.
The show's designer, Barney George, lives in Leeds, as does Boff Whalley, who in an extra treat for Bye's fans has written all of the songs for the show. Whalley is perhaps best known for being the former lead guitarist for the anarcho-punk and folk band Chumbawamba. He is now a playwright and the founder of Commoners Choir who meet in Leeds and released their first album in March this year.
• Daniel Bye will be performing Tiny Heroes at Kentmere Community Centre, Seacroft on Wednesday 13th December at 6.30pm (tickets are priced at F: £5 and C: £3 and can be reserved on This email address is being protected from spambots. You need JavaScript enabled to view it. or pay on the door) and Interplay Theatre, Armley on Thursday 14th & Friday 15th December at 7.30pm (tickets are priced at F: £5 and C: £3 and can be purchased by visiting https://www.interplaytheatre.co.uk/event/tinyheroes/2017-12-14/ or by calling 0113 263 8556).