As part of ¡Viva! Spanish and Latin American Festival 2018, HOME presents Corrido de la Sangre, a brand-new HOME production from the provocative, avant-garde Godfathers of alternative cabaret The Tiger Lillies. Described as the forefathers of Brechtian Punk Cabaret, the group have found worldwide recognition for their unique sound and style that merges the macabre magic of pre-war Berlin with the savage edge of punk.
Playing from the 20th April until the 5th May a Corrido singer and his band return from the realm of the dead to haunt their killer and present a dark story of intrigue, vengeance, murder and the mayhem of a romance gone bad. Set in a small dusty town in the lands between Mexico and the US, the singer relays the tale of his rise and fall and the songs of life at the border, where mythical creatures from Aztec times still haunt the night. This is a realm where folklore and real-life merge, where audiences meet a knight, an evil king, a damsel in distress and the Saint of the Sinners.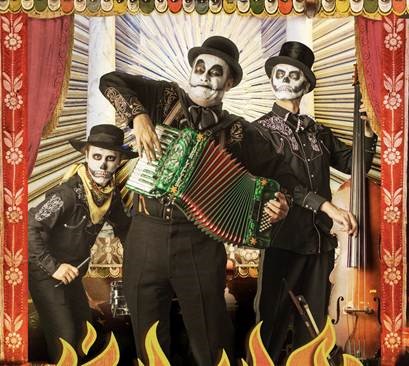 Corrido de la Sangre blends spectacular visuals with original music courtesy of The Tiger Lillies, widely celebrated and enduringly popular for their distinctive sound that marries high-art cabaret with sordid depravity.
Martyn Jacques's singing and performance on accordion, piano, harmonica, organ, ukulele or guitar is accompanied as ever by Adrian Stout's multi-instrument playing, on bass, euphonium and musical saw, plus sepulchral backing vocals; drum duty is handled by Andreas Winter, with guest spots from Jacques and also Timm Brockmann, the master of the mix. For that essential extra quality, Christian Krille plays trumpet on just over half the tracks.
Martyn Jacques commented: "We are very much looking forward to coming to HOME to collaborate once again with visual director Mark Holthusen and writer Peder Bjurman to tell a great story accompanied by beautiful visuals set in one of our favourite places in the world, Mexico."
Walter Meierjohann, Artistic Director: Theatre, HOME, added: "¡Viva! will return this season to brighten our Spring/Summer with a full and colourful cross-art programme from Spain and Latin America. In theatre, we are very proud to present the world premiere of a HOME and The Tiger Lillies co-production, Corrido de la Sangre, exploring Mexico and the 'Day of the Dead' – with a new and original score this must-see show will follow in the footsteps of Lulu and The Rhyme of the Ancient Mariner, promising to be a feast for eyes and ears."
Copyright and publishing Misery Guts Music Ltd. 2018
Produced by Martyn Jacques
Recorded by Timm Brockmann at Red Light Studio, Berlin
All upright bass, musical saw and euphonium tracks recorded by Adrian Stout, London
Mixing and mastering by Timm Brockmann (with Martyn Jacques) in January and February 2018
Red Light Studio, Berlin
CD produced by the Tiger Lillies www.tigerlillies.com
CD artwork and design by Mark Holthusen & Frédéric Domont
Photos by Mark Holthusen
The music for Corrido de la Sangre was commissioned by HOME, Manchester
Corrido de la Sangre is produced by HOME, Manchester
Premiere 20.04.2018
Directed by Mark Holthusen, whose idea the show was originally
Written by Peder Bjurman

For tickets visit www.homemcr.org or contact the HOME box office on +44 (0)161 200 1500. For the full details for ¡Viva! 2018 visit www.homemcr.org/viva-18
The Tiger Lillies' album Corrido de la Sangre can be purchased on the band's official website www.tigerlillies.com, as well as on iTunes, from Friday 20th April.
Greater Manchester Arts Centre (HOME) is supported by PRS Foundation's The Open Fund.