Casting has been announced for Distance, the only male-directed play in PARK90's season, shining a light on male mental health and suicide (the biggest killer of men under 45 in the UK) with the story of Steven: a man trying to make sense of his world. Written by Alex McSweeney and directed by Simon Pittman (Associate Director, Frantic Assembly), the cast includes Doreene Blackstock, Adam Burton, Richard Corgan, Lindsay Fraser and Abdul Salis.
Steven, recently separated and heading towards divorce, bumps into an old friend on the journey to a job interview. A complex recent past and a fragile present collide, as Steven tries to make sense of the world around him and his place within it. We accelerate headlong into Steven's chaotic and troubled inner life, as the everyday encounter unravels into something dark, disturbing and unrestrained.
Writer Alex McSweeney has stated of the play's creative origins: "I wrote Distance because five people I know have killed themselves in little over five years. All of them were men. I wanted to try and understand why suicide is particularly prevalent among men. While the crisis in masculinity might be regarded as a well-trodden path in terms of explaining the pressures that men are feeling, it is important to acknowledge that a crisis in male wellbeing is something that affects women, children, families and society itself."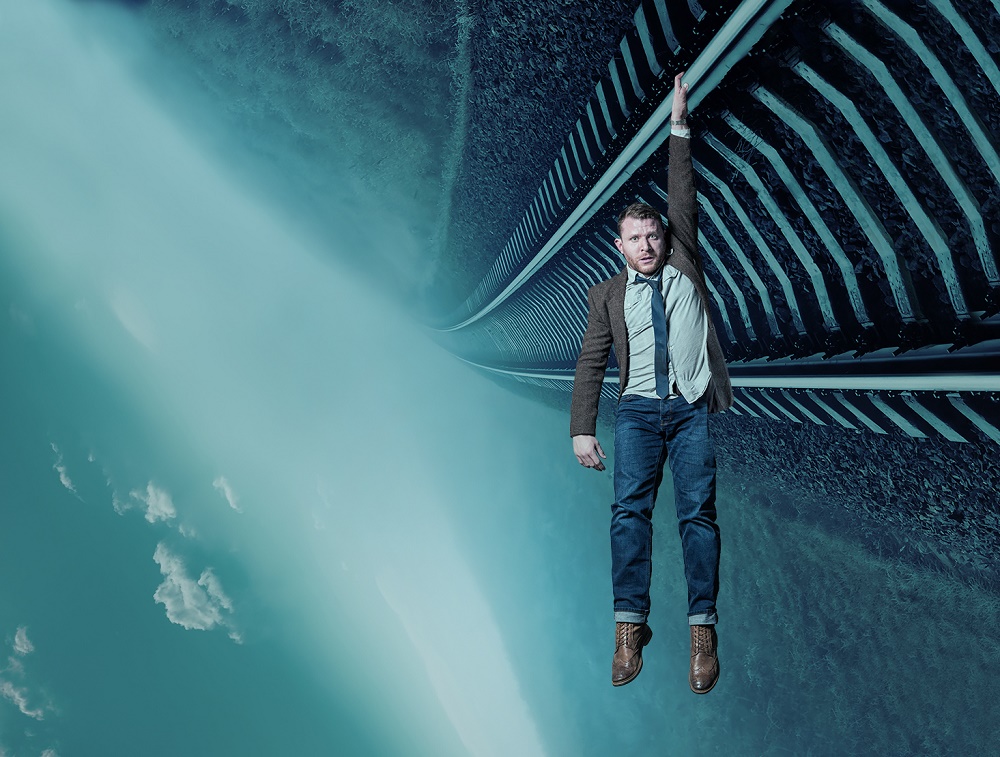 The Campaign Against Living Miserably (CALM) have revealed that suicide is the single biggest killer of men aged under 45 in the UK and that, in 2015, 75% of all UK suicides were male.
Distance is an urgent examination of mental illness, and its impact on the individual, their family, and the society around them. Following the acclaimed Out Of The Cage (Park Theatre), Fine Line Productions, Alex McSweeney and Simon Pittman, return with this darkly funny and visually dynamic portrayal of the mind.
This play was developed as part of the Park Theatre Script Accelerator programme.
Doreene Blackstock will play Folami. Her theatre credits include: Much Ado About Nothing (The Globe), Roundelay (Southwark Playhouse), Cymbeline, Hamlet, Noughts & Crosses (Royal Shakespeare Company) and The Container (Young Vic Theatre). Her screen credits include: Death in Paradise, The Child in Time, EastEnders, The Game, Silent Witness, Trinity, The Bill, Life Begins, Family Business, Wire in the Blood, Medics, Casualty, Holby City, Judge John Deed, Gimme Gimme Gimme, Tom Jones, Common as Muck, Mm Hm and This Year's Love.
Adam Burton plays Steven. His stage credits: include: Jerusalem, All My Sons (Watermill Theatre), My Brilliant Friend (Rose Theatre), The Hairy Ape, The Dutchess Of Malfi (Old Vic), Everyman (National Theatre), The Drowned Man, Masque of the Red Death and Faust (Punchdrunk), The Orphan Of Zhao, Boris Godunov, A Life of Galileo, American Trade, King Lear, Anthony and Cleopatra, The Winter's Tale, The Drunk and Julius Caesar (Royal Shakespeare Company). His television credits include: Bloody Queens: Elizabeth and Mary (Pioneer Productions), RMS Titanic: Case Closed (Bedlam), Doctors (BBC), Jerkyll (Hartswood Films), Casualty (BBC), Happy on the Boat (Hewland), Dangerfield (BBC) and Treflan (S4C).
Richard Corgan plays The Duke. His theatre credits include: A Provincial Life (National Theatre Wales), Taming of the Shrew (The Globe), It's About Me (Hampstead Theatre), Money & Science & Me (Liverpool Everyman), The Ballad of Blood & Darling (Rose Theatre), La Fanciulla Del West, Fighter (Royal Opera House), Macbeth and The Changeling (The Pit, Barbican). His screen credits include: Baker Boys (BBC Wales), Doctors, Casualty, Caught in the Web, The B World (BBC) and Pobol Y Cwm (S4C).
Lindsay Fraser plays Sojna. Her stage credits include: Out Of The Cage (Park Theatre), Execution Of Justice (Southwark Playhouse), Just So Stories (The Kings Head) and Oh Go My Man (Tristan Bates Theatre). Her screen credits include: Touch (Largo Films), Still Waters (Memoir Pictures), In Control (Thirty-Two Films), Jacob (Pigtail Productions), Cygnus (I Am The Sand Man), Collateral Damage (NFTS) and Hard Light (Major Arcana/LFS).
Abdul Salis plays Alan. Abdul's theatre credits include: The Barbershop Chronicles (National Theatre), Birth! (Manchester Royal Exchange), War Horse (National Theatre), Boy (Almeida) The Rise and Shine of Comrade Fiasco (The Gate), Lungs, The Initiate and The Human Ear (Paines Plough) Joe Guy (The Soho Theatre) and Don Juan in Soho (Donmar Warehouse). His screen credits include: Father Brown (BBC), Urban Myths 'Public Enemy' (Happy Tramp), Power Monkeys (Hat Trick), Doctors (Blunt Pictures), Hacks (Hat Trick), Strike Back (Leftbank Pictures), Outnumbered (Hatrick), Victoria Wood Christmas Special (Phil McIntyre Productions), Casualty (BBC), Doctor Who (Kudos), Gifted (Red Productions), Trevor's World of Sport (Hat Trick), Roger Roger (BBC) and The Hidden City (Hallmark).
Alex McSweeney is an actor, playwright and director. His writing/directing credits include: Out Of The Cage (Park Theatre), A Hero Of Our Time (Rose Theatre Kingston) and Between Women (Hen and Chickens). As an actor he has worked extensively across television, film, radio and theatre, including regular collaborations with Steven Berkoff including On The Waterfront (Nottingham Playhouse and Theatre Royal Haymarket) and Oedipus (Liverpool Playhouse).
Director Simon Pittman co-directs the theatre company Rough Fiction and is Associate Director (Learn & Train) at Frantic Assembly. His credits as a director include: The Expected (Wilton's Music Hall), Othello (National Youth Theatre / Frantic Assembly - The Ambassadors, West End), Not A Game for Boys (Library Theatre Manchester), His Wild Imaginings (LSO St Luke's), The Last of The Lake (Brighton Dome & Tour). As Associate Director: The Go-Between (West Yorkshire Playhouse), Floyd Collins (Southwark Playhouse) and The Shawshank Redemption (Edinburgh Festival / Gaiety Theatre).
LISTINGS
DISTANCE
Venue: PARK90, Park Theatre, Clifton Terrace, Finsbury Park, N4 3JP
Dates: 5th – 29th September 2018
Running time: 1 hour 45 mins approx. inc. interval
Age guidance: 14+
Performances: Mon – Sat Evenings 7.45pm, Thu & Sat Matinees 3.15pm
Relaxed: Sat 22nd Sep, 3.15pm
Audio Described: Fri 28th Sep, 7.45pm (Touch Tour 6pm)
Prices: Previews £14.50, Standard £18, Concessions £16.50, Child (Under 16) £13* Subject to availability. T&Cs apply.
Booking: www.parktheatre.co.uk / 020 7870 6876
*10% telephone booking fee, capped at £2.50 per ticket.